Sheng Chyean Enterprise Co., Ltd., founded in 1994 in Chuanhwa County, central Taiwan, is a globally leading supplier of bar-making machines and related machinery under its own brand SC.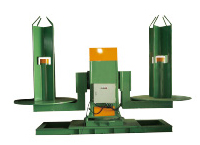 With 15 years of continuous improvement on production and R&D capability, the company has quickly grown into a world-caliber bar-making machine maker. It now runs two production plants in Taiwan and one each in China and Thailand, almost building a full supply chain independently.
Sheng Chyean supplies a full range of bar-making machines, including combined drawing machine lines, bar-to-bar cold drawing combined lines, line-bar machines, metal circular pine/bar stock end chamfering machines, high speed round bar straightening machines, high speed irregular bar straightening machines, among others.
Sticking to quality, prices and customer services, the company has built solid overseas footholds worldwide, able to compare with its German and Japanese counterparts in the market.
Sheng Chyean Enterprise Co., Ltd.
No. 17, Lane 360, Fudao Rd., Lukang Town, Changhua County, Taiwan 505
Tel: 886-4-7588533
Fax: 886-4-7588500
Email: chyuan168@mail2000.com.tw
Website: tw.sc@msa.hinet.net