Since its establishment in 1988 in Taichung County, central Taiwan, Stand Tools Enterprise Co., Ltd. has been engaged in production and development of hand tools.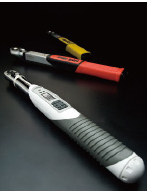 Starting out by making ratchet screwdrivers and then diversifying into magnetic tools, Stand Tools has been well versed in production of hand tools. Its unparalleled R&D capability has helped the firm win numerous awards in Taiwan for its inventions and high-profile tools.
The company's MEMS (micro electro mechanical systems)-integrated digital torque wrench is a high-profile product and has been highly praised in Europe since its debut last year.
Besides, to achieve unquestionable precision for its digital torque wrench, the company now has started building a TAF-certificated lab and introducing a number of torque measuring and collecting devices in the lab, moving toward a top-caliber supplier of digital torque wrenches in the global market.
Stand Tools Enterprise Co., Ltd.
No. 55, Chengfeng Lane, Taiming Rd., Wujih Hsiang, Taichung County, Taiwan
Tel: 886-4- 2335-6489
Fax: 886-4-2335-6491
Email: stand@ms19.hinet.net
Website: www.standtools.com