Established in 1975, Tian Fu Industrial Co., Ltd. is a professional manufacturer of high-quality industrial tools. The com-pany is well noted for its own "Genius" brand both at home and abroad.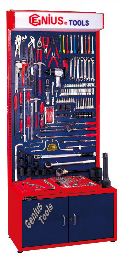 The company boasts it has gained good reputations for its efforts to achieve extraordinary performance in hand tools and impact tools. With over three decades of manufacturing experience, the company claims it has earned a foremost position in the field of tools.
Tian Fu says it has established an in-house research and development department staffed with several talented technicians in charge of developing innovative products and enhancing the functions of its products.
So far the company has developed more than 10,000 items of hand tools under the "Genius" brand. Its products have been sold to more than 70 nations the world over.
Major "Genius" product lines include sockets, bits, screwdrivers, wrenches and pliers, etc. The company offers a lifetime warranty with excellent after-sale services because it has much confidence on the quality of its products.
The company has contracted with more than 30 distributors worldwide so as to provide quick service the world over. Thanks to the establishment of the worldwide distributors, the company states it can fully meet customers requirements at a rapid speed.
Tian Fu Industrial Co., Ltd.
No. 4, 15th Rd., Industrial Dist., Taichung, Taiwan
Tel: 886-4-2359-2855
Fax: 886-4-2359-1928
E-mail: asia@geniustools.net
Website: www.geniustools.net