Kenswell Tube Forming Inc., headquartered in Taichung County, central Taiwan, is a specialized maker of liners and related accessories with a history of more than 20 years.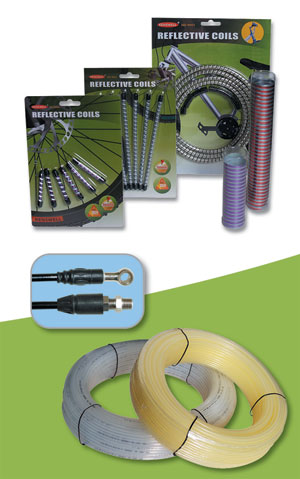 Kenswell's product lines cover a wide range of liners, including coasted wires, reflective coils, protective coils, hydraulic hoses and interior lubricated tubes for control cables, which are available in a variety of materials and specifications to meet different purposes, like bicycles and motorcycles. Besides, the company also turns out extruded plastic parts, scooter accessories and parts, fitness device components and industrial safety products to enhance comprehensiveness of its product lineup.
Equipped with precision production facilities, such as CNC lathes, and backed by its ample knowledge about production and materials, the company is also capable of handling orders on the OEM and ODM basis. (SC)
Kenswell Tube Forming Inc.
No. 108, Alley 88, Lane 221, Chunghua Rd., Sec. 1, Lungching Hsiang, Taichung County, Taiwan
Tel: 886-4-2635-2315
Fax: 886-4-2635-6959
Email: kenswell@ms33.hinet.net
Website: www.kenswell.com.tw