Clear Dawn Co., Ltd.
Quick Industrial Service for Making Special Parts & Components-CNC Metal parts, Stainless Steel Barrels, Gears & Spindles, Pistons & Sleeves.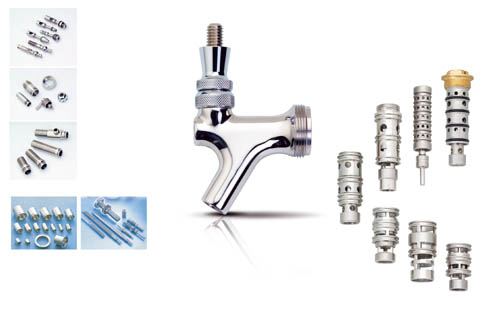 Since its establishment in 1982, Clear Dawn Co., Ltd. has been engaged in production and development of metal-made parts and products as a top-notch supplier in the line.
Drawing on its consummate production capability, the company has worked out its newest product, Antibacterial Stainless Steel Beer Tap Head, which is made of SS304L-graded low-carbon steel, and meticulously finished with bright, mirror-like and, above all, antibacterial surface. Besides, the company skillfully applies appropriate methodologies in production, making sure that the 304L stainless steel-made tap head is comparable to conventional models in mechanical properties and corrosion resistance.
Another product attesting to the company's time-tested R&D capability is Brass Plumb Bob that is available with a removable cap, which is on the upper side of the bob and can be used to unscrew the tip. In addition, the company innovatively builds a spring into the body of the bob, which is for not only holding the tip but also cushioning impact to protect it when the bob suddenly falls. The bob has been patented in the U.S., Taiwan and China, and sells for competitive prices with unbeatable quality.
The ISO-9001-certificated, versatile company also supplies engine mounts, vehicular accessories, metallic infrastructural materials, vacuum tubes, beer taps, stainless steel parts, CNC metal parts, and built-to-order products, like electric tools.
Clear Dawn Co., Ltd.
17F-3, No. 508, Chunghsiao E. Rd., Sec. 5, Taipei, Taiwan
Tel: 886-2-2727-9416
Fax: 886-2-2727-9415
Email: cdcmetal@cleardawn.com.tw
Website: www.cleardawn.com.tw