Jiin Haur Industrial Co. is promoting two types of advantageous LED lighting fixtures each for office and household lighting purposes.

Its 50W LED lighting fixture, measuring 60cm x 60cm x 7cm and made up of eight modules each carrying 84 20mA LED light bulbs, can save 34-40% more electrical power than traditional fluorescent lighting fixtures. This fixture delivers a 6,000K cold-white light and produces 1,900 lumens of illumination.

Covered with a patented diffusion panel using light guiding plate (LGP) technology, the lighting fixture beams light at angle of 100 degree. Also, the eco-friendly plastic material assures excellent resistance of the lighting fixture to magnetic and static interferences.

Another smart product is a patented circular lighting module, which can be affixed to the ceiling, wall and camera tripod. Holding 168 low-power LED bulbs, the round module can rotate 90 degree upward, downward and sideward by shaft of a U-shaped support it is fixed onto.

The company's lighting fixtures go to market with brand name "BRIGHT" and quality certificates including CE, GS, VDE, UL, and ISO9001. (KL)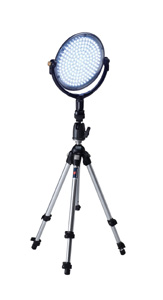 Jiin Haur designs and makes the patented circular LED lighting module atop the tripod.
Jiin Haur Industrial Co., Ltd.
Add: No.133, Chiukang Lane, Lukang Town, Changhua Hsien, 505 Taiwan;
Tel: 886-4-777-3339;
Fax: 886-4-778-8129;
E-mail: jiinhaur@jiinhaur.com.tw;
Website: www.jiinhaur.com.tw