Taiwan's original equipment manufacturers (OEMs) are known to be some of the most competent and reliable producers in the world. One of them is the Nan Shun Spring Co., whose cutting-edge wire forming and stamping technologies give the company a solid foundation for positioning itself as a top-level supplier of springs and related industrial parts.

Nan Shun was established in 1987 in Taiwan's central county of Changhua and launched its business by making springs and wire forms for industrial purposes. After a few years of specializing in wire forming, the company decided to extend its core competencies to stamping, die-casting, punching, and lathing; and, to that end, greatly enriched its know-how in the characteristics of various metals and in metalworking methodologies.

At present, the company employs around 30 workers and operates two plants, one serving as a warehouse and the other as a manufacturing base. Total production space is about 1,100 square meters. Although not very big, the company has built a solid name with its broad product range and high professionalism.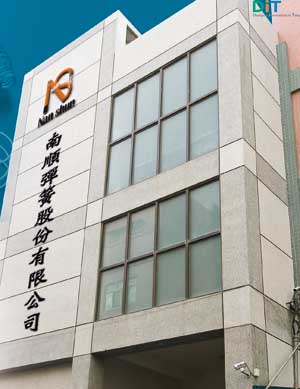 Unprecedented Product Comprehensiveness
Few Taiwanese manufacturers in the line can match the wide range of springs and wire forms offered by Nan Shun: precision springs, power springs, leaf springs, coil springs, extension springs, pull-back springs, tension springs, square wire springs, flat springs, torsion springs, compression springs, iron-string finished, iron wire products, rings, hot coiled springs, suspension coil springs, wire forms, spring presswork, car springs, motorcycle springs, hand tool springs, generator springs, industrial springs, door lock springs, electronic springs, toy springs, shock absorber springs, press springs, pull springs, twist springs, retaining rings, antenna springs, battery springs, stationery springs, switch springs, sports facility springs, door closer springs, flat wire springs, electric appliance springs, and customized springs for special purposes.
In addition, backed by its unexcelled metalworking skills the company is experienced in manufacturing electronic parts, furniture hardware, computer parts, molds, forged and die-cast products, chair tube connectors, metal fittings and accessories, door knockers, screws, fasteners, washers, metal stationery products, toy parts, key chains, metal ornaments, sporting and leisure products, buckles, chains, hose clips, clothespins and hangers, hooks, spring hose clamps, safety pins, hitch pin clips, toothbrush stands, snap pins, lynch pins, self-locking pins, cotter pins, grooved pins, self-compensate clamps, etc.
Larry Lin, chairman of Nan Shun, noted that most of his company's products have been exported, mostly to the U.S. "Our comprehensive product line enables Nan Shun to provide one-stop shopping services to customers in many cases," he says proudly. "They are especially impressed with our excellent production capability."
Competitive Edge
Asked why he decided to diversity into wire-forming and other metalworking technologies when Nan Shun was already recognized as a specialized maker of springs, Lin answered that the continuous improvement of production is the key to sustainable development for an OEM "We found that focusing on the production of springs alone would no longer assure our company a future," he explained. "So we expanded our core competencies so that we were more versatile than our competitors and could enhance the added value of our product line."

To carry out the desired diversification, the company overcame resource limitations and moved into forging, stamping, die-casting, and lathing, consistently upgrading its machinery to achieve maximum production efficiency. The company currently operates more than 20 sets of computer numerically controlled (CNC) machines and machining centers and 10-plus sets of wire-forming machines in-house. All of this equipment, according to Lin, is periodically maintained and calibrated so that it performs well as new machines.
To guarantee the most reliable quality the company has set up a full line of inspection equipment, including hardness and tension testing machines, IR testers, and related measuring instruments, in its quality-control lab. Lin emphasized that with the assistance of specialized R&D institutions and quality assurance agencies, including the Metal Industries Research and Development Centre (MIRDC), Industrial Technology Research Institute (ITRI)), and SGS, Nan Shun is also able to handle the inspection of special quality characteristics, such as lead- and hexavalent-free chromium electrodeposition, depending on customer requirements. "The more information shared with us," he stresses, "the higher the accuracy and quality we can guarantee our customers."
Materials Know-how
The company has another competitive advantage in its ample knowledge of the properties of metals, according to Lin, who indicates that his company has consistently enriched its know-how about various materials and related processing techniques through research and real-world experience, gradually becoming knowledgeable about a variety of metal materials including steel, stainless steel, iron, copper, zinc, plastic, aluminum, and special steel alloys.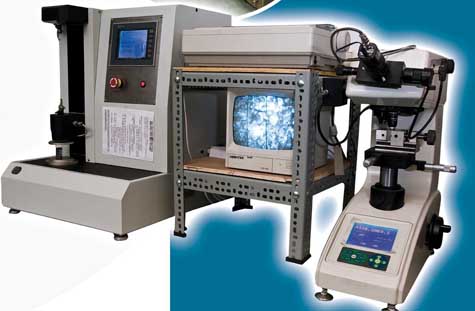 Talking about his company's experience in turning out cable hooks for use in aircraft, Lin says that "Such products are made of 2024 high-grade aluminum alloy and are strictly required to be light and structurally durable. Our biggest problem was that we totally lacked knowledge about the material at the time." To overcome that deficiency, Lin and his experienced R&D engineers spent over a year and considerable resources studying the material's properties and working with U.S. heat-treatment companies to solve technical problems. The learning-by-doing experience, Lin notes, has helped to enhance his company's ability to handle such special materials.
Also notable is the company's success in applying Teflon cables in the production of parts for special power systems in large stores such as B&Q and Toys"R"Us. To meet electrical safety requirements, Lin comments, his company imported Teflon cables from the U.S. and then carried extensive research on their characteristics so as to minimize production defects and enhance the quality of the power-system parts.
"At that time," he adds, "no company in Taiwan sold cables coated with Teflon, so we were technically unfamiliar with them. We had no choice but to initiate, once again, a time-consuming and costly research program. Thankfully our efforts paid off, and the parts made with the special cables were finally all certificated to UL standards. The power-system builder was very satisfied with our achievement and has become one of our loyal customers." This is just one instance of Nan Shun's dedication to satisfying its customers.
Non-stop Journey to Excellence
Lin stresses importance of his company's diversification from wire forming into other metalworking technologies, explaining that "This was a critical step for us, because Nan Shun is just an OEM and must continuously improve its production capability and apply different manufacturing techniques to the development of new products that attract customers."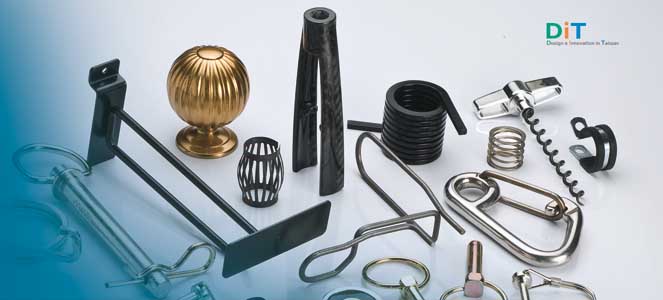 Ten years ago, for instance, the company developed an automatic optical-fiber manufacturing machine and took out patent protection for its special optical-fiber production technology. "Completion of the machine amazed our customers and helped to underline Nan Shun's superb production and R&D capability," Lin states. "This is the way that we impress and attract customers."
The company has kept up its concentration on new-product R&D; last year it developed self-locking pins, which contributed considerably to the company's results in that year of global economic recession. The effort goes on, says Lin, and "Currently we have several high-end industrial parts under development, including full-length grooved and rolled pins. Some technical difficulties still need to be overcome, but we have made some degree of progress in related processing technology. Hopefully, that development will be completed in the near future."