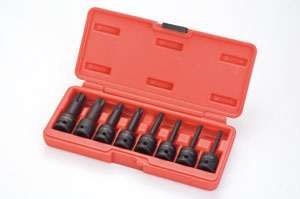 Since its inception in 1980 in Taichung County, central Taiwan, Song Yu Industrial Co., Ltd. has been dedicated to production and development of auto repair tools, with strong commitment to customer satisfaction and prompt delivery.
Song Yu's auto repair tool portfolio includes sockets, box wrenches, ratchet box wrenches, gearless boxed wrenches, socket wrench sets, L-shaped socket wrenches, T-type socket wrenches, anti-slip impact sockets and sparkplug wrenches, with 92% of which exported to North America, mainland China, Latin America.
Over the years, the firm has kept honing its competitiveness by absorbing new production technology and management concepts to distinguish itself from counterparts. For instance, SCM and ERP-based production is the most notable of the firm's advantages, helping to achieve product varieties and production efficiency. Also, on-line batch production and full lines of advanced CNC machinery reflect its unstinting dedication to continuous improvement. The time-tested company has actively sought any forms of cooperation with foreign partners.
Song Yu Industrial Co., Ltd.
No. 324, Pengyi Rd., Taiping Dist., Taichung City, Taiwan 41141
Tel: 886-4-2279-8599
Fax: 886-4-2270-3400
Email: song.yupg@msa.hinet.net
Website: www.song-yu.com, www.cens.com/songyu