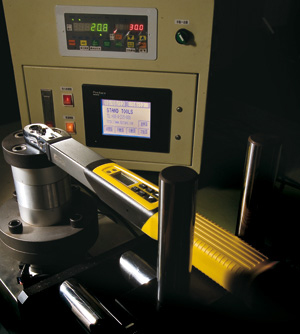 Stand Tools Enterprise Co., Ltd., founded in 1988, is one of the leading manufacturers of hand tools in Taiwan, with its independently developed MEMS (micro electro mechanical systems)-integrated digital torque wrench helping to boost the firm's capability and images.
Debuted in 2008, the MEMS-integrated digital torque wrench is the company's pride, for it is Taiwan's first wrench of its kind with marketability and practicality. The wrench has also been highly praised in Europe for high precision of torque applied and measured.
To further enhance precision for its digital torque wrench to build unquestionable credibility, the company has set up a TAF-certificated lab, introducing a number of torque measuring and collecting devices in the lab to move toward a top-caliber supplier of digital torque wrenches in the global market.
Starting out by making ratchet screwdrivers, the versatile company also supplies driver and rack sets, magnetic pick-up trays, ratchet box wrenches and mechanical torque wrenches, as well as various applications for MEMS chips. (SC)
Stand Tools Enterprise Co., Ltd.
No. 55, Chengfeng Lane, Taiming Rd., Wujih Hsiang, Taichung County, Taiwan
Tel: 886-4- 2335-6489
Fax: 886-4-2335-6491
Email: stand@ms19.hinet.net
Website: www.dgstand.com