With a history of over two decades, Kenswell Tube Forming Inc. is a professional maker of tubes, liners and related accessories.

Time-tested production capability and unremitting concentration on machinery upgrades help to make the firm become a top-notch maker in the line in Taiwan. Such advantages also boost its competitiveness in OEM business.

The company turns out reflective coils, protective coils, hydraulic hoses and interior lubricated tubes for control cables, etc., and some of which are available in a variety of materials and specifications for industrial production of bicycles, motorcycles and machinery. In addition, the firm also supplies extruded plastic parts and industrial safety products. (SC)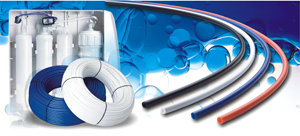 Kenswell Tube Forming Inc.
No. 108, Alley 88, Lane 221, Chunghua Rd., Sec. 1, Lunching Hsiang, Taichung County, Taiwan
Tel: 886-4-2635-2315
Fax: 886-4-2635-6959
Email: kenswell@ms33.hinet.net
Website: www.kenswell.com.tw