Founded in 1996, Shen Yu Plastic Co., Ltd. has been devoted to production of plastic garden tools and related accessories with well recognized capability and images.

Experienced in plastic injection molding, the company is knowledgeable about plastic characteristics and plastic processing, hence versed in ODM, not to mention OEM production.

The firm's newly launched D-304 Multipurpose Rainbow and Reflective Spiral Stick embodies its strong R&D capability. The product adopts laser reflective films and hence can serve as a bird repeller, garden decoration piece and safety lights. Another new garden tool is L-641 Magic Combination of Plant Support Frame, which, innovatively developed with modular design for easy assembly and expandability, facilitates planting and helps users to grow plants in ways they want. (SC)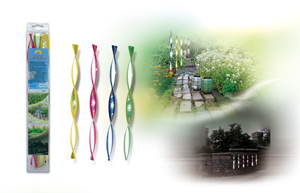 Shen Yu Plastic Co., Ltd.
1F, No. 311, Shenlin Rd., Sec. 1, Yuanlin Village, Ta-Ya Hsiang, Taichung County, Taiwan
Tel: 886-4-2566-1663
Fax: 886-4-2567-9668
Email: sunnybox@sunnybox.com.tw
Website: www.sunnybox.com.tw