Kaohsiung-based event draws over 17,000 visitors and brims of optimism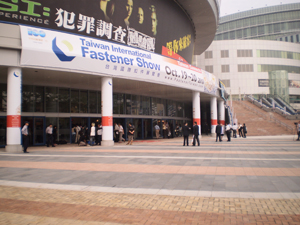 TIFS 2010 is strategically held in the Kaohsiung Arena in Taiwan's southern hub of fastener manufacturing.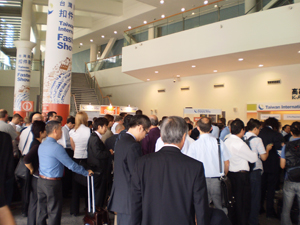 Over 17,000 visitors and 1400 foreign buyers attend the two-day show.
The 1st Taiwan International Fastener Show (TIFS), held October 19-20, 2010 in the Kaohsiung Arena, was significant for various reasons, not the least of which being its location close to the fastener manufacturing hub in Taiwan.
The show, jointly organized by the Taiwan External Trade Development Center (TAITRA) and Taiwan Industrial Fasteners Institute (TIFI), is the only dedicated trade fair for the fastener industry in Taiwan, spread across 5,000 square meters with 190 local exhibitors of fasteners and fastener making and testing machinery occupying 320 booths.
The inaugural show attracted over 17,000 visitors, including 1,488 foreign buyers mainly from the U.S., Europe, Japan, South Korea, Russia, the Middle East and East Europe, with a TAITRA survey indicating that over 80% of foreign buyers polled praised the event for product variety and suitable suppliers.
The event covered a wide range, including standard fasteners, and fasteners for the automotive, aerospace, construction, machinery, precision instrument and ICT (Information and communication technology), raw material supply industries, as well as manufacturing and testing equipment.
Clustered in Kaohsiung
After over 60 years of development, the fastener industry in Taiwan has an integrated supply chain clustered mostly in the southern city of Kaohsiung, where 44% of local makers and related suppliers are located to generate around 80% of the total output a year. Around 1,900 operators are engaged in surface treatment, annealing, molding, packaging and distribution on the island, with some 900 based in Kaohsiung.
Dampened by the global downturn, the export-dependent fastener industry saw its overall output value decline 31% to NT$76.8 billion in 2009 from NT$112 billion in 2008, according to statistics compiled by ITIS (Industry Technology & Intelligence Service). Insiders believe that the industry's full-year revenue is estimated to recover to pre-meltdown levels of over NT$110 billion in 2010.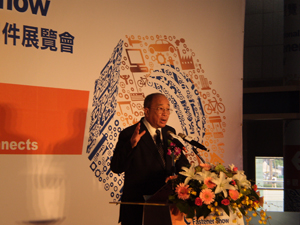 TAITRA President and CEO Y.C. Chao said nearly 200 buyer-Vs-supplier procurement meetings were held.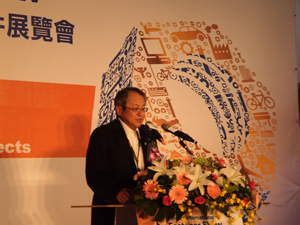 TIFI chairman Joe Chen pushed for resuming an international trade fair at home.
Opening Remarks
TAITRA's President and CEO Y.C. Chao said at the opening ceremony that 20 years has passed since the last fastener trade fair was held in Taiwan. Urged by industry insiders, TAITRA, with assistance from the Bureau of Foreign Trade (BOFT), Ministry of Economic Affairs, and Kaohsiung City Government, decided to resume the event by staging it in Kaohsiung. Holding the TIFS in Kaohsiung is meaningful for Taiwan's fastener industry is clustered in Kaohsiung, with around 44% of Taiwan's fastener manufacturers in the area. Buyers can easily tour factories from the event to streamline business and minimize second-guessing, according to Chao.
The organizers also were pro-active to make the event more effective, with TAITRA and the Taiwan Industrial Fastener Institute having invited over 1,000 international buyers to register to attend this show, including many well-known corporations as Haefele GmbH, F. Reher Nchfg. GmbH, WFS, H. Paulin & Co., Lobo France, Essve Produkter AB and Bufad Sweden AB and others from Canada, the U.S., the U.K., Japan, the Netherlands, Italy, and Singapore, said Chao.
Some 30 heavyweight buyers from the U.K., Germany, the U.S., Mexico, Brazil and Russia, each boasting revenues exceeding US$100 million, were also invited to meet in-person suppliers at the show.
Unsung Hero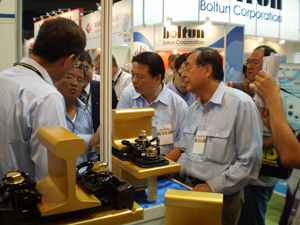 China Steel Corp. chairman Tsou Jo-chi's (center) presence reflects the steelmaker's closeness to the fastener industry.
An unsung hero in the local fastener sector is TIFI chairman Joe Chen, who stressed that it's time for Taiwanese manufacturers to form an integrated supply chain to better compete globally. To that end, the industry is working with China Steel, the largest steelmaker on the island, to secure stable supply of wire rods and special steels, while partnering with colleges and universities to reinforce R&D and quality of personnel.
Boosting global presence is a critical step the industry must take to position Taiwan's makers as top-caliber suppliers of fasteners, said Chen, adding that "with industry insiders' active participation, the first TIFS has proven to be a success enabling Taiwanese fastener makers to further confirm their reputation, capabilities and recognition amid foreign buyers."
The BOFT Deputy Director-General Chang Chun-fu especially thanked several leading exhibitors for making the event a success. The ECFA (Economic Cooperation Framework Agreement) between Taiwan and China is very likely to accelerate the replacement of Japan and South Korea-made fasteners by those from Taiwan in the future, said Chang.
Upbeat Mood
Besides the heavy foot traffic at the TIFS, a few exhibitors expressed optimism about the industry's future.
Joe Chen founded Ho Hong Works in 1973 in Kaohsiung to manufacture screws and nuts, whose general manager Davis Lou said that most exhibitors were enthusiastic about the show for it is the only fastener trade fair in Taiwan over the past decade.
Lou also confirmed that timing is right for the show, which gives old foreign customers a chance to rebuild contact with the maker after the terrible recession in 2009. "Some also had the chance to review our manufacturing conditions by visiting the factory. A world-caliber trade fair held at home for the Taiwan fastener industry is sorely needed, especially when the industry, after a decade of very rapid development, has built influence as a global supplier."
Ho Hong rented only one standard booth, compared to larger peers' bigger stands, primarily because, Lou admitted, of its chairman Joe Chen's altruism and professionalism. Also the TIFI chairman, Chen gave up booths to other exhibitors to build maximum participation in the trade fair, which has helped garner respect among the industry.
Boltun Corp.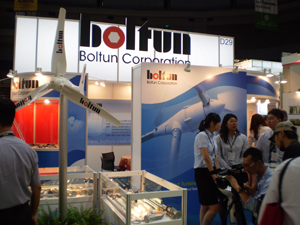 Bulton's wind turbine screws are showstoppers.
Boltun Corporation's deputy sales manager Cushila Su also greeted the return of an international fastener fair in Taiwan, saying that the TIFS, although small, is inductive to business opportunities between local suppliers and foreign buyers. Based on the telltale signs at the inaugural show, she believes the next TIFS will significantly grow in exhibitor number.
Established in 1988 in Tainan, southern Taiwan, Boltun has built a solid name in the auto fastener segment, and has ventured into higher-end fasteners for wind turbines to seize the green trend in recent years. The company's large screws for wind turbines caught ample visitors' attention, said Su, saying that for sure such fasteners will contribute enormously to Boltun's business growth in the coming years.
QST International
The show helps to build positive image for Taiwan's sound, mature fastener industry among foreign visitors, said Leo Y. Wang, vice president of QST International Corp.'s Technology and Information Department. "This show allows our customers from North America and Europe to drop by our factories, so they are happy with the arrangement."
Headquartered in Tainan, QST showcased its MAThread, Torx and Taptite series automotive screws and nuts, whose patents for improved structure and functionality attracted visitors. Commenting on the market outlook for 2011, Wang said that demand in the U.S. and Europe, after nearly a year of strong rebound, is likely to cool to some degree. But China's rapidly growing domestic market has opened another window for his company, which has become an OEM (original equipment manufacturer) for some Chinese automakers, ensuring sustainable growth for the future.
San Shing Fastech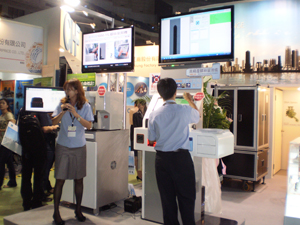 San Shing demonstrates its newest fastener inspection machinery.
Taiwan's largest fastener manufacturing machinery supplier San Shing Fastech, initially a fastener maker in 1965, exhibited several cutting-edge fastener inspection instruments, mechanical parts and fasteners. Kain Kao, a sales representative, said that San Shing's fastener inspection instruments are increasingly globally accepted, for they are developed to suit a fastener manufacturer. "San Shing's experience and expertise in fastener manufacturing help to build excellent quality and functionality of machinery," said Kao.
Successful product diversification has protected San Shing from the worst of the global meltdown in 2008, whose 2010 revenue has rebounded to near the peak in 2008. The company will pay more attention to emerging markets, including the Middle East and South America. "We have met fortunately buyers from the emerging markets at the show," said Kao.
Chun Yu Works
Chun Yu Works' vice president of sales Johnson Su recognized the show organizers' effort to build global presence for the industry, adding that the TIFS 2010 works for it provides foreign buyers easier access to Taiwan's fastener industry. Foreign buyers are impressed by the industrial clustering in Kaohsiung.
Founded in 1944 as one of Taiwan's pioneers in fastener making, Chun Yu has built an extensive basis in the global supply chain by moving upmarket to produce higher-end fasteners for wind turbines, electronics and railways. "Chun Yu is Taiwan's first and only fastener maker certified by IRIS (International Railway Industry Standard), being an OEM supplier to Taiwan's High Speed Railway Corp. and Japan's Shinkansen," said Su.
The company has also recovered to pre-financial-tsunami levels in 2010, also benefitting from EU's punitive anti-dumping duties imposed on China-made fasteners, forcing European buyers to choose Taiwan-made fasteners. The industry's rosy prospect is reflected in the packed house at this show, said Su.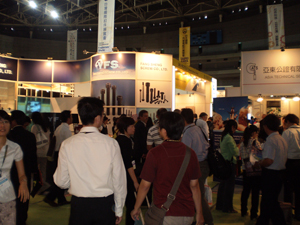 Almost every kind of fastener is found at TIFS 2010.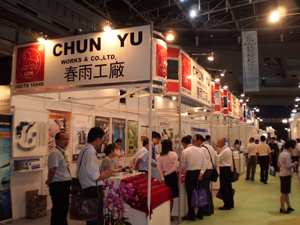 Satisfied Buyers
Many foreign buyers also shared positive opinions about the TIFS 2010 and Taiwan's fastener industry.
Dharmendrasinh P. Vaghela, managing director of the Indian firm Fine Thread Form Industries, said that he was invited by his Taiwanese supplier to the show, also very impressed by the integrated supply chain formed by Taiwanese exhibitors he saw on the showground, adding that although small, the show is really good for gathering almost all kinds of suppliers. Taiwan-made machinery is of good quality and sells for cheaper prices than Japanese models, which is an incentive to come to the show, said Vaghela.
Mark, an American distributor, however, said that he found out about the TIFS in a magazine. "Honestly, there should be such a show in Taiwan every three or four years, not annually or every two years. That's too frequent considering its size. But Taiwan's fastener makers and capabilities are amazing, which are worth a visit by any businessperson in the trade," said Mark.
Dharmendrasinh P. Vaghela from India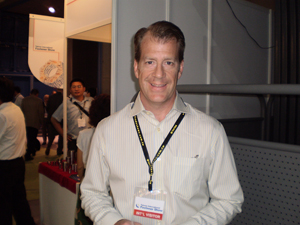 American distributor Mark
U-nite Fasteners Technology AB's managing director Rune Albertsson, who came to the show to source steel fasteners, praised the show's product comprehensiveness: "The show is very convenient for me to look for any wanted product. I like Taiwanese makers compared with Chinese, for they are more consistent in manufacturing, while offering reasonable prices and good quality."
CENS, Taiwan's largest export media, was on-hand to circulate its publications, including CENS Hardware and Taiwan Industrial Suppliers (TIS), at the show. CENS buyer-guide-oriented publications are popular with foreign buyers, especially those preferring to read paper copies, for being convenient references containing Taiwan-based suppliers.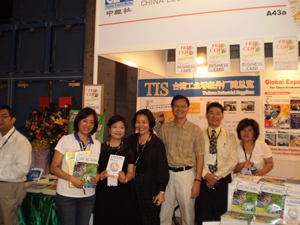 CENS senior sales representatives attend the biggest fastener event in Taiwan.