One maker builds loyal clientele with quality furniture despite higher prices

Despite supplying a necessity, makers of furniture of all kinds are not immune to economic upheavals, while bedroom furniture makers have achieved gradual growth in sales since being rocked by the market slump caused by the global financial crisis in late 2007.

Furniture production is a long-term business which never fades away but keeps changing with market conditions and lifestyles of consumers, said Samson Holdings chairman S. H. Kuo while taking over the chairmanship of the Association of Taiwan Investment Enterprises in China in April 2010.

One of the most successful Taiwanese entrepreneurs in China, Kuo's Samson Holdings, headquartered in Dongguan, Guangdong, China, is one of the world's leading home furniture makers, listed on the Hong Kong Stock Exchange (HKSE) since 2005 with subsidiaries in the U.S., U.K., China, Hong Kong and Taiwan.

Battered by the global meltdown in 2008 to report the largest-ever annual loss of US$18 million, Samson Holdings has gradually climbed out the abyss and aims to pursue sustained growth and permanence. "Many leading European and American furniture brands have a history of over one hundred years," said Kuo, who revealed his ambition to build his company into another centennial enterprise.

Whether Kuo realizes his ambition, Samson Holdings has come a long way from its origin of a wooden furniture plant in central Taiwan, once dubbed the "Kingdom of Furniture" for dominating global furniture production. Times change. Since the late 1980s, most furniture companies in Taiwan have relocated production abroad to expand by tapping cheaper land, labor and materials.

An Exception
Wei Feng Global Co., a metal bedroom furniture maker established in 1979, is a rarity in the sector, one of the few makers still fully operating in Taiwan after over three decades in business. For its tenacity and patriotism, every year the company receives a certificate from the government to honor its commitment to staying in Taiwan. "It's really tough to survive amid the harsh condition when Taiwanese companies are seriously challenged by emerging competitors from Southeast Asia and China, where labor and material are both much lower," said Carson Wang, founder and chairman of the company. "Wei Feng is among the less than one-in-ten companies set up during the 1970s or earlier to still be running soundly," Wang added.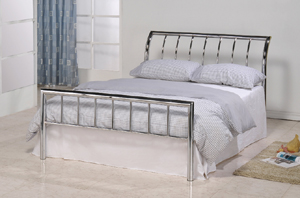 Wei Feng, a specialized metal furniture maker, is honored as a model enterprise every year.
Wei Feng is a leading metal furniture manufacturer and exporter in Taiwan, with advanced production equipment and expertise to make a wide variety of high-end metal furniture.
Wang once intended to follow the crowd to move offshore in the 1990s, but finally decided against it. He is especially thankful to the loyal buyers who recognize the quality of Wei Feng's metal beds and would rather pay more for better, reliable quality, which enables the maker to build a long-term business serving loyal buyers.
The showroom has a full collection of Wei Feng's metal beds and furnishings developed over the past three decades, including bedside cupboards, standing mirrors, dressers, and cabinets, among others, all of which are made with electroplated metal. "Due to eco-protection concerns, few buyers ask for powder-coated furniture now," Wang noted.
Some of the metal beds in the showroom were launched one or two decades ago, but remain steady sellers today, with the U.S. and Europe the main markets; while some of the new models are developed particularly for the emerging markets such as the Middle East, where, said Wang, consumers generally prefer glitzier finishes like gold or silver plating.
Emerging Markets
Wei Feng traditionally focused on the U.S. and Europe as the major markets, but has started targeting the emerging markets like the Middle East in recent years, to combat the falling greenback and euro, which have considerably eroded profit, especially in 2010 when the NT-dollar rose beyond NT$30:US$1, with the exchange rate likely to keep rising to challenge NT$28:US$1.
To meet tastes in new markets, Wei Feng has developed several new models decorated with crystals to diversify the aesthetics in its collection. Among the bedroom furnishings, Wang especially recommends a set of stacking or nesting tables made with glass top and gold-colored metal tubing. The four-table set enables the smaller ones to be kept under the bigger ones to save space when not in use.
Updating Tradition
Unlike some furniture makers who develop new collections to introduce seasonal trends and styles, S.P.S. Furniture Co. focuses on the classical niche, with a mission to create new looks in traditional furniture.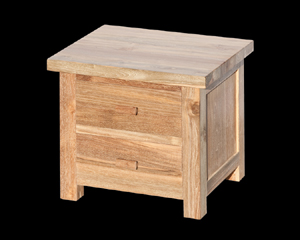 The wooden bedside cupboard from S.P.S. Furniture has a rich natural touch.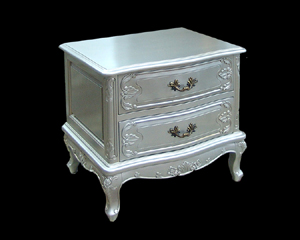 S.P.S. Furniture maximizes beauty of wood with master craftsmanship.
To add timeless value to furniture, S.P.S. prefers using the proven classic among woods—mahogany—a very dense, hefty, hard, durable wood with fine grain that can be polished to near mirror finish. "Mahogany was the favorite for many reputable wooden furniture masters in Europe during the 18th century, like Chippendale, Hepplewhite, Sheraton, and Duncan Phyfe," said a representative surnamed Wang, adding, "Today, mahogany is synonymous with high-end classical wooden furniture."
S.P.S. uses mahogany mostly imported from Indonesia where the wood, however, is native to the Netherlands, with the Dutch having first introduced it to the Southeast Asian country during its colonization four or five hundred years ago. With Indonesia a major mahogany supplier globally and taking advantage of such resource, S.P.S. set up a wooden furniture plant in the country, shortly after transforming in 1988 its local furniture retailer, Fu Chao Furniture Store that dates back to 1977, into a factory and global supplier. The maker runs another production line in southern Taiwan, with its marketing headquarters in Taipei.
Heirloom
Besides mahogany, S.P.S. uses other high-end hardwoods to ensure high quality. To Wang, classical wooden furniture is family heirloom that can be passed to the next generation.
Hardwood furniture, besides being very durable, is also easily maintained by wiping with a dry cloth. Wang doesn't recommend frequent cleaning with wet cloth for fear of the wood absorbing moisture that will compromise the wood. Consumers are also advised not to expose wooden furniture to direct sunshine, which dries wood to cause discoloration and cracking.
Among its bedroom furniture, S.P.S. especially recommends two new models of bedside cupboards—one in white finish for a very classical style and the other in natural wood tone for a rich natural touch. "Both match all kinds of beds, not only wooden ones," said Wang, who prefers woods for being natural, durable and suitable for all kinds of interior d?cor. Meanwhile, top-end wood has inherent value that does not depreciate with time.
To maximize potential value in woods, S.P.S. pays close attention to every step of fabrication, making sure the best finishes are used and hiring experienced carpenters to build the best quality wooden furniture.
Plastic Beds
Jen Feng Furniture, dating back to 1975, was transformed from a furniture retailer into a furniture maker to survive the competitive local furniture market, now focusing on design with support from furniture production partners in either Taiwan or abroad.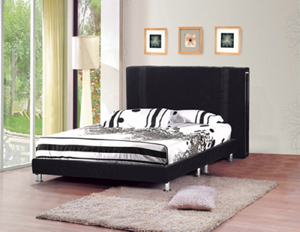 Jen Feng's plastic bed is popular among consumers.
Traditionally providing a wide range of wooden furniture, Jen Feng has been exploring new territory, developing furniture with non-wooden materials like plastics, having introduced several plastic beds which present a very different aesthetic than wooden or metal ones.
"We try to make plastic beds and other furniture because it's a highly moisture-resistant material, which is especially suitable for the often humid climate in Taiwan. Compared to wooden, metal, leather or fabric materials, plastic is almost fully unaffected by moisture," said sales representative Tommy Lai.
Plastics also have many other unique merits like being low-maintenance and easily workable with automated production equipment. While plastics have been widely used for kid's furniture and adult chairs, Lai said that Jen Feng is one of the few which makes plastic beds for adults, and, surprising many people, has earned popularity among consumers. The earlier models came with bright colors like white and shiny black for a very modern appearance. To add a natural touch to plastic beds, the company tries to use colors associated with wood, grass, flowers and so on, with the new models to be soon launched this year.