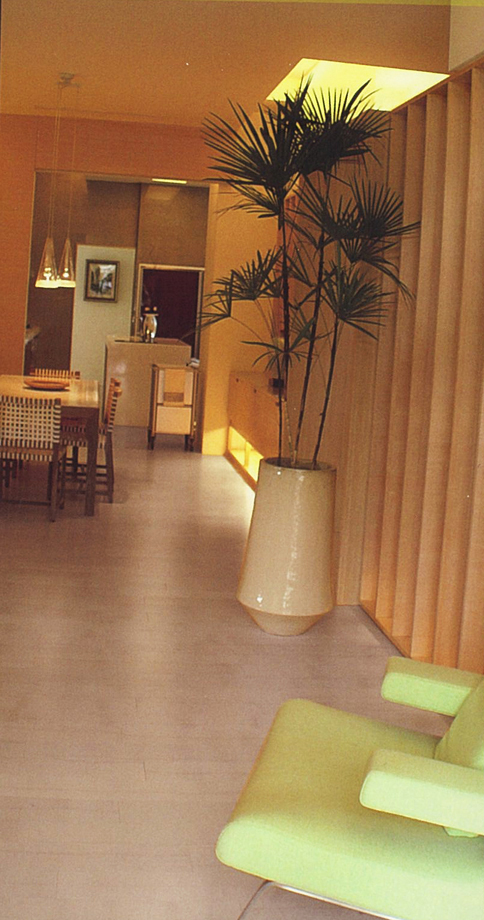 Mosia makes toxic-free flooring out of bamboo.
The "inconvenient truth" for Taiwan's office workers is that they are 100 to 1,000 times more likely to develop formaldehyde-caused cancers than the acceptable levels for other workplaces, with the construction industry generating 28% of the island's total CO2 emissions, according to architectural specialist Z.M. Jiang of the National Cheng Kung University and Chairman T.C. Chen of the Taiwan Green Building Material Council (TGBMC).
"Taiwan's humid climate releases toxic solvents, or volatile organic chemicals (VOCs), used to make paints into the air much easier than in moderate climates," Chen notes. VOCs like formaldehyde are widely used in building materials, with such toxic chemical shown to be harmful to health and even carcinogenic.
"A person typically spends 90% of lifetime indoors, so hazardous building materials are more threatening to health than smoking cigarettes," Chen warns.
Trying to counter the hazardous reality, the Taiwan government raised the minimum content of green building materials installed in a building from 5% to 30% on July 1, 2009, and pledged in early 2010 to spend at least 10%, or NT$46.8 billion (US$1.56 million), of its annual public infrastructural budget for the development of green building materials and eco-friendly construction methodologies.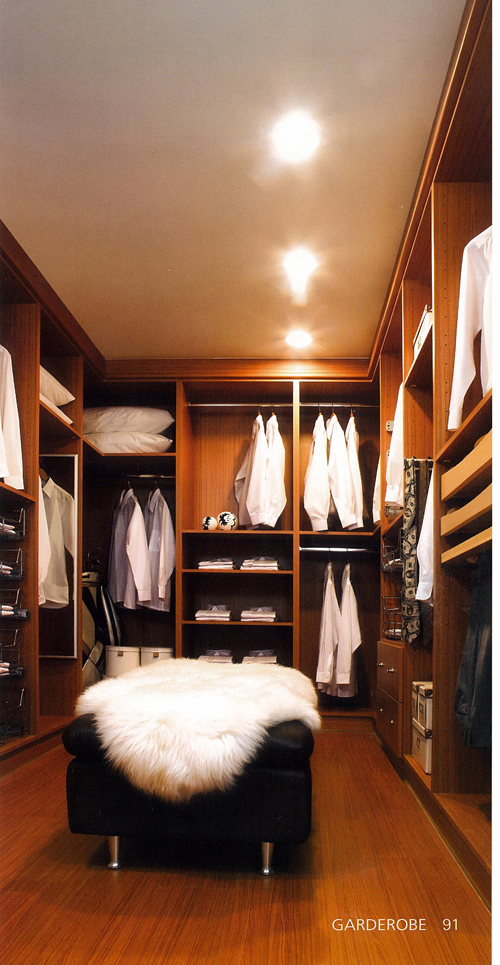 Taiwan Order produces toxic-free furniture using German-made MFC.
In 2008, 57 of Taiwan's building-material manufacturers set up the TGBMC to promote eco-friendly building materials that are toxic free, energy saving, recyclable etc. So far the organization has over 100 individual and corporate members who aim to promote "Green Building" labeled products, an official certification introduced in 2004.
Bamboo Flooring
A TGBMC member, Mosia Flooring Corp., has developed at least three eco-friendly technologies for building materials. Its sprayer captures VOCs to disintegrate into toxic-free H2O and CO2. It makes parquet flooring out of bamboo, offering a three-year warranty, instead of solid wood with a patented lamination using thermoplastic polymer resin instead of urea formaldehyde resin.
SGS's tests prove the sprayer captures 42% of VOCs in a cubic meter chamber in 15 minutes, 88% in half an hour and fully in 60 minutes.
Mosia's lamination uses 200C and resin under high pressure to leave negligible VOCs. Tests show the 0.3 milligrams of formaldehyde in one litter of the resin, meeting the JIS A 5908 standard of Japan and CNS 1349 standard of Taiwan.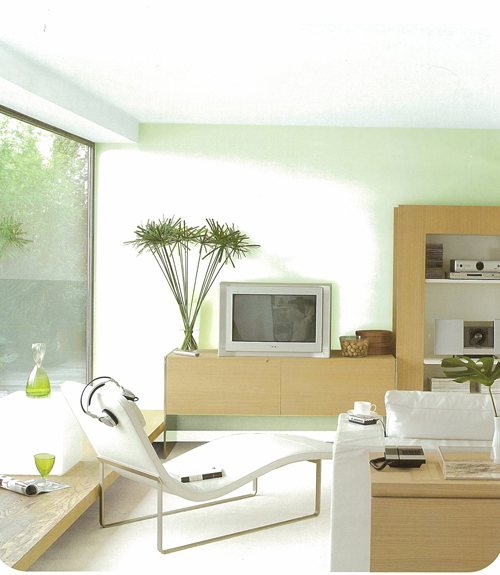 Akzo Nobel Paints Taiwan has a collection of eco-friendly lacquers.
The company makes bamboo parquet flooring with locally-grown bamboo. "We do not use bamboo from China or Southeast Asia as do most of our domestic competitors. Taiwan-grown bamboo boasts much better quality," says Mosia sales rep Patty Yang, adding that bamboo matures rapidly, so is more suitable than other trees that grow too slowly to be harvested for making parquet.
Despite abundant bamboos on the island, the company uses the material very economically. "Our parquets are only 0.35mm thick and are mounted on EPA foam that act as cushion, which is also mold resistant. Bamboo flooring is also durable, as well as being cool to touch in summer and warm in winter," says Yang.
Mosia's products are labeled Healthy Green Building Material.
Plastic Wood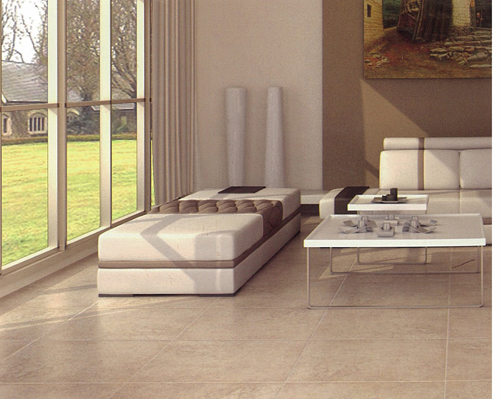 Reclaimed materials are major content in Champion's tiles.
Another maker of green building materials is Woodeasy International Co., Ltd., which promotes plastic wood for outdoor and indoor applications.
Kevin Yang, the sales manager, stresses that the artificial wood is totally eco-friendly for being recyclable, durable, and formaldehyde free.
Yang says the plastic wood, a mixture of 30% PVC from Formosa Plastics Corp. and 70% ground waste wood, lasts as long as 30 years and can be recycled around 16 times, as well as being chemical resistant, deform-free, colorfast, nonflammable, and virtually waterproof.
Despite the higher production cost of the composite material relative to natural wood, Yang says that the investment is easily recouped from convenient assembling and minimal maintenance.
Woodeasy began by making equipment for producing eco-friendly materials, and then recently branched out into production of such materials after seven years of involvement, with a R&D division set up in Singapore. Its products are certified Recycle Green Building Material.
Japanese Technology
Danny Plastics Co., Ltd. is another maker of plastic-wood with its own unique technology. "We make the material using Japanese-developed die-casting and pouring methodologies," stresses Victor Kuo, the sales specialist. The company combines recycled PP and PE in molds and adds wood-free powder. "So, our material is very dense and permits moisture penetration of only 0.062%," Kuo boasts.
The plastic wood also resists erosion, never deforms and is easy to clean, making it ideal for outdoor construction. "Our products last at least 10 years and are recyclable," Kuo says. SGS Taiwan Ltd. has proved the company's products measure up to RoHS standards.
Kuo says that the trickiest part of the manufacturing is molding because complicated wood grains are impressed at this stage, adding that demand for such material has been driven in recent years by rising ecological awareness.
Green Paints
Akzo Nobel Paints Taiwan Ltd., owned by the AkzoNobel Group which owns the Dulux brand, will introduce a lacquer that can capture air-borne formaldehyde sometime in 2011.
Founded in 1977, the Taiwan branch began with production of water-soluble lacquers, but has introduced several eco-friendly paints, including one that reduces light absorption and one captures odors.
The highly-reflective paint reflects 94% of illumination, compared with 89.3% achieved by rival products, shows the company's tests. "The better reflection means consumers don't have to turn on as many lights," Lee notes. Tests also show that the reflectivity remains at 78.1%, higher than the average 63.6% of rival paints.
Like many of the company's other paints, the reflective paint also resists molds. "Taiwan consumers want lacquers that resist mold and humidity especially in this humid climate," Lee notes.
The company's deodorant paint adopts nano-grade bamboo charcoal powder to only capture odors but also stop mold from growing on the objects it covers.
The company's paints are labeled Healthy Green Building Material.
Toxic-free Lacquer
G-Pro Co., Ltd. recently introduced toxic-free lacquers, which the company says are free of formaldehyde, asbestos, hexavalent chromium, mercury, cadmium and cadmium compounds, argentums, and methylbenzene. "Above all, our lacquers are odorless," stresses Gordon Chih, a sales specialist.
The company's catalogue shows its unique eco-friendly formula allows the lacquers to withstand at least 30,000 washings, chemical erosion and two consecutive hours of exposure to 800 C, as well as stopping molds from growing on painted surfaces.
Chih points out that the eco-friendly lacquers are available in nine colors. "They are made with water-based paints from DuPont," he notes. The maker sells the higher-priced eco-friendly paints on their health-enhancing merits. The lacquers are labeled Healthy Green Building Materials, attesting to the toxic free merit.
Solar Shingles
Solar roof tile or shingle is Hsin I Cheng Ceramic Ltd's latest green product. The sales manager, W.J. Lin, points out that an overcrowded market for traditional shingles motivated his company to tap the niche. "We combine solar panels with traditional roof tile to turn out solar shingles," Lin says, adding that users of such shingles save electricity by tapping power generated by the solar tiles.
Lin concedes the tiles are too costly to be popular: "Demand in Taiwan for the tiles comes from mainly the tip of the consumer pyramid." But he is confident that the market will take off as soon as the energy issue becomes urgent.
PE Foam Sheet
Liang Haw Technology Co., Ltd. promotes PE foam sheets developed around the electronics crosslink technology. According to Johnny Chang, a sales representative, the technology is clean and uses PE foam, noting that Taiwan has long depended on Japan for the foam because of a lack of homegrown technology. "In the past, domestic manufacturers of the foam sheets used crosslink liquid, which is poisonous. Electronics crosslink light does not produce toxic substance when beamed on semi-finished PE," he says.
Chang reports that the company is outdoing South Korean manufacturers and sees Japanese manufacturers as its foremost competitors. The company operates 10 production lines and three electronics beaming systems to turn out the non-toxic foam sheets, which are suitable as floor and wall buffers but retail for more than traditional types, with Chang claiming to have received increasing inquires.
Fully Green Furniture
Taiwan Order Furniture Corp. is the only furniture maker in Taiwan to have all its products labeled Green Building Material, claims chairman Jackie Yang, a former TGBMC chairman.
Using German-made toxic-free materials as melamine faced chipboard (MFC) made of only farmed, not naturally, grown trees, the maker tweaks manufacturing to limit waste within only 5% of output, compared with 20% at traditional manufacturers.
Importing MFC boards from Germany 10 years ago sparked eco-awareness in Yang's company, a sentiment that he was confident would trickle down to most consumers in Taiwan. "After all, demand is a powerful force of attrition as over the past few years I've seen many unqualified manufacturers shutter their operations to move offshore," he concludes. However, the company's products go to mostly better-paid consumers.
Idealistically urging Taiwan to emulate Germany, Yang says Germany regulates material suppliers, not homebuilders, to be green; so all German suppliers are eco-qualified and so are all buildings.
Germany and Japan, Yang says, boast the world's most advanced green building material technologies due to, surprisingly, being losers in World War II. Worn-torn Germany and Japan, forced by necessity, the mother of invention, to recycle or run out of reconstruction materials.
Recycled Tiles
Champion Building Materials Group adopts a new process to make tiles, which contain some 67% of reclaimed materials, far above the 20% benchmark set by the government's green building materials standard.
The green theme is repeated throughout the company's production. Using reclaimed materials, water, exhaust gas and energy efficiently in manufacturing has enabled the maker, over the past four years, to reduce CO2 emissions equivalent to absorption by 130 hectares of vegetation, and save enough water to fill 1,500 standard swimming pools a year.