TIFI chairman Joe Chen talks about the Fastener Museum.
Since fasteners have become essential for many industrial and residential applications, there is every reason for Taiwanese manufacturers to be optimistic about the fastener industry's outlook in the years following the global meltdown, said chairman Joe Chen of the Taiwan Industrial Fastener Institute (TIFI) in an interview with CENS.
This optimism is, to some degree, a reflection of the industry's continuous growth of output over the past several quarters. The latest report issued by the Metal Industries Research & Development Centre (MIRDC), an R&D institution located in Kaohsiung, southern Taiwan, shows that the industry's output was worth NT$27.8 billion in the third quarter of 2010. This represented a 9% quarter-to-quarter growth, and marked the fifth consecutive quarterly improvement.
The industry's output totaled NT$83.4 billion in the last three quarters of 2010, sharply up 61% from the NT$51.9 billion posted in the same period of 2009. Exports accounted for NT$75 billion of the overall amount, up 55% year-on-year. In terms of production volume, over 940,000 metric tons of various kinds of fasteners were rolled out during the period, 61% more than the year before.
The industry's output was expected to total 1.1-1.2 million metric tons with a value of over NT$110 billion for the whole year, recovering to the level recorded before the financial tsunami, according to the MIRDC's report.
TIFI's Push for Global Promotion
Few in the line would disagree that TIFI and its chairman have contributed greatly to the industry's recovery through their efforts to boost its global presence and competitiveness.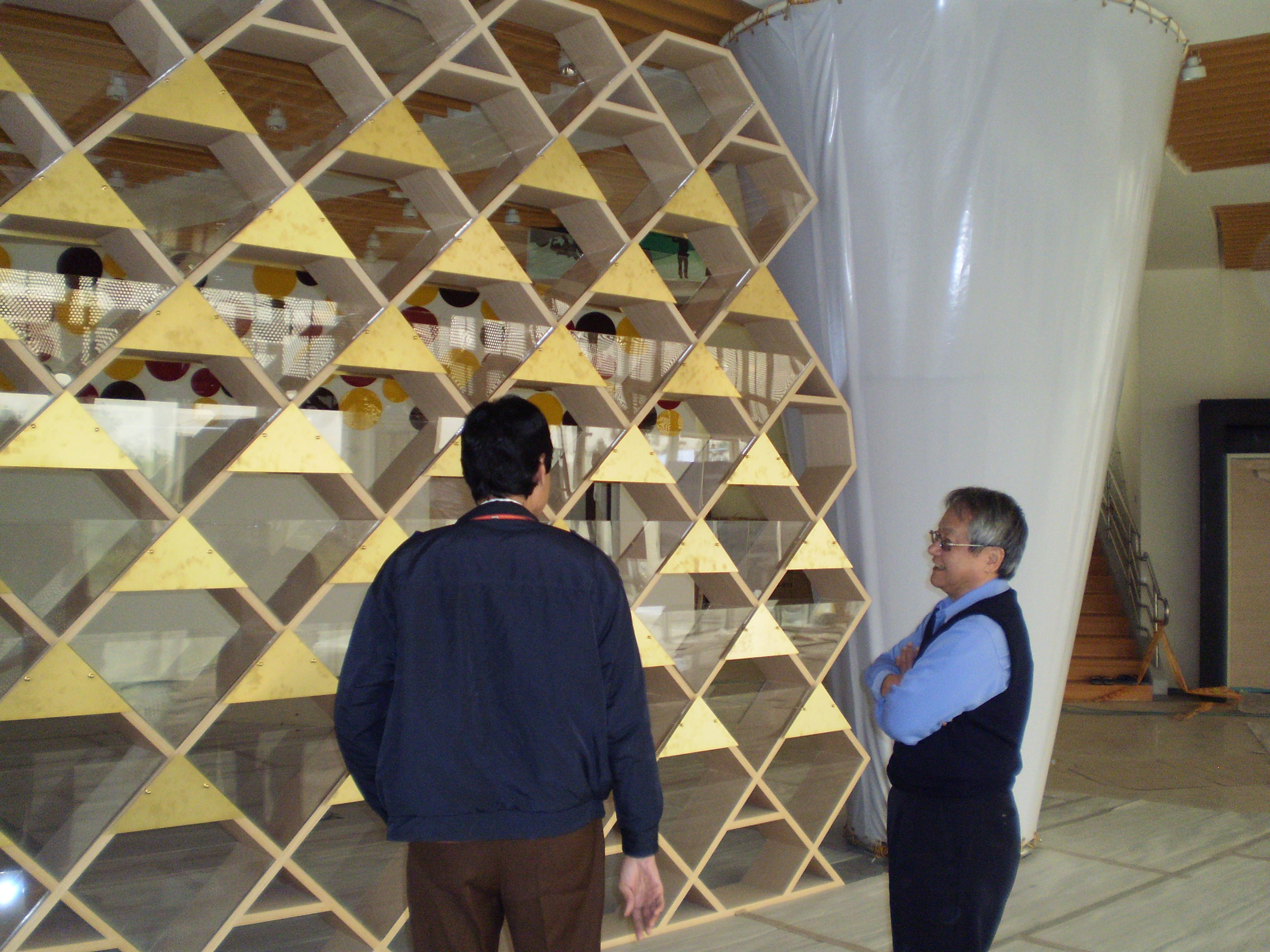 Chen talks with the museum's chief interior designer about its displays and layout.
One example of these efforts is the inauguration of the Taiwan International Fastener Show (TIFS), which is organized primarily by TIFI to provide Taiwanese manufacturers with a platform for meeting foreign buyers in person and developing business opportunities.
Chen had long wanted to resume the holding of a professional trade fair for local fastener manufactures. Until TIFS was held in the Kaohsiung Arena on Oct. 19-20, 2010, there had not been such a show in Taiwan for almost two decades.
Chen encountered considerable opposition to his plan to revive the show. Co-organizers thought that the exhibition hall would be unable to accommodate enough exhibitors and that Kaohsiung was too far from Taipei, causing inconvenience to participants who were unfamiliar with the southern port city. Chen insisted on using Kaohsiung, however, mainly because over half of the island's fastener manufacturers and subcontractors have clustered there to form a fully integrated supply chain. This, in fact, turned out to be a feature that was highly praised by professional buyers.
In the end TIFS proved to be a huge success, drawing 200 exhibitors to fill all the available exhibition space. During the two days of its run the show attracted more than 17,000 visitors, including more than 1,400 buyers from the U.S., Europe, Japan, Korea, Russia, the Middle East, and Eastern Europe, who were impressed by the comprehensive range and high quality of the products on display.
"Encouragingly, most participants acclaimed the success of TIFS," Chen said, "mainly because the show not only provided an effective business platform for local manufacturers, but also served as an economical exhibition alternative while allowing foreign buyers to take business tours and visit suppliers' factories in Kaohsiung to check out their manufacturing conditions personally."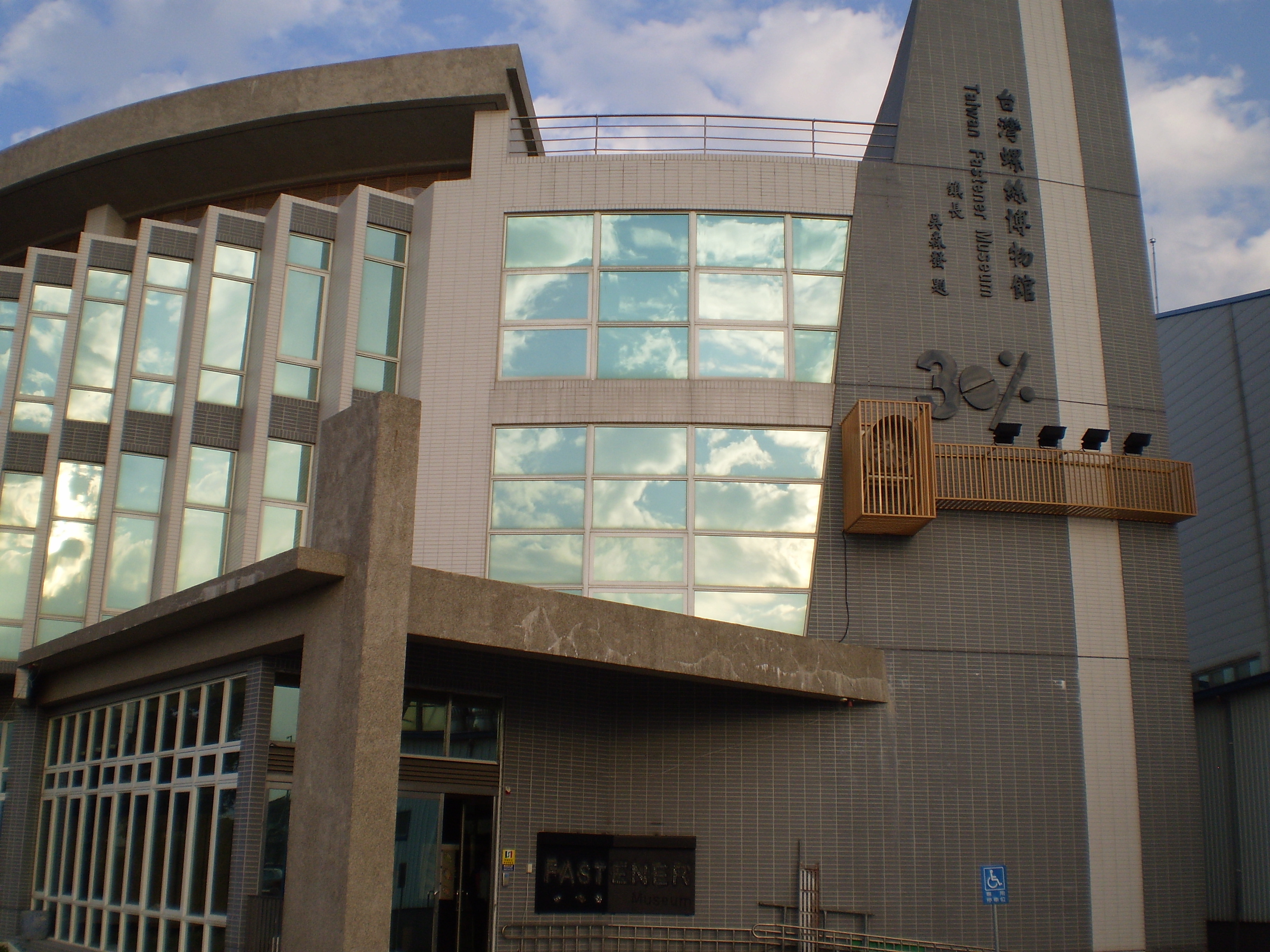 The Fastener Museum will open by the end of this year in Kaohsiung's northern Gangshan District.
Such factory visits resulted in concrete business connections for some of the exhibitors. "Some exhibitors signed business contracts with new customers on the spot;" Chen reported, "and quite a few have also achieved after-show deals over the past few months. For sure, the outcome proved well worth our effort."
Chen said that TIFI plans to hold the show at the same venue every two years, to make sure that exhibitors have enough time to prepare for each of the events. The next show, in 2012 or 2013, will be held in late March, when Taiwan's weather starts to turn mild and warm.
Synergy Works
Since taking over as TIFI chairman in 2008, Chen has repeatedly emphasized the importance of cooperation with local research institutions and universities to boost R&D momentum as well as to graduate students and new blood into the industry.
Under the encouragement of TIFI, Chen noted, a number of fastener makers have joined with either universities or research institutions and the China Steel Corp., the largest steelmaker in Taiwan, in an attempt to enhance their R&D capabilities and operating efficiency, and keep ahead of rivals from emerging countries.
For example, an alliance consisting of China Steel, MIRDC, and seven large fastener and related equipment makers--Chun Zu Machinery, Chong Cheng Fastener, Ho Hong Works, Fong Perng Industrial, Jinn Her Enterprise, Te Hung En Enterprise, and MetCoat Technology--was formed at the end of 2009 with the aim of developing higher-end fasteners and relating technologies.
"An alliances with the participation of heavyweight enterprises such as China Steel will help fastener makers—most of whom are small- and medium-sized enterprises with limited financial resources—to attract the attention of the government more effectively than single companies," said Chen, adding that the alliance has gained the support of the National Kaohsiung University of Applied Sciences, which has helped members with the training of R&D engineers and computerization technologies.
Other universities in southern Taiwan, including Kao Yuan University, National University of Kaohsiung, and National Cheng Kung University, have also been working with fastener makers on research into automation and computer-aided mold development technologies.
"Through joining forces with R&D institutions and universities, the industry can reinforce its role in the global OEM (original equipment manufacturing) market by setting up built-to-order production capabilities while paying more attention to improving customized manufacturing. This will facilitate the move from DIY into professional markets," Chen concluded.
Fighting Antidumping Action
Helping Taiwan's fastener industry to counter the threat of antidumping charges in overseas markets will be another of Chen's top priorities this year, with the EU planning to initiate a review of dumping of Taiwan's stainless steel screws and nuts, and the U.S.'s Department of Commerce seeking comments on its amendment of the country's antidumping rules.
Back in September 2009, the U.S. manufacturer Nucor Fastener filed a lawsuit accusing Taiwan of dumping fasteners and asking for antidumping duties of 78%-150% on several types of fasteners from the island. Since then, TIFI has done its utmost to save the industry from such problems.
That was the first antidumping charge against Taiwan brought before the U.S. Department of Commerce (DOC) and International Trade Commission (ITC), and it raised concerns among Taiwanese fastener makers about their survival in that market.
Under Chen's direction, TIFI immediately hired attorneys and brought industry insiders and American importers, such as Porteous, Bossard, Hillman, and Indent Metals, together to discuss how to deal with the lawsuit. Chen himself participated in the discussions and attended the public hearing held by the ITC in Washington, D.C. on October 14 to defend Taiwan's case. The hard work paid off, and ITC dismissed the case a month later.
However, the DOC has recently asked for public comment on its proposed amendments to the rules for antidumping proceedings, including a revision of the practice on whether to grant separate rates to exporters in antidumping proceedings involving NME (non-market economy) countries, and of the sampling methodologies for respondents. Also, the department plans to shorten the time for antidumping investigations. These amendments would have a negative impact on Taiwanese fastener manufacturers, especially since the U.S. absorbs around 40% of their output.
Chen said that TIFI has worked with Taiwan's Bureau of Foreign Trade and Chinese National Federation of Industries (CNFI) to submit documents to the DOC aimed at protecting the interests of Taiwanese fastener exporters, and that he has personally visited ITC officials and U.S. fastener traders, the American Iron and Steel Institute, and local retail associations and manufacturers associations to solicit their support.
"In addition to expressing our opinions and ideas to ITC officials," Chen said, "we also have to draw as many local supporters as possible to our side so that we can get the rules amendments that best protect our industry's position in the market."
At the same time, Chen has also been busy trying to cope with the EU's attempt to extend the duration of antidumping measures on Taiwan's stainless steel screws and nuts. He noted that the EU has imposed antidumping tariffs on such fasteners from five countries--China, Taiwan, Indonesia, Vietnam, and Thailand--since November, 2005, and that those measures are about to expire.
After a recent review of the antidumping tariffs on Chinese and Taiwanese firms, however, the EU has announced that four Taiwanese firms would remain subject to the punitive tariffs on stainless steel products for several years. This, of course, is a disappointment to TIFI and its chairman.
"We are stunned with the results and totally disagree with them," Chen said. "So, immediately after the EU published its announcement, TIFI again worked with the CNFI to come up with solutions to the case, and then filed a compliant with the European Commission not long ago. Fortunately, EU officials have responded positively to our complaint, and have promised to hold a hearing for Taiwanese firms on Jan. 31, 2011."
Whether Chen and the Taiwanese parties involved can convince the European Commission to dismiss the antidumping case remains to be seen; but TIFI's efforts, to some degree, have already been rewarded by the decision to hold the hearing. This leaves a ray of hope for the industry.
Fastener Museum About to Open
As part of TIFI's effort to form a distinct image of the industry in Kaohsiung, Chen noted, the Fastener Museum will open by the end of this year in Kaohsiung's northern Gangshan District after almost nine years of planning and construction.
TIFI and China Steel have allocated NT$30 million and NT$10 million, respectively, for the construction of the three-story museum, in which various fasteners will be displayed to highlight the cutting-edge capabilities of Taiwanese fastener makers. Wall posters will illustrate the history of the industry, as well as the functions and characteristics of different kinds of fasteners. Colorful, futuristic interior design and creative landscaping will add to the museum's allure.
Chen said that TIFI and local officials plan to make the museum informative, recreational, and educational. "In addition," he commented, "the museum office will provide supplier information to buyers who are interested in the fasteners they see on display when they visit. The Fastener Museum will serve as a show window where visitors can see the true picture of the industry."
Taiwan Fastener Industry Exports, Q4, 2007 to Q3, 2010

Quarter

Export Value

Export Volume
(metric tons)

Average Export Price (per kilogram)

2007, Q1

NT$23.6 bn.

310,000

NT$74.8

2008, Q1

NT$22.4 bn.

300,000

NT$74.6

Q2

NT$24.9 bn.

330,000

NT$75.9

Q3

NT$28.0 bn.

330,000

NT$84.8

Q4

NT$24.7 bn.

260,000

NT$93.9

2009, Q1

NT$16.6 bn.

180,000

NT$90.1

Q2

NT$14.7 bn.

190,000

NT$75.5

Q3

NT$17.1 bn.

240,000

NT$70.9

Q4

NT$20.1 bn.

280,000

NT$72.1

2010, Q1

NT$21.8 bn.

290,000

NT$75.1

Q2

NT$25.5 bn.

330,000

NT$77.5

Q3

NT$27.8 bn.

340.000

NT$82.1
Source: MIRDC