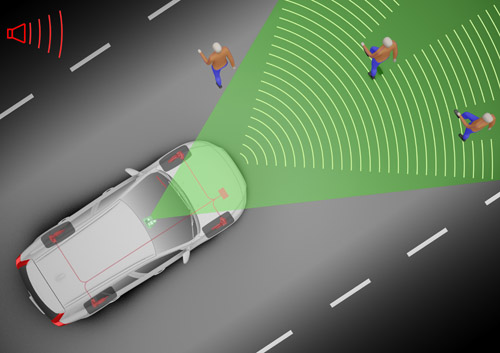 Pedestrian Detection with Full Auto Brake can detect pedestrians in front of a car, warn the driver, and automatically activate the car`s full braking power if the driver fails to respond. (photo courtesy Volvo)
Thanks to advancements in image-processing, algorithm, and sensing technologies, as well as the falling cost of increasingly-complicated integrated circuit (IC) chips, active safety systems are rapidly gaining popularity. They have spread from luxury limousines only a few years ago to medium- to higher-end cars today.
Collision warning systems, for example, began to appear in top-of-the-line vehicles around 2003; now, some collision mitigation features are becoming available on higher-volume 2011 models. While early devices focused on high-speed crashes, the latest innovations are designed to avoid collisions at low speeds – less than 21 miles per hour – as well. One of the latest examples of this technology is seen in the Pedestrian Detection system on the new Volvo S60.
Braking for Pedestrians
The Volvo S60 is packed with high-tech solutions that actively help the driver avoid accidents, and its Pedestrian Detection with Full Auto Brake is a world first. Volvo claims that to its knowledge, no other car manufacturer offers a feature that can avoid collisions with pedestrians.
This radar- and camera-based system can detect pedestrians in front of the car, warn if anyone walks into its path, and then automatically activate the car's full braking power if the driver fails to respond in time.
Pedestrian accidents occur every day in our increasingly intensive traffic environments. In Europe, 14% of all traffic fatalities are pedestrians. The corresponding figure for the USA is 11%, but in China it rises to a worrying 26%.
Volvo's Pedestrian Detection with Full Auto Brake System is an improvement over the company's older Collision Warning with Auto Brake technology, consisting of a newly developed radar unit that is integrated into the car's grille, a camera that is fitted in front of the interior rear-view mirror, and a central control unit. The radar's task is to detect any object in front of the car and to determine the distance to it. The camera determines what type of object it is.
The system can also respond to vehicles that are stopped in front or that are moving in the same direction as the car fitted with the system.
Thanks to the radar's wide field of vision, pedestrians about to step into the roadway can also be detected early on. The camera has a higher resolution than the previous-generation unit, making it possible to detect a pedestrian's pattern of movement. According to Volvo, the auto-brake system requires that the object be confirmed by both the radar and the camera.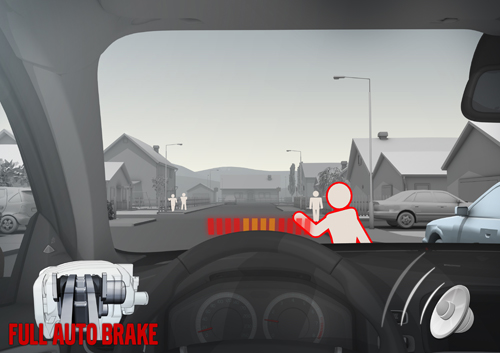 In an emergency situation, the driver of a car with Pedestrian Detection with Full Auto Brake first receives an audible warning combined with a flashing light in the windscreen's heads-up display. (photo courtesy Volvo)
In an emergency situation the driver first receives an audible warning combined with a flashing light—resembling a brake light, to generate an immediate intuitive reaction--in the windscreen's heads-up display. At the same time, the car's brakes are pre-charged. If the driver does not react to the warning and an accident is imminent, full braking power is automatically applied. This technology has the same limitations as the human eye, however, and just like us it "sees" less well in the dark and in poor weather.
Pedestrian Detection with Full Auto Brake can avoid a collision with a pedestrian at speeds of up to 35 km/h. At higher speeds, the focus is on reducing the car's speed by as much as 25 km/h prior to the impact.
Up to 90% of all road accidents are caused by distractions, and half of all drivers that hit another vehicle from behind do not brake at all prior to the collision. Therefore, Volvo's new models will also detect, alert the driver, and automatically brake if the car risks hitting another vehicle from behind.
Increasingly Affordable
"Pedestrian detection until recently was only available as a feature of the latest night vision systems," commented David Alexander, a principal analyst at ABI Research, "but now we are seeing lower-cost technology introduced that uses cameras and/or lidar (light detection and ranging) sensors. We project that by 2016 the lower costs will play a big part in increasing volumes and [will] push the global pedestrian detection market value to more than US$17 billion."
The core component for high-speed crash avoidance is still the radar sensor, ABI Research noted. With Freescale Semiconductor's announcement in November 2010 that its Xtrinsic chipset was going into production, automotive radar sensors will start to benefit from the efficiency of the latest complementary metal-oxide-semiconductor (CMOS) manufacturing techniques and costs are expected to fall even as functionality is improved.
"We also expect collision warning systems to become increasingly available and affordable on higher-volume models," said Larry Fisher, research director at NextGen. "The combination of adaptive cruise control and collision mitigation, which share some of the same components, is likely to be an attractive option."
ABI Research lamented that it still sees no government plans for financial incentives to encourage investment in active safety systems, while large sums (a subsidy of US$7,500 for a Nissan Leaf in the United States, for example) are being provided to promote electric vehicle (EV) technology.
A subsidy of 5%-10% of that amount would make a huge difference in the number of vehicles with collision mitigation, which in a few years will likely bring about a significant reduction in the overall number of traffic accidents, ABI indicated.