The Tong Yang Group, Taiwan's largest auto-parts conglomerate, recently announced a "1560" plan aimed at achieving an annual revenue growth of 15% to 20% over the next five years and doubling revenue to NT$60 billion (US$2 billion) in 2015.

Tong Yang president Raymond Wu predicted that the auto-parts industry would see explosive growth in mainland China, now the world's largest auto market, where the group will strive to expand its sales of original equipment (OE) parts. At the same time, the group will boost its production of aftermarket (AM) parts in Taiwan.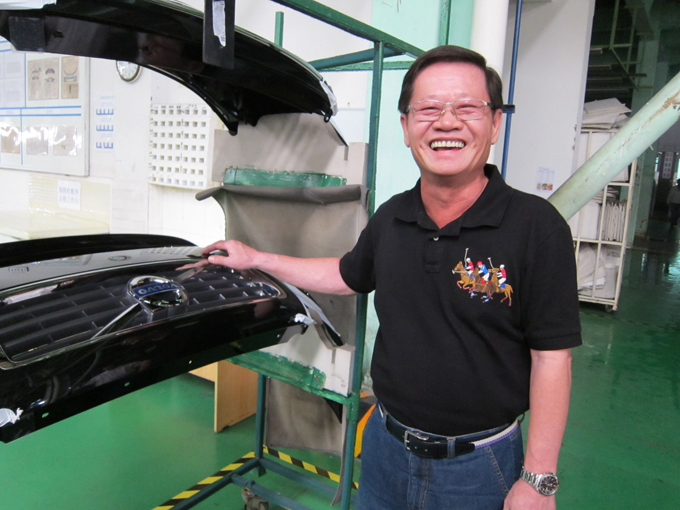 Raymond Wu, president of the Tong Yang Group
The Tong Yang Group reported consolidated revenue of about NT$35 billion (US$1.2 billion) in 2010 and expects an increase of 15% to 20% this year. Citing a forecast by the China Association of Automobile Manufacturers (CAAM), Wu said that new-car sales in China are expected to grow by 10% this year to about 20 million units, creating more opportunities for Tong Yang to sell its OE parts there. With the recovery of the auto market in Taiwan, the group also expects its domestic OE parts sales to increase by 5% to 10% in 2011.
The implementation of the Economic Cooperation Framework Agreement (ECFA) between Taiwan and China, Wu said, and the tariff reductions that it provides for, have prompted Tong Yang to focus its AM parts strategy on the Chinese market. "The key factor to achieving the goals of our '1560' plan," he commented, "is the Chinese AM parts market." The group's Nanjing subsidiary, Nanjing Tong Yang Plastics Co., will serve as the point man for the development of Tong Yang's AM parts market there.
Most Promising Market
China will be the most promising market for both OE and AM parts for the near future, Wu stated, especially since car ownership there has reached 85 million units.
The group expects to complete a new factory at Nanjing Tong Yang in the first half of this year. Wu reported that the company has already developed about 100 sets of molds and dies which are used for the production of AM parts at the Fuzhou Tong Yang Plastic Co., Nanjing Kaiyang Auto Plastic Parts Co., and Wuhu Youth Tongyang Auto Plastic Parts Co., all of which are affiliated with the group.
The president said that Tong Yang will gradually build up its own AM auto-parts sales channels in China, initially for parts mainly for international car models and then expanding to parts for home-grown Chinese models. The group plans to set up several regional warehouses in China so as to offer one-stop shopping services for parts buyers there.
To facilitate the more aggressive development of the OE parts market in China, Wu went on, his group will strengthen cooperation with the Guangzhou Automobile Industry Group Co. (GAIG) and FAW Group with the aim of extending its partnership relationships to all of the 10 biggest automakers there.
This year Tong Yang plans to set up a factory in Changsha in cooperation with GAIG-Fiat, and hopes to expand its OE parts supply to include GAIG-Honda and GAIG-Toyota.
The FAW Group will set up a new auto plant in Guangzhou, Wu reported, and his own company plans to establish a new facility there. In addition to courting ties with major automakers in China, Tong Yang also strives to forge cooperative ties with international first-tier OE parts makers there.
Tong Yang began moving into the Chinese market in 1994 and now has 16 factories there (including nine plastic-parts plants), some wholly owned and some partnerships. Its total investment there has reached US$111 million. These China operations produced total revenues of about NT$14.6 billion in 2010, an increase of 39.3% over the previous year. (Feb. 2011)