Sales of new powered two-wheelers (PTWs) in Taiwan fell to a two-decade low of just 525,978 units last year, according to statistics compiled by the Ministry of Transportation and Communications (MOTC).

Exports are suffering also, as the sharp appreciation of the New Taiwan Dollar against the greenback has eaten up most profits from overseas sales.

The only good news for the domestic PTW industry is the rapid expansion of electric-scooter manufacturing. With strong policy support from both central and local governments, sales of new e-scooters rose to 5,183 units in 2010, accounting for about 1% of all PTW sales. The biggest winner from this development was the China Motor Corp. (CMC), a member of the Yulon Group, which captured more than 60% of the market last year.

All major PTW brands experienced declining sales in Taiwan in 2010. Sales dropped by 18.5% for the Kwang Yang Motor Co. (KYMCO), which has long been the top domestic supplier; 5.1% for Yaaha Motor Taiwan Co., No. 2 on the island; and 5.9% for Sanyang Industry Co. (SYM), No. 3.

Sales of other brands, including PGO, Suzuki, Hartford, and other imports, plummeted by an average of 36.5% in 2010, to only 24,006 units sold.

The decline began after 2008, when sales grew by 4.1% to 814,803 units. New and more stringent "fifth-stage" emissions controls came into effect on the first day of 2009, requiring all new PTWs to have electronic fuel-injection (EFI) engines.

Setback for Yamaha
Yamaha suffered a setback in 2009, when it recalled some 200,000 PTWs for potential fuel-pump problems. Its total sales that year amounted to only 167,110 units.

This helped KIMCO to keep ahead of Yamaha and retain its No. 1 position in Taiwan, with sales of 193,000 units. The company's sales dropped by 18.5% in 2010, however, while sales by major competitors fell by less than 6%.

Last year, according to MOTC statistics, monthly PTW sales peaked in September at 57,700 units and then began falling, plummeted to 44,000 units in December for a year-on-year loss of 68.9%. Observers attribute this sharp drop to the large base established in December the previous year, when sales were bloated by buyers rushing to get their vehicles before the more stringent rules became effective. (After that, new scooters had to be equipped with EFI, adding at least NT$15,000 to NT$20,000 (US$500-666) to the price of a scooter.)

Another factor, PTW makers say, was the expiration at the end of 2009 of government subsidies and commodity tax exemptions for new PTW purchases. In addition, dealers pre-licensed more vehicles at the end of the year to make themselves eligible for higher year-end sales bonuses from the manufacturers.

With things looking up, KYMCO put its workers on overtime in December and January to fill inventories, and is optimistic about sales following the Lunar New year holidays in early February. Most manufacturers, in fact, feel that sales will resume their normal annual level of around 550,000 units this year.

Exports of PTWs from Taiwan did not do badly last year, considering that the global market was suffering the effects of recession. Statistics compiled by the Taiwan Transportation Vehicle Manufacturers' Association (TTVMA) show exports of 303,854 units in the first 10 months of 2010, down 13.65% from the previous year. Actual export numbers were surely higher, however, since manufacturers who are not members of TTVMA do not report their exports to the association.

The quality and functionality of Taiwan-made PTWs have been improving rapidly, and as a result the island is now a major export base for high-end scooters with engines smaller than 500cc. More local manufacturers are now moving into the production of larger cruise models, with engines displacing 66cc or 700cc, for high-end markets in Europe and the U.S.

Most of the PTW exports in 2010 went to Japan, Italy, Spain, Germany, and Belgium, indicating that Taiwan's scooters are most popular in the industrially advanced nations.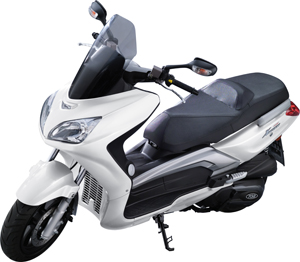 Taiwan is now a production and export base for high-end scooters.
New PTW Sales in Taiwan, 2010
Brand

December

January-December

Volume

Share (%)

Change (%)

Volume

Share (%)

Change (%)

KIMCO

16,030

40.0

-72.5

193,079

36.7

-18.5

SYM

11,243

28.0

-65.6

141,782

27.0

-5.9

Yamaha

10,218

25.5

-63.7

167,110

31.8

-5.1

Others

2,621

6.5

-73.4

24,006

4.5

36.5

Total

44,112

100

-68.9

525,978

100

-12.5
Source: MOTC
Major Market Countries for Taiwan-made PTWs, 2010

Rank

Country

October

Share (%)

Change (%)

Jan-Oct

Share (%)

Change (%)

1

Japan

9,098

39.78

-5.16

86,653

28.52

-24.80

2

Italy

1,123

4.91

12.86

39.078

12.86

14.05

3

Spain

1,194

5.22

-53.67

17,481

5.75

40.53

4

Germany

634

2.77

-46.09

16,549

5.45

17.02

5

Belgium

443

1.94

-64.47

15,950

5.25

7.57

6

Nigeria

913

3.99

-22.10

12,418

4.09

34.12

7

Denmark

254

1.11

337.93

10,302

3.39

-8.98

8

Israel

613

2.68

-36.67

9,330

3.07

-6.61

9

Colombia

760

3.32

377.99

8,986

2.96

1601.89

10

Madagascar

876

3.83

39.71

7,762

2.55

32.68

11

Hong Kong

662

2.89

28.97

7.622

2.51

-24.05

12

Korea

818

3.58

-10.70

7,050

2.32

-18.89

13

Greece

284

1.24

-26.99

6,429

2.12

15.24

14

France

272

1.19

100.00

5,133

1.69

195.17

15

U.S.A.

669

2.93

214.08

5,029

1.66

-81.48

16

Netherlands

460

2.01

38.55

4,719

1.55

-28.40

17

Australia

158

0.69

-80.49

3,189

1.05

8.68

18

Mexico

350

1.53

100.00

3,076

1.01

3745.00

19

Austria

253

1.11

100.00

2,983

0.98

63.72

20

Macao

342

1.50

-34.23

2,955

0.97

-28.97

Others

2,692

11.77

-3.37

31,160

10.25

-43.01

Total

22,868

100.00

-10.22

303,854

100.00

-13.65
Source: TTVMA