Branding for Taiwanese lighting makers is costly despite shared language in China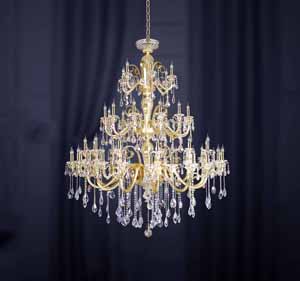 Photo courtesy of Diamond Life.
Few if any Chinese exhibitors promote lighting brands in the brand-dedicated Aurora Hall of the Hong Kong International Lighting Fair, the world's No.2 lighting fair since being split from an electronics fair around 12 years ago. That has changed for in recent years increasingly more lighting manufacturers from Greater China, or China, Taiwan and Hong Kong, have been stepping up effort to transform their stereotype as OEMs for Western brands in an ever crowded market.
Bright International Group Ltd. chairman Keen Hsu, responding to why branding is critical, said, "Being an OEM (original equipment manufacturer) puts you at the mercy of brand-name supplier, which does not allow you to turn out products according to market strategy to minimize risk of forced downtime due to order reduction caused by recession."
However, branding is costly. The Taiwan-born Hsu, whose firm is headquartered in Humen, China and listed in Hong Kong, stresses that branding calls for diversified thinking, setting up distribution and well designed products. "After branding in China for eight years and having invested heavily, we're only seeing returns lately," says Hsu.
Costly Nevertheless
Despite sharing common language and culture, Hsu notes that branding in China by Taiwanese lighting manufacturers is still costly. Given China's huge area and many provinces, one should not, when branding to target the whole nation, choose media accessible in only a few provinces. On the other hand, promoting on the national TV station CCTV (China Central Television) costs an arm and a leg for a long line of advertisers are waiting for few-second spots, Hsu says. The company is promoting its "Bright" brand for commercial lighting and "Bright Your Home" for household lighting.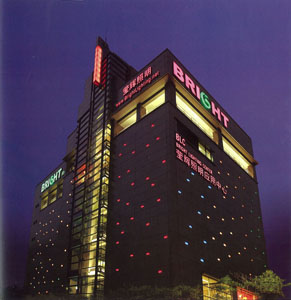 Bright has invested considerably in branding. Pictured is its design building in Shanghai.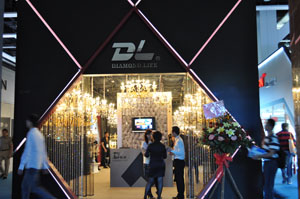 Diamond Life promotes D.L.-branded and Olanies-branded chandeliers.
Setting up retail distribution is also a key investment, Hsu adds. "Retailers, not end users, drive brand sales for consumers are ignorant of industry standards but are price-conscious; so retailers are obliged to educate end users to win their trust."
Over the past 10 years, Bright has built an extensive sales network, with 260 franchised stores and four warehouses, enabling customers in Shanghai, Beijing, Chendu and Dongguan to take deliveries four hours after ordering.
Copycats can pull the rug out from under foreign suppliers eager to build brands in China, whose dishonesty, Hsu recalls, pushed many Taiwanese brand-name suppliers under when his company was just beginning to build its brand. "Luckily, profitable export allowed us to run the money-losing branding program in those days."
Export-dependent
Bright's revenues hinge on overseas contracts, majority of which come from US-based Hubbell Lighting and Lithonia Lighting, recognized as the top-three commercial lighting suppliers stateside, along with Cooper Lighting. Several years ago, Bright tried branding commercial lighting after acquiring a warehouse in Los Angeles. However, costly advertising and transportation, coupled with competition from formidable rivals in the States, dashed those ambitions.
Living up to the image that brand is synonymous with quality, Bright stores always remind customers that Bright-branded products meet international safety standards, don't turn away customer complaints, are guaranteed and come with after-sales services. "Many local manufacturers in China claim to be brand-name suppliers without offering such promises and services," Hsu says.
Bright's quality is not built on hype. The company has invested considerably in automated production, advanced inspection equipment and China's first privately-held Underwriters Laboratories-certified laboratory. Its products are literally globally-certified, meeting TUV and GS of Germany, EMC and CE of European Union, CSA and CUL of Canada, S SEMKO of Sweden, N NEMKO of Norway and China's 3C standards.
The line of lighting products are by a 200-member R&D team, which partners with foreign counterparts as Duncan & Miller R. Scott Boyd of the United States; the Puget Sound Christian College-trained Japanese designer Norihito Kishimoto, and Pierce Paxton Design Studio Founder Karyl Pierce Paxton.
Patented products convince customers to accept Bright's prices. "We typically win around 300 patents a year, which, backed by patent-infringement investigations, help us tremendously in price negotiations," Hsu says.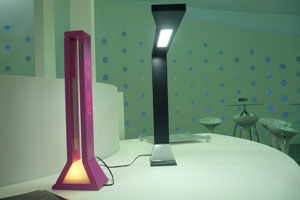 Everlight`s ZENANO-branded desklamps.
Diamond Life Int'l Lighting
Diamond Life International Lighting Group Ltd., founded in 1979 by the Hong Kong-born Wong Kwai Chi and also headquartered in Humen, supplies D.L.-branded and Olanies-branded chandeliers. "Like my company, many Chinese lighting manufacturers have begun branding after years of improvement in quality," Wong says.
The company began branding around seven years ago after over 30 years as an OEM for Western brand-name suppliers. "Even 10 years ago or so, a Chinese brand was still dodgy to Western buyers for their deep distrust of quality," Wong recalls.
Chins's quality improvements in lighting follow closely with development in Taiwan's lighting industry. Wong, after moving to China around 30 years ago, depended on Taiwan-made components and fittings for around 18 years. "In the late 1980s and early 1990s, many established brands in the West began ordering from China through agents for Taiwanese manufacturers had already set up production there," he says.
The company does not cut corner on quality, using Swarovski crystals, which are recognized as the finest.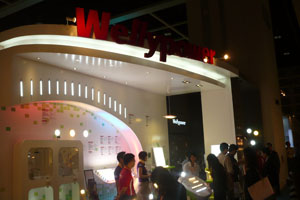 Wellypower believes branding in the West has to be with local help.
Extensive Franchisees
Diamond Life has set up 50 franchised stores in China selling D.L.-branded products, generating 40% of sales in the mainland, where most of its branded chandeliers are sold. "With China emerging as the world's biggest market for many products as lighting and furniture and brand-consciousness growing, franchised stores will cannibalize any rising business in hypermarts," Wong analyzes.
Confident of his operations in the changing retail landscape in China, Wong says, "With over 30 years in volume selling, it's been easy for us to develop the franchise business. So we have not wasted money to build brand but have tapped our abundant experience. Taiwanese manufacturers will need at least six to seven years to brand in China." Every year, the company supplies 40 to 50 new collections to franchisees.
Diamond Life focused on household lighting until 1980, when it started making products for the hospitality sector, and now supplies most of its chandeliers to luxury hotels. Wong says his company has shipped chandeliers to over 60 hotels worldwide, with the segment generating over 60% of annual sales.
The 2008 financial crisis was a blessing in disguise. "While homes were hamstrung by the meltdown, hotel owners increased outsourcing to China to cut costs," Wong says, adding that many orders came from the Middle East.
Everlight Electronics
Everlight Electronics Co., Ltd., Taiwan's No.1 LED packager, has branched out into lighting manufacturing, including MR16 lamps, light bulbs, streetlights, indoor lamps, desk lamps and signage boxes, and introduced "EVERLIGHT" and "ZENANO" branded LED lighting fixtures for China, Europe and North America. "Selling branded products is an upgrade from manufacturing of LED packages, lighting modules and lighting fixtures," says corporate president and chief executive, Robert Yieh.
In recent years, the company has been putting more weight on the lighting business because LED backlight is segment with ever thinner margin.
With big and small makers of LED lighting having just begun branding, everyone is on equal footing, Yieh comments.
The company began branding in Asia in late 2010 with its EVERLIGHT brand, with the effort to reach Europe and North America sometime in 2011 with the ZENANO line, whose eponymous desk lamp is ready for volume production. "We will set up distribution channels in early 2011 at the latest," Yieh says.
Yieh says that China is a huge market while Europe and North America are markets that stress original design, which prevents you from playing copycat. The company plans to open assembly lines in Europe and North America to skirt regulations on imported LED lighting fixtures.
Wellypower Optronics
Wellypower Optronics Corp., mostly held by LED maker AU Optronics Corp., has transformed into a brand-name supplier of T5 lighting fixtures from mere manufacturer of light sources as T5 fluorescent tubes, cold cathode fluorescent tubes and LED modules. "Without setting up brand-name operations, you may be forced to be a contract manufacturer that can be readily replaced by buyers," says Grace Yang, international lighting sales manager.
"You must be patient and have deep pocket for the road is long. Expect a lonely journey before your brand name becomes popular," she stresses.
Yang says despite common official language and culture, Taiwan-created brands still wrestle to enter the China market. But in the West, a Taiwan brand may quickly win trust among buyers for well-recognized Taiwanese quality, which may not be the clincher when comparing prices of Taiwan-made products against China-made ones.
Without specifying why, Yang says that " in the West you must build brand with local help, so we hire locals as sales reps, distributors and marketing consultants to collect market intelligence."
XLEDIA Corp.
XLEDIA Corp., an LED-lighting startup backed up by iconic Taiwanese manufacturers, is promoting its XLEDIA-branded LED blubs. The CEO, Jerry Lee, says: "A company with only generic brands is unknown and its products are less profitable, but above all can go under as soon as markets flounder."
The company has successfully launched lamps in Japan, its first overseas market. "We target Japan as our first overseas market, for aggressive promotion of LED lighting by the Japanese government makes such lamps popular among Japanese," Lee explains, adding that affordability and good quality make his XLEDIA products popular in Japan. "At equal wattage, ours are brighter and lighter than Toshiba's, and above all, our lamps are impact-resistant."
XLEDIA decided to build its brand after failing to sell Toshiba at profitable terms a unique LED thermal-conductivity technology, according to Lee.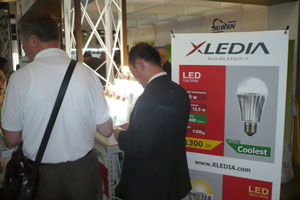 XLEDIA`s entry into Japan is helped by official promotion of LED lighting, good quality and affordability.
Home Resource Industrial
The Taiwanese-founded Home Resource Industrial Co., Ltd. mostly promotes its brands in Taiwan and China. David Chen, the general manager, points out that lighting products lack value as generic items. "But even with brands, you must carve your own niche for any one brand cannot be popular in the entire market."
The company, since switching to LED lighting manufacturing from traditional lighting, is targeting LED table lamps for the household market as its niche. "Household table lamps are the middle of the market pyramid, with commercial models and student lamps being the top and bottom segments; while the middle section still stresses design," Chen says.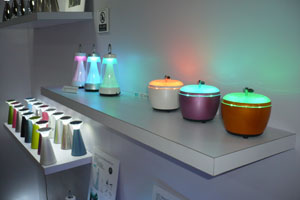 The Red Dot-awarded mood desk light is a major player in Home Resource`s brand operation.
Over the past few years, the company has introduced several well-designed lamps, including a Red Dot-awarded mood light shaped like a mushroom and a patented collection called Piano.
"You'll definitely face underselling competition without transforming into a brand-name supplier," Chen says. Fortunately the company's some 10 years of experience as a contract supplier for European brands are an asset to its brand-name operation, confirming the timeless truth that familiarity is the best key to opening a new door. "Having been a contract manufacturer for European buyers has convinced many retailers to carry our branded products."