Product lines now often tap locally-available materials

Taiwan's lighting fixture manufacturing industry was once regarded a sunset industry due to its labor-intensiveness and slim margin that threatened industrial survival during industrial upgrading in Taiwan. Fortunately and through one to two decades of effort, this industry has successfully weathered challenge to become more adept at developing design-oriented, stylish products that are more marketable.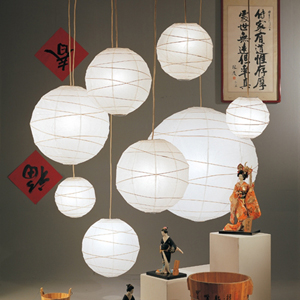 Paul Yu is famous for its bamboo lighting series.
With the ever popularization and maturation of LED lighting technologies, coupled with more demand for eco-friendly products, most lighting companies are glad to develop such products to meet the greener trend; while some savvy makers know how to choose materials to especially develop a line flavored with distinctive styles.
Paul Yu Industrial Corp., established in 1978, is a first-generation lighting company in Taiwan. Running a factory in the Philippines and having launched several models of bamboo and shell lighting fixtures, tapping the plentiful bamboo and shells nearby, the maker, according to Paul Yu, has found the bamboo and shell lighting fixtures among its best sellers.
Bamboo Lamps
Offering products mainly for residential use, Paul Yu exports most of its output to the U.S., Europe, the Middle East, Australia, New Zealand and Japan. With a factory of 35,000 square meters in the Philippines and around 2,500 workers, the maker, after one or two decades of development, has launched bamboo table lamps, pendant lights, floor lamps, wall lamps and so forth. Most are made with bamboo frames coated with paper-like fabric. A lantern-shaped pendant light, for example, has a globe-shaped bamboo frame covered with paper-like fabric. Of a simple, country style, the pendant light is very popular as Japanese interior decoration. According to the company, the bamboo lantern, after being launched for nearly two decades, still achieves steady sales due to consumers' preference for the timelessly-beautiful bamboo. "As long as made with right materials and craftsmanship, lighting products will always appeal to consumers," commented a sales representative.
Capiz Lamps
Besides its bamboo lighting series, Paul Yu is also well known for its shell lamps made of shells, abundant nearby its Philippines factory, located in the Capiz area on the coast of the Sibuyan Sea.
Capiz, the shared name of the area and the local shell, is flat and semi-transparent, distinctly delicate as that of quality pearls. In the Philippines, the decorative and fashion items made of Capiz shells are widely regarded as upscale and ritzy. The Capiz shell is also used to make candleholders, which looks striking with the flickering flame shining through the semi-transparent shell.
Paul Yu offers a series of Capiz lighting products that are seen by consumers as functional and decorative.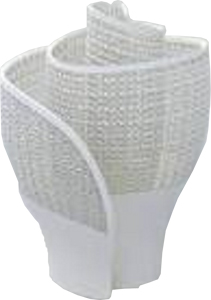 DETEKT makes lighting fixtures with RP technology for special lighting mood.
New Plastic
DETEKT Design Technology is a specialized design company, with three overseas branches in Australia, Hong Kong and Zhengzhen in addition to being headquartered in Taipei. It has launched several lighting product models, all of which are highly regarded by consumers for innovative design that uses modern technology to build classic appearance.
The company makes lighting fixtures with the advanced RP (rapid prototyping) technology. "With the RP technology, we can use polyamide, which is widely used by various industries for prototyping during product testing," said Leicester Huang, a designer, adding that polyamide is good for prototyping due to its good ductility. Furthermore, it's among the few plastics with high transparancy.
Multi-layered
DETEKT uses the RP technology to shape polyamide into multi-layered lighting fixtures to impart special lighting effect. The cloak-shaped pendant lamp, for example, is inspired by the crossbeam-supported wooden brackets popular in ancient Chinese architecture. This lighting fixture with multiple layers emit crisscrossing lighting effect, said Huang.
Another notable item is the Plump Lamp, which is also made of polyamide via RP technology for the same lighting effect. The Plump Lamp is inspired by Tang Dynasty maidens who are known for full figures, the preferred form than the slender counterpart, that symbolize wealth and health.
The multi-layer lattice lamp presents a similar concept as being wealthy and healthy as beautiful women in the Tang Dynasty, said the company. Meanwhile, the plump-shaped lamp also looks like a flower bud which emits lighting from the central pistil.
DETEKT uses polyamide that is European Union (EU) certified to be safe. Each lighting product comes with an LED bulb which is 16-color variable.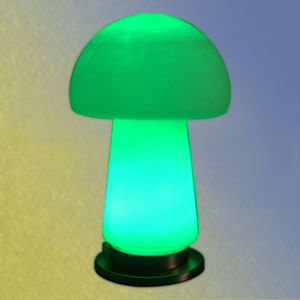 The mushroom table lamp from Lighting House is warm and cuddly.
Mushroom Lamps
Lighting House Inc., established in 1993, is a globally-renowned OEM and ODM of lighting products for nearly two decades. It also engages in R&D to develop original products. Its product line includes ceiling lamps, pendant light, table lamps, floor lamps and so forth. A recently developed item is a table lamp with a head which is 180-degree adjustable or swings 60 degrees, enabling users to adjust for the most suitable angle.
The company's lighting products all share the common characteristic of being sleek and simple. There is endless potential to change their simple appearance, according to the maker. The mushroom-shaped table lamp, for example, comes in around twenty different shapes, including short, tall, plump, slender, bent and straight models, and as many as dozens of models if taking into account the various colors available.
Mushroom lamps are very popular mainly for their lovely and cute appearance, according to the company. Moreover, it's inspired by the mushroom, a favored food by many due to high nutrition.
Mushroom lamps are easy to produce because of their uni-body fixture, with the easy manufacturing procedure helping to reduce retail price to raise popularity for all consumers from various walks of life. Meanwhile, mushroom lamps are mostly without sharp angles to evoke an easy-going mood. "Mushroom lamps look simple, but appeal to almost all different consumer groups," the company observed.