CCFL lighting emits less heat than HCFL and LED counterparts

Aussmak Optoelectronics Corp. recently rolled out a cold cathode fluorescent lamp (CCFL)-equipped downlight, showing determination to offer the lighting market a less expensive, energy-efficient but quality alternative to the existing hot cathode fluorescent lamp (HCFL) and light emitting diode (LED) counterparts.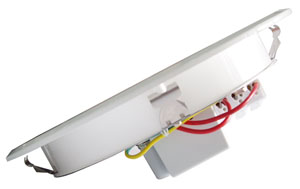 Aussmak`s CCFL downlight has many advantages.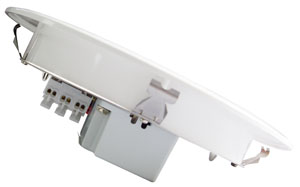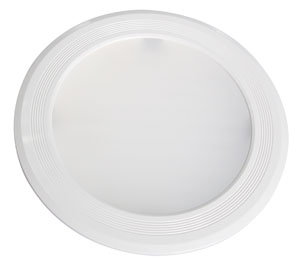 The downlight, measuring six inches or 15 centimeters in diameter, are replete with advantages, including a minimum of 30,000 hours of lifetime, zero maintenance, high efficiency of over 1,050 lumens at 15W, lower heat output than HCFL and LED downlights, dimmability, 3.15-inch-thick slim design and lightweight. The lamp has 2700K warm-white light and CRI higher than 84, and is therefore suitable for both indoor retrofit and new-installations.
The introduction of this downlight follows the company's CCFL-based T8, T5, and T9 light tubes as well as spiral-shaped compact lamps, which have been available for two years.
"CCFLs are becoming increasingly popular mainly for being very durable, energy-efficient, containing minimal mercury, dimmable and emitting non-tanning UV-B ray," says George Lin, the general manager, adding that CCFLs, which are mainly used for backlight modules in liquid crystal display TVs, is a relatively new lighting application.
The proven durability of CCFLs as backlights enhances its suitability as general lighting. In fact CCFLs typically lasts 50,000 hours as TV backlights, stresses Lin. Besides being 80% more energy efficient than incandescent bulbs, CCFLs, according to Aussmak data, contain far less mercury than existing fluorescent lamps.
Better Performance
Aussmak data shows that LCD lamps outperform HCFL-based T5 and T8 lamps in luminous efficacy. An LCD grid lighting fixture with four T8 CCFL lamps achieves 54.40 lumen-per-watt, compared with 44.67 lumen-per-watt with four T8 tubes, and 44.23 to 49.64 lumen-per-watt for a T5 lighting fixture with four tubes.
The data also shows that CCFL can be 36% more energy efficient than T8 tube and 17% more than T5 tube. CCFLs also emit around 349.1 kilograms per unit of CO2 yearly, compared with T8's 549.5 kilograms and T5's 420.2 kilograms. CCFLs also can be dimmed 30% to save more energy and reduce more CO2 output, as well as use relatively lesser glass tubing to be recyclable.
The key to CCFL's longevity is "cold" activation, with the layer wrapping the two nickel electrodes, when "sputtered" by high voltage, of a lamp discharges electrons to bump into argon and mercury gas molecules to generate UV rays, says Lin, adding that HCFLs adopt "emitter" that discharges electrons at high temperature or "hot" activation. Simply, cold activation enables one million on-off switches, compared with HCFL's 100,000.
With industry certificates as CNS, CCC, CE, UL, and PSE, Aussmak is qualified to bid for government contracts.
Not a retail-oriented supplier, Aussmak taps overseas markets with its "AUSSMAK" brand as contractor, mainly targeting public work projects and working with wholesalers and trade suppliers. In Taiwan, it has supplied CCFL street signs to the Kaohsiung Government in southern Taiwan, bus stop billboards for the New Taipei City Government in northern Taiwan, and lighting for several hospitals and office buildings.