Demand for LED bulbs to surge by 2013 due to incandescent phase-out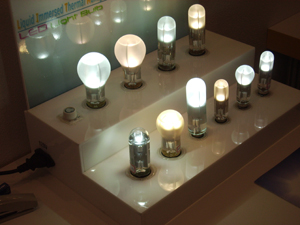 LED bulbs will emerge as mainstream LED lighting in 2011.
Digitimes Research, a Taiwan-based consulting firm tracking information-technology markets, estimates the output value of the LED (light emitting diode) light bulbs is likely to account for approximately 10%, or US$8 billion, of the total for the global lighting industry in 2011, surging from 2010's share of 3.2%.
Meanwhile the market turnover of extra-bright LED devices will surge to US$12.6 billion in 2011, up 53% from 2010's US$8.25 billion, driven mainly by higher adoption of such devices in bulbs.
F.H. Lin, a market analyst and project manager of the consulting firm that was co-founded by a group of Taiwan's high-tech entrepreneurs in 1998, attributes the impressive output value growth mostly to LED-bulb shipments, which she estimates will increase sharply due to major economies' banning of sale and production of incandescent bulbs by 2012.
Phase-out Driven
Lin projects global demand for LED bulbs to spike from 2011's 596 million to 2.5 billion by 2013 partly due to phasing out of 40W and 60W incandescent bulbs. However, the LED bulb demand by 2013 is still insignificant compared with the various 20 billion bulbs consumed worldwide today.
However LED bulbs are set to emerge as mainstream lighting of the future, in contrast to their applications as mainly portable, decorative and cabin lights in the past, Lin notes. "Consumption of LED bulbs will be driven by subsidies encouraging energy-saving products in North America, the European Union, Japan and South Korea, as well as rising willingness to buy such lighting at the retail level," Lin elaborates.
Rising replacements of incandescent bulbs with LED bulbs, she forecasts, will fuel demand for extra-bright LED devices, boosting the market scale to12.4 billion units in 2011 from 2010's 4.8 billion units.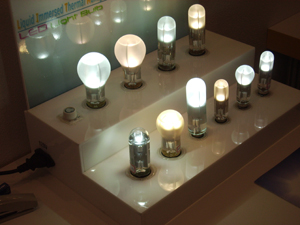 LED bulbs will emerge as mainstream LED lighting in 2011.
Tech Advances
Also, she believes technological advances and price declines will substantially help enhance market acceptance of LED lamps. Citing guidelines set by the U.S. Department of Energy (DOE), she notes that LED luminous efficacy will rise to 243 lumen-watt by 2020, up from 140 lumen-watt in 2010.
Prices of extra-bright LED devices for lighting, Lin feels, will drop annually 20-30%, motivating the LED-lighting market to grow at compound annual growth rate (CAGR) of 97.4% between 2009 and 2013, much higher than the 62.6% rate estimated for the LED backlight market.
Japan is even more ambitious than the United States, with the semi-official New Energy and Industrial Technology Development Organization (NEDO) making solid-state lamps the only allowable for shops in Japan by 2020, and 200 lumen-watt efficacy the standard for LED lamps by 2015.
"Major economies are designating LED lighting as critical elements of their energy policy to meet the global eco trend, helping to drive revenue growth of LED lighting. The market value of LED lighting for 2011 is likely to total US$15.4 billion worldwide, or 10.6% of the total for the overall lighting market," Lin says.
Streetlights to Help
Streetlight, Lin notes, will also help to raise the market penetration of LED lighting, with an estimated 9.8 million lights to be installed worldwide by 2013, up from 2011's projected 2.2 million. Revenue generated by LED lighting will grow further to represent 20% of the total worldwide due to increasing use of LED streetlights in public-work projects in major economies, not to mention the counterpart from the foreseeable LED bulb boom.
While governments worldwide add more LED streetlights in public-work projects, LED-lighting heavyweights as Philips, Osram and Cree, Lin notes, will target the general-lighting market after 2012, as shown by Lin's studies.
Edward Po, general manager of Philips Taiwan Ltd.'s lighting division, boldly estimates the LED lighting segment will likely make up 75% of global lighting market by 2020, up from 7% in 2008.
The above forecast may not seem exaggerated considering that LED lighting sales for the first time contributed over 10%, or 1.89 billion euros (US$2.4 billion), to Philips Consumer Luminaries Group's global revenue in the fourth quarter of 2009.
Philips' product line will be half made up of LED lighting by 2015, at which time the group believes LEDs can achieve performance/price ratio of 50%, with LED lighting to account for 75% of its product portfolio by 2020. To achieve such goal, Philips will invest one billion euros to develop green technologies including LEDs and enter cross-licensing agreements with Cree, according to Po.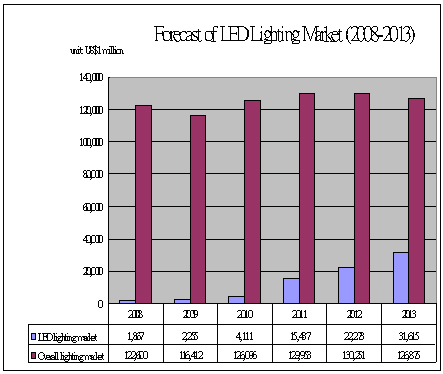 Source: Digtimes Research