One packager believes newcomers are kept at bay by high startup cost

Over the past few years, simplicity has dominated the design trend of the light emitting diode (LED) packaging industry, motivating manufacturers to minimize the packaging layers as they reduce thermal-resistance factors alongside increasing power input.


COHS technology allows LOTC to mount LED chip directly on heat sink.
In the past, thermal-conductivity methodologies were less efficient and wattages were lower, so manufacturers usually sandwiched several layers between chips and dies, and between dies and modules to insulate chips against heat from electrodes.
Such trend has changed with improving circuitry design, structural layout and availability of better conductive materials, enabling manufacturers to streamline designs, which make packages more reliable and durable by emitting more light and cooling more effectively.
Light Ocean Technology
Light Ocean Technology Corp. (LOTC) is promoting its chip-on-heat sink (COHS) packaging technology, which the company claims has considerably reduced thermal resistance to only 0.16C per watt, confining maximum junction temperature within 61C, and boosting luminous efficacy to over 110 lumen-per-watt, with the COHS technology backed by at least 40 patents.
Based on the thermal-dissipation technology that the company previously developed for integrated-circuits, COHS has directly mounted high-power LED chips on a copper heat sink with water-filled vacuum interiors, with a central square hole facilitating cooling. "There are no thermal-insulating layers between the chips and block, significantly minimizing thermal-resistance; while copper has superb thermal-conductivity," says Bill Chuang, LOTC's general manager.
Chuang emphasizes that COHS is suitable for 60W-and-higher LED packages, making it ideal for high-power LED lighting applications including LED streetlights. So far, the maker has launched packages rated above 120W. "Actually, we can turn out even higher wattage packages," Chuang stresses.
The company supplies lighting-fixture manufacturers LED modules and total solutions, including fixture design and consultation to assemble modules into lighting fixtures. Currently, the maker turns out all packages in-house. "We plan to outsource to dedicated packagers as we gradually engage exclusively in design, sales and marketing to save spending on production equipment," Chung explains.
Chung believes that the future of LED lighting should revolve around being a building material for longevity, in contrast to its current role as consumer product, with lighting fixtures and light source being supplied by separate sources.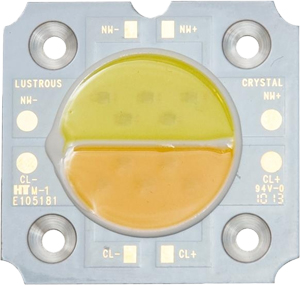 Lustrous bundles LED chips directly on PCB.
Lustrous Technology
Lustrous Technology Ltd., founded in 2004 when it set up a factory in Taiwan and promoting the "Lustrous" brand in the U.S. ever since, fixes LED chips directly on aluminum-based MCPCB instead of lead frames, or chip-on-board (COB) technology, which confines thermal resistance of packages within 0.5C per watt, according to Eric Wei, an account manager. The company's COB packages are mainly for MR16, sunken lamps, down lights, wash wall lamps, and streetlights.
VisEra packages LED dies on silicon wafers.
The company's COB technology cools LED package due to eliminating unnecessary layers between chips and MCPCB board, using such technology on 300mA-and-higher LED packages, with total PN junction temperature on LED packages kept under 80C due to COB's effective cooling. The company has won over 20 patents on its COB technology in the United States, Japan and Taiwan, Wei reports.
Wei stresses that COB is emerging as the packaging technology of choice due to superior cooling and cost efficiencies and streamlined thermal-management design relative to existing technologies, claiming that COB-equipped lighting can operate at full luminosity for 50,000 hours before undergoing 30% decay.
Wei's company has rolled out COB-equipped emitter rated at one, three, five and 10 watts, with one of the most notable products being a dimmable package that the company claims is the industry's first. The 15W, 12-chip, 700mA product is dubbed Crystal.
Crystal is dual-colored, able to emit 650 lumens of white light and 480 lumens of warm white light at color rendering index (CRI) of 75, making it ideal as recessed downlight, light bulbs, mood lighting, and dimmable lighting.
The maker also has another industry first: an alternating-current (AC) LED package with COB.
Lustrous uses another proprietary design for cooling-molded domed lenses. According to Wei, the domed lenses over chips allow 20% more light to escape, reducing the same percentage of electricity being turned into heat.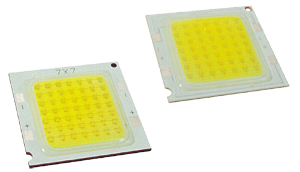 ProLight bundles chips on ceramic or copper board to turn out high-power COB light engines.
VisEra Technology
VisEra Technologies Co., Ltd., an IC packaging and test venture held by Taiwan Semiconductor Manufacturing Co. (TSMC) and OmniVision Technologies Inc., provides a unique LED packaging technology optimizing silicon wafers as packaging substrate.
Founded in 2003 to package and test CMOS-based image censors, the company ventured into LED-packaging in 2007 and started volume production in 2009. "We install LED devices directly on silicon wafers," says J.S. Wang, VP for VisEra's LED Business Division.
Hardly simple, the fabrication uses a patented micro-electro-mechanical system (MEMS) technology to develop a unique through silicon via (TSV) lens molding and phosphor coating processes for packaging on eight-inch silicon wafers. "This packaging approach is cost efficient relative to traditional approaches for packaging many devices at once on a wafer and then cutting it into individual emitters," explains Wang.
The silicon-based packaging approach, Wang stresses, has more advantages than cost efficiency. Thermal resistance is confined within 2C per watt and PN junction temperature is kept under 50C and ambient temperature at 25C. Wang shows with slides thermal performances of four packaging substrates, with 2.6-4.0 ppm/K in thermal expansion and 140W/m-K in thermal conductivity for silicon, the best. "Our packaging technology has 50% better cooling relative to methodologies using MCPCB and ceramic substrates," Wang says.
VisEra developed the silicon-wafer substrate specifically for LED packaging in cooperation with Xintec Inc., another TSMC-invested backend assembly company. Xintec executives say that wafer packaging shrinks size and weight of packages, is easier to assemble, and improves electric migration on copper wires in addition to cost efficiency.
Despite the technology being able to be copied, Wang says that copycats can hardly match his company's advantages as existing equipment and mature technologies, meaning high startup costs for newcomers. Also, the company's output rose around 10 folds to 30 million 1W packages as of the end of 2010 from a year earlier.
VisEra, according to Wang, will focus on contract manufacturing of high-power LED packages, which are for streetlights, spotlights, recessed lights, indoor lights and flood lights.
ProLight Opto Technology
Founded in 2004, ProLight Opto Technology Corp. has introduced several unique packaging technologies since its 2004 establishment, effectively setting up entry barriers for competitors. The maker builds anode and cathode electrodes and cooling strips for copper-lead frame packaging on the same pad, ridding an additional heat sink. Patented in Taiwan and the United States, this smart design enables the company to shrink packages to just 2mm long.
Also, ProLight has introduced circuitry that keeps packages on the same module from mutual interference when one burns up. Another patent is for a process that evenly spreads phosphor powder over LED chips, enabling packages to emit consistent colored light. "Our phosphor powder technology does not infringe patents," assures Michael Hsing, the company's president.
Hsing has always focused on developing in-house technologies, enabling the maker to apply for patents on structure and electrical-circuit design as well as illumination quality. ProLight refers to existing designs to develop own products, but always avoids patent infringement.
The company has made impressive improvement in cooling of packages by using copper-based substrates, thereby considerably enhancing reliability, with tests proving its copper substrate capable of 400 W/m.K conductivity, compared with 150-180 W/m.K for aluminum and 25-170 W/m.K for ceramic.
With efficient thermal conductivity, the company's LED packages are very durable: its 1W, 350mA package was field tested at 91.06% brightness after 10,000 hours of non-stop operation.
The company has introduced several impressive packages including its Phoenix, Hornet and Crab series. Measuring 4x5x1.55mm, the Crab series is reportedly the industry's smallest high-power package producing 120 lumens, as well as being RoHS compliant.
Tapping Know-how
In recent years, the company has been tapping its LED packaging know-how to supply lighting-fixture manufacturers lighting modules and total solutions. "Typically lighting manufacturers know little about optics, thermal and current issues of LEDs. So we design modules and solutions to meet specific needs," he adds.
The maker's notable products include AC light engines equipped with high-voltage LED dies, copper COB light engines and ceramic COB light engines.
ProLight's AC light sources enable light fixtures to be directly plugged into household outlets without transformer.
The company's copper and ceramic COB light sources are high-intensity with multi-chip design, ideal as high-power lighting as streetlights, low/high bay lights and commercial lighting.
The copper modules come in warm white and cool white types, with the cool white generating 2750 to 5000 lumens, and the specifications for the ceramic COB light sources being similar.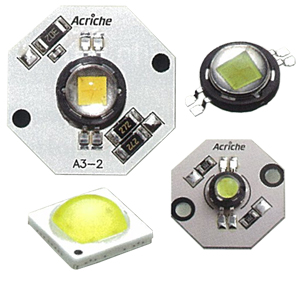 Seoul Semiconductor`s Ariche AC LED packages does not need transformer.
Seoul Semiconductor
Seoul Semiconductor Co., Ltd. of South Korea, established in 1987 and ranked sixth in 2007 as a global LED packager, has introduced miniature versions of its "Ariche" AC LED emitters, which can be directly plugged into 220V household outlets without transformer, hence being more versatile.
"We target E27 lamps as the major applications for A5 and A7. GE has built our A3 into its GU10 lamps while Phillips has begun supplying IKEA candle lamps using our Ariche AC LEDs," says James Kim, the Greater China marketing manager.
Seoul Semiconductor debuted its Ariche AC LED emitters in 2006, reportedly the world's first LED maker to supply the smart LED emitters. Since then, the company has increased the emitter's output to over 500 lumens from 80 lumens, according to Kim. Meanwhile the average retail price of the emitters has halved. "We plan to corner the AC LED market by reducing prices with big volume output," says Kim.
The company links four 50V chips on a die to make a basic AC LED emitter, which is UL approved.
Available in pure-white and warm-white types, the emitters are suitable as general lighting, architectural lighting, streetlighting, residential lighting, decorative lighting and sign lighting. The products have won over 500 patents, Kim reports.
Due to structural factors, the company's AC LED produces more heat than a DC LED. For instance, a typical 2W Arciche AC LED generates 9-10 C of thermal resistance per watt and a typical 4W emitter produces 6-7 C per watt. The company suggests customers to keep ambient temperature around AC LED lighting within 70C.