One relatively new application is LED agricultural lighting

Due to the lack of global consensus in standards and high production cost initially, LED lighting does not project bright market prospect in the short term, especially as a form of popular lighting. However, many LED lighting companies are working on innovative applications to enhance the diversity of LED lighting, hence broadening the market segment.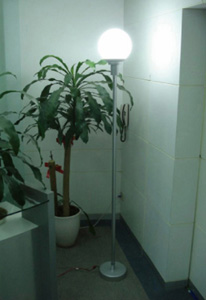 Goldyear`s multi-functional floor lamp can adjust indoor temperature.
The 32,000-plus LED bulbs installed at the Times Square in New York for the New Year celebration this year, for example, is a good example of a pyrotechnic alternative. These LED bulbs, supplied by Philips Electronics, were computerized to control twinkling and color to mimic real fireworks, which many viewers commented were equal to, if not better than rackety, smoky traditional fireworks.
LED Flowers
Another innovative use of LED lighting is at the Taipei International Floral Expo, where the point-source lighting is installed to simulate flowers. Of course the key advantage of LED-based flowers over genuine flora is the spectacular effect at night, which is both highly visible and animated with twinkling. The LED lightshow may be just one reason the Flora Expo drew over 100,000 visitors a day during the Chinese New Year, making the event one of the hottest tourist draws on the island.
A major sponsor of the LED flowers at the Flora Expo, Delta Electronics is working on another innovative project to develop a multi-media exhibition hall for the National Palace Museum this year, with the venue to feature interactive media display and high-power LED lighting to highlight the antique art objects.
According to the company, the LED lighting in the multi-media venue will be the most advanced ever made by Delta Electronics, with the lights to be energy-saving, mercury free and last over 10 years. More importantly, the LED lighting will emit a wider color range to enhance the visual effects of each relic and artwork.
Plus the LED lighting will be incorporated into the 3D display equipment provided by Vivitek Corporation, allowing viewers to interact with paintings or other antiques in simulations, which is another creative way to apply LED lighting.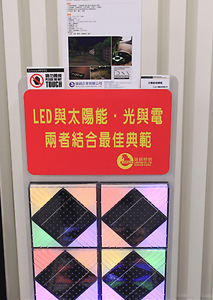 Rooster`s "Solar Energy Panel" creatively combines LED and solar-energy technologies.
Agricultural LED Lighting
Developing LED lighting to grow crops may be another niche, which has been occupied by fluorescent tubes tweaked to mimic sunlight. Responding to the government's policy to promote higher-end agriculture in Taiwan, more LED lighting makers are developing LED lighting to enable creating so-called "artificial farmland." They say proper artificial illumination helps vegetables and crops to undergo steady photosynthesis that shortens harvest cycle, minimizes damage from natural disasters and weather, and provides a better growing environment.
As hydroponic tomatoes are grown indoor and under artificial light sometimes, LED lighting is especially suitable to cultivate smaller vegetables of high economic value. Optimistic about its prospect, Hon Hai Precision has inked a three-year cooperation agreement with the National Taiwan University, which will be given NT$150 million in research capital to develop a farmland with LED as the sole illumination within three years. Everlight Corp., the largest LED packing company in Taiwan, has also decided to turn its Tuchen plant into an LED-lit farmland.
Chang Ming-yi, a professor at the National Ilan University, has been working to develop an artificial farmland for years. Last year, he finally announced the success of growing lettuce which uses only LED lighting to replace natural sunlight. "Lettuce is a suitable crop for artificial farming for needing a steady growing environment. Lettuce grows well under proper and steady lighting," says Chang, who believes that his lettuce field can be a prototype to cultivate other vegetables in the future.
"Long-term global warming is gradually reducing available arable land, forcing people to depend more on artificial farmland," Chang says. Besides artificial lighting, Chang also controls the temperature, humidity, CO2 emission and water supply on the lettuce field. To artificially control all growing conditions would minimize influences from nature to realize a stable environment to grow vegetables.
Based on repeated experiments, Chang believes that artificial farmland performs better than natural counterparts due to controlled lighting, moisture and temperature, as well as being relatively protected from pollution and bacteria, and able to meet high standards of hygiene. However, Chang admits that initially artificial farmland costs much more than natural alternatives to prevent its popularization.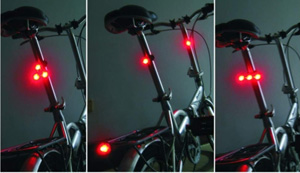 Innovative & Superior Technology`s innovative LED lighting is multi-patented.
Plant-friendly Floor Lamp
Goldyear Industrial Limited, established in 1988, is dedicated to production of high power LED lighting, focusing on initially LED bulbs, lamps for closets, ceilings, walls and outdoors. Only in the last few years has the maker started to develop LED lighting with innovative applications. The high-power LED floor lamp it debuted at the Taipei International Lighting Show last year, for example, also works as cultivating light for indoor plants, with a cooling system helping to offset the high heat from the LEDs. "The cooling system makes the lamp especially suitable for indoors during hot summers," says the company, which has acquired patents from several countries for the innovative functions of its lamps.
Solar LED Lighting
Rooster Lighting Co., the first company to locate production lines in the Pingtong Export Processing Zone in southern Taiwan, has earned several prizes for its innovative lighting. The "Integrated Road Lamp" won the "Innovation Award" from the Ministry of Economic Affairs in 2007. The multifunctional LED lamp lights roads, is a traffic signal, direction signal and warning sign, and is powered by a solar panel. Its eco-friendly design captured the national award, according to the company.
Established in 1989, Rooster Lighting has been designing and producing LED lighting for over a decade, also applying lately its LED lighting technology to the solar energy sector. Its PUZZLE305 solar energy module won the 2008 Red Dot Design Award for its creative combination of LED lighting and solar energy technologies. Winning the coveted Red Dot Design Award in Essen, Germany, one of the world's top-three awards for outstanding, trendsetting product design, shows Rooster Lighting's capacity to defeat over 3,200 items from 51 countries.
The PUZZLE305 solar-energy module is made of resin board, which reportedly performs much better than tempered glass in terms of weather resistance, with its special circuitry enabling each panel to generate 10W. "Another advantage of the panel is the simplified production which is very helpful to promote the application of such solar-energy product," the company stresses.
Innovative & Superior Technology Inc. is another maker dedicated to applying solar energy to LED lighting, having launched several LED bicycle lights powered by solar-energy panel. In addition, its LED table lamps are made with advanced optoelectronic technology to enhance visual comfort during use. All the innovative designs are highly regarded by consumers and have been patented in several countries.
To further explore the potential of LED lighting, the company is partnering with academic institutions to work on projects to break through bottlenecks with LED lighting. Though the short-term prospect is uncertain, the company is very confident of the long-term development of LED lighting as a solution to create an even more eco-friendly environment.