FZtech Inc. is promoting a collection of FZLED-branded LED lamps, including MR16, PAR20, PAR30, PAR38, GU60 and light tubes, all featuring the company's switch-controlled dimming technology and static-electricity resistance technology.

A specially designed switching IC adjusts dimming intensity of the company's lamps to 12 %,25%, 50%, and 100% through continuous on-offs, making the company one of the few LED-lighting makers to offer switch-controlled dimmable lamps.

The company's static-electricity resistance technology, dubbed as "off-line power," is developed to insulate the lamps against static-electricity pulse, whose maximum rate is usually 4 kilo volts.

The company, noted for thermal solutions to personal computers, high-power LED lighting, and consumer electronics, puts its LED-lighting solutions into standard and tailor-made categories, with standard solutions handling MR16, PAR20, PAR30, PAR38,GU60, T8 light tube and light torch while tailor-made solutions addressing architecture lighting, indoor lighting and flood lighting.

Major materials for making the company's lamps include aluminum, PC, ABS, and printed circuit boards. Luminous efficacy range runs from 60lm to 70lm per watt.

Every month, the company turns out around 200,000 lamps. Attached to them are quality certifications including ISO9001:2008, CE, FCC, ETL, RoHS and WEEE. (KL)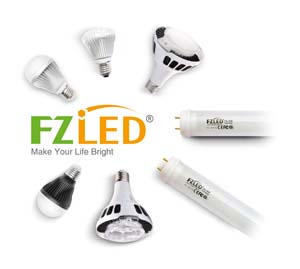 The FZLED-branded LED lamps bear many features.
FZtech Inc.
5F-6, No. 496, BanNan Rd., Jung He District, New Taipei City, Taiwan, 235;
Tel:+886-2-22287885;
Fax:+886-2-22288938;
E-mail:sales@fztech.com.tw;
Website: www.FZled.com.tw or www.FZtech.com.tw.