When cars become a necessity in our everyday lives, safety becomes both increasingly important and a top priority for global automakers. The "intelligent vehicle" technology, one of the latest trends among global automakers, alerts drivers at intersections where their view is obstructed or where another vehicle does not stop for a red light.

One of the most active developers of the intelligent vehicle concept is American automaker Ford Motor Co., which recently claimed that it is accelerating its commitment to develop wirelessly connected intelligent vehicles, known as vehicle-to-vehicle communications. Ford announced that it hopes to become the first automaker to build prototype vehicles for demonstrations across the U.S., and that it plans to double its intelligent vehicle investment in 2011 and commit even more scientists to developing this technology.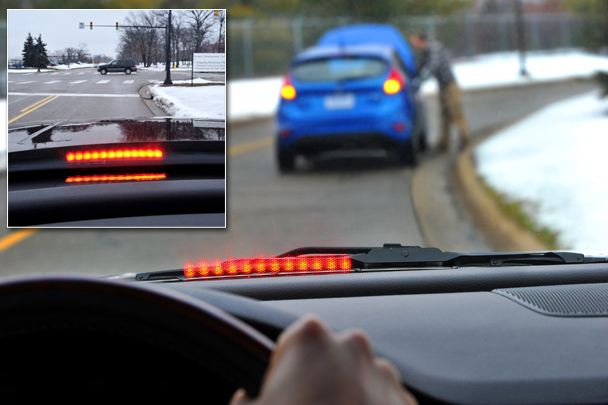 Ford has developed a vehicle communications technology that allows cars to "talk" to each other wirelessly using a short-range communications network. (Photo from Ford)
Wi-Fi Based System
Ford's vehicle communications research technology allows vehicles to talk wirelessly with one another using advanced Wi-Fi signals, or dedicated short-range communications, on a secured channel allocated by the Federal Communications Commission (FCC).
Unlike radar-based safety features, which identify hazards within a direct line of sight, Ford's Wi-Fi-based radio system allows full-range, 360-degree detection of potentially dangerous situations, such as when a driver's vision is obstructed.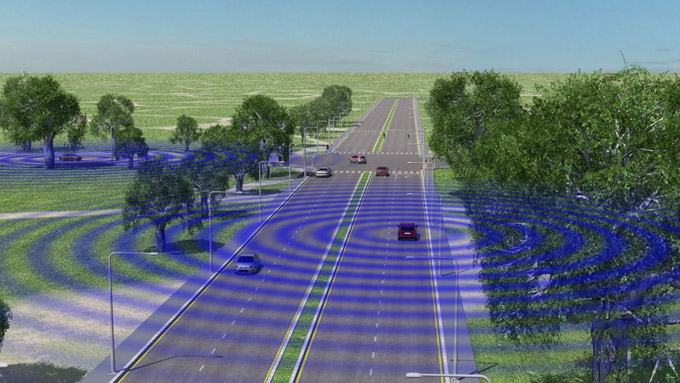 Ford is actively accelerating its commitment to wirelessly connected intelligent vehicles - known as vehicle-to-vehicle communications. (Photo from Ford)
For example, the system alerts drivers when their vehicle is on a collision course with another vehicle at an intersection, when a vehicle ahead of a driver stops or slows suddenly, or when a traffic pattern changes on a congested highway. The system also warns drivers of risks of collision when changing lanes, approaching a stationary or parked vehicle, or when another driver loses control of his or her vehicle.
After a decade of research, Ford plans on forming a 20-member task force consisting of company planners, engineers, and scientists from around the world with expertise in safety, eco-mobility, infotainment, and driver convenience that will work to find ways of accelerating development of intelligent vehicles with features that provide a range of benefits to consumers.
Ford is doubling its intelligent vehicle research investment and building on the company's SYNC and MyFord Touch innovations. It hopes to both shape the next 10 years of safety, convenience, and driver assistance and strengthen the company's position as the global industry leader in connected vehicle technology.
In its hope of becoming the first automaker to build prototype vehicles for demonstrations across the U.S., Ford will double its intelligent vehicle investment in 2011. (Photo from Ford)
Ford has pointed out that an October 2010 National Highway Traffic Safety Administration (NHTSA) report on the potential safety benefits of vehicle-to-vehicle communications estimates that intelligent vehicles could help in as many as 4,336,000 police-reported, light-vehicle crashes annually, or approximately 81% of all light-vehicle crashes involving drivers without impairments.
Whereas some experts have said that intelligent vehicles could be on the road in five to 10 years, Ford's demonstration vehicles are expected to arrive on the market in spring 2011.
Sue Cischke, group vice president of Sustainability, Environment, and Safety Engineering, said "Ford believes intelligent vehicles that talk to each other through advanced Wi-Fi are the next frontier of collision avoidance innovations that could revolutionize the driving experience and hold the potential of helping reduce many crashes."
Same "Language"
Ford said that it is partnering with other automakers, the federal government, and local and county road commissions to create a common language that ensures all vehicles can talk to each other based on a common communication standard.
This public-private partnership, according to the automaker, will include the world's first government-sponsored driving clinics starting in summer 2011, to which the company will contribute two prototypes of Ford Taurus sedans.
The Department of Transportation's (DOT) Intelligent Transportation Systems (ITS) will head the research and continue to coordinate with a coalition of automakers organized by the Crash Avoidance Metrics Partnership (CAMP), which is a joint research group headed by Ford and General Motors (GM). The partnership is working to develop inter-operability standards before completion of the research phase in 2013.
"Ford has laid the groundwork to give vehicles a voice with SYNC and Wi-Fi technology," said Jim Vondale, director of the Ford Automotive Safety Office. "Now we're working with other automakers and government leaders worldwide to develop common standards globally to bring intelligent vehicles to market quicker and more affordably."
Beyond Safety
By reducing crashes, intelligent vehicles could ease traffic delays, which would save drivers both time and fuel costs, Ford said. Congestion could also be avoided through the creation of a network of intelligent vehicles and infrastructure that would process real-time traffic and road information and allow drivers to choose less congested routes.
According to Texas Transportation Institute's (TTI) 2010 Urban Mobility Report, traffic congestion continues to worsen in American cities of all sizes, with a reported waste of nearly 3.9 billion gallons of fuel in 2009 and a cost of US$808 of additional fuel to the average commuter. TTI also states that accidents, breakdowns, and road debris are leading factors in causing traffic delays.
Many of Ford's current technologies show how intelligent vehicles will be able to help drivers. For example, features that alert drivers to approaching hazards, such as Ford's collision warning with brake support and Blind Spot Information System (BLIS) with cross-traffic alert, rely on radar sensors to detect vehicles or objects close to the vehicle.
"While there are challenges ahead, the foundation of these smarter vehicles is advanced versions of technologies that are pervasive Wi-Fi and crash avoidance systems that Ford has pioneered in mainstream vehicles today," said Paul Mascarenas, vice president of Research and Advanced Engineering and chief technical officer. "Intelligent vehicles could help warn drivers of numerous potential dangers, such as a car running a red light but blocked from the view of a driver properly entering the intersection."
Honda's Advanced Safety Vehicles
Japanese automaker Honda Motor Co. is also actively developing its latest Advanced Safety Vehicles (ASVs), including automobiles, motorcycles, and electric carts, equipped with active safety driving support features that utilize "information technologies."
These ASVs are designed to exchange speed and positional information and other data between vehicles, between a vehicle and an electric cart (vehicle-to-vehicle communications), or between the vehicle and road infrastructure (vehicle-to-infrastructure communications), in order to provide drivers with information that may help prevent accidents. Honda has said it will unveil the results of its research into HMI (Human Machine Interface) that involves vehicle-to-vehicle and vehicle-to-infrastructure communication technologies optimized for a variety of vehicles and traffic situations.
Honda's Advanced Safety Vehicle research model, based on an Odyssey minivan for the Japanese market, represents the next stage in the development of its vehicle-to-infrastructure driving support systems. The company's Forza-based research motorcycle, used in the same project, represents a further evolution of the vehicle-to-vehicle communications system developed from the previous model's preventive safety technologies and provides further enhancements to the FACE and LONG conspicuity designs, which make motorcycles more noticeable and correctly identifiable to other motorists. Also, the Honda IT Monpal 4 electric cart has been equipped with wireless communication capabilities to take advantage of vehicle-to-vehicle communications. Honda has said that it will continue to move forward with research and development directed at the practical implementation of these component technologies.