With over 20 years of experience in development and manufacturing, Han King Plastic Machinery Co. is a specialized maker of some of the best plastic processing machines, especially in the blown-film field.

Han King has successfully developed five-layer co-extrusion lines, upgraded from the small, single-layer ones developed initially, also attributing its success to long-term dedication to pursuing breakthroughs in innovative manufacturing technologies.

The company's major line includes slip-proof and bi-convex embossing devices, heavy-duty blown film machines, HDPE (high-density polyethylene) super high speed blown film machines, LDPE (low-density PE) super high speed blown film machines, blown film machines for agricultural and industrial films, blown film machines for stretch films, three-layer co-extrusion lines, and five-layer co-extrusion lines.

Backed by a seasoned in-house R&D team, the company has accumulated ample know-how to enhance the design of optimally-functioning products that not only help raise output but also build sustainable business.

The company claims to have built a solid reputation in the global market for its long-term dedication to developing reliable, price-competitive products. Since its inception, the company has prioritized the needs of customers, but also offering innovative products that sometime exceed even buyer expectations. All the company's products are designed to help customers reduce production costs.

Han King focuses on exports, with only a small portion of output sold in Taiwan, with its major export outlets being the U.S., Egypt, the Middle East, Africa, the United Arab Emirate, Southeast Asia, New Zealand, and China. (BS)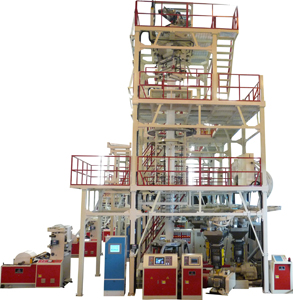 Three-layer blown film machine developed by Han King.
Five-extruder co-extrusion line.
Han King Plastic Machinery Co., Ltd.
Tel: 886-5-213-3116
Fax: 886-5-220-2960
E-mail: hanking.bfm@msa.hinet.net
Website: www.king-plus.com.tw