China Continues to Build Key Automotive Parts Sector
2011/04/06 | By Michelle Hsu
Nation tries to achieve higher manufacturing independence via 12th national plan
While having set a speed record in becoming the world's largest car market and producer only a couple of decades after adopting capitalistic policies, even overtaking the USA, erstwhile the home to Motown Detroit, China is also quickly catching on to an essential business strategy to ensure long-term success in car-building. The automakers in China realize that, without in-house capacity to build critical parts such as computerized fuel injection or titanium alloy crank shafts, they will always be at the mercy of foreign OEMs. Such reliance on imported technologies and parts will not only put a piece of the car-making jigsaw out of reach of Chinese carmakers, but also forever deprive Chinese automakers the privilege to showcase cars tagged "Proudly and Fully Made-in-China." The road to total car-making independence can be very long, especially for an emerging market as China.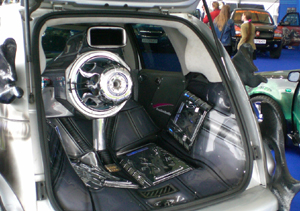 Making key auto parts is the most lucrative niche of the automotive industry.
"If China aims to be another global leader in automotive technology, it has to develop key parts independently," says Yang Dong, secretary general of China's Association of Automobile Manufacturers (CAAM), also admitting that lacking such manufacturing skills critically weakens the nation's automotive industry.
Most Lucrative
Pointing out another aspect of his argument, Yang says that making key auto parts is the most lucrative niche in the supply chain, achieving much higher margins than that of car assembly plants. As car sales in China slow after surging over the past decade, automakers are eyeing business opportunities in the key parts sector as significant profit-makers.
Many observers foresaw the above trend in 2010, during which the stock market posted rising share prices of auto parts makers as well as the reverse for many automakers, implying that investors were becoming bearish on the outlook of China's carmakers, but bullish on the auto parts sector. Such trend notwithstanding, Warren Buffett, the American billionaire and philanthropist from Omaha, set an example by selling much of his holding in BYD, the electric carmaker, as well as other carmakers, but beefed up investments in auto parts makers.
Another advantage of investing in developing the auto parts sector is its relative immunity from market forces, with demand generally fueled by the after-sales and maintenance sectors, which grow alongside car sales that inevitably rise regardless of the economy.
Industrial Development
Investing in key auto parts production in China has another advantage, one that literally has official approval and is perhaps guaranteed from failure. China announced in 2010 the 12th five-year national development plan to prioritize development of strategic auto parts for the next decade. Already China is the largest global supplier of auto parts and has been for years. Official statistics show significant progress: China's auto parts sector generated annual production value of 411.6 billion RMB in 2005 but 1.6 trillion RMB in 2010.
Impediments
Industrial insiders, nonetheless, reveal a few nagging issues that tend to plague China's auto parts makers, who are mostly OEMs and small contractors without the capacity or willingness to invest in innovation, technology, building added-value, eco-friendly products, all of which may be overcome under the official strategic development plan.
Such grim diagnosis has a few bright spots. The Wanxiang Group and Shanxi Fast Group, for examples, proved their excellence by beating local and foreign competitors as the best auto parts suppliers to many automakers, both local and foreign.
HuBei Kait Automobile Electronic is another case in point, having just passed with flying colors the safety test at the French Valeo Group, a top-10 global supplier and top-5 in Europe, for its transmitter. Being approved by the prestigious French supplier is akin to passing the strictest world standards. HuBei Kait Automobile is the first Chinese auto parts maker to pass the French supplier's safety test, proving the capacity of China's auto parts suppliers to be world-class. In fact and with superior technology, HuBei Kait Automobile now has the largest share in China of thermal transmitters, and stands to, with the Valeo Group's safety certificate, tap other upscale niches globally.
Cross-border Partnerships
But a few exceptions can be deceptive. For most of the suppliers and especially smaller ones, whose margins are squeezed by soaring material prices and fierce competition, to develop and build key parts independently may not only be a windy road but perhaps mostly fantasy, for now.
The future is brighter for larger auto groups, who eagerly develop key components through affiliated auto parts makers to gain market leadership. As shortcut, some hope to team up with foreign partners to jointly develop key auto parts. Geely Holding Group set the pace by signing a global strategic agreement with French Fourecia Group in January, focusing on making key auto parts as gauges, car doors, cylinders, among others.
Geely will set up five auto parts plants in five provinces, including Zhejiang, Shangdong, Jungsu, Sichuan, and Hunan, with Zhejiang Limin Industry Co. also as partner to provide materials as needed. French Faurecis Group is the world's sixth largest auto parts supplier, mainly focusing on auto seating, gauge, bumper, and exhaust pipe, and will help Geely to turn out such parts independently.
Acquisitions
The Beijiang Pacitic Century Automotive System (BPCAS), an auto parts maker headquartered in Beijing, fully acquired Nexteer Automotive under General Motor last November after the American giant teetered on bankruptcy in 2009, at a cost of US$450 million to make the deal the largest ever by a China-based auto parts maker.
Nexteer is a global leader in producing steering wheels, transmission systems and other key parts.
The acquisition resulted in Nexteer, with 8,300 employees in the USA, Europe and Asia, giving up all its R&D and production operations, including its American headquarters, 22 plants, six technology support centers, 14 customer service offices worldwide as well as intellectual property rights.
Besides the Nexteer deal, the third of its kind, the BAIC Group acquired the auto parts technology division of Swedish SAAB, and the BWI Group took over American Delphi Technology's suspension operations.
Acquisition not only develops cross-border cooperation but efficiently enables both parties to build synergy in technology R&D and marketing skills, says Chao Xin-xin, deputy director of the Beijing Economic-Technological Development Area, whose remark suggests that China's auto parts makers will continue to strengthen partnerships with foreign counterparts to effectively enhance China's own auto parts technologies, at least in the short-term.