Domestic and overseas firms eye a promising new market

he signs all point to a high potential for growth in China's car rental business in the near future. The number of rental autos available in China is estimated at more than 210,000 units last year and the number is expected to increase to 400,000 units by 2015, translating into an average annual growth of 20-30% over the next five years.

This means that the auto rental industry has much high potential for growth in China than in other countries, and this potential is attracting interest from companies both in China and overseas.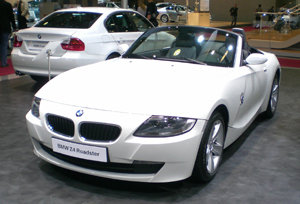 The car rental business is rapidly taking shape in China.
An increasing number of car dealers in China are expanding into car rental, a trend that is expected to strengthen as a result of the government's attempts to limit the number of new-car sales because of increasing concerns about worsening problems such as traffic jams, air pollution, and insufficient parking space. This has made consumers hesitant about buying new cars, and many of them may turn to car rental agencies as an alternative to ownership.
Dah Chong Hong Holdings provides a striking example of a car-dealer-turned-renter. Originating in a Hong Kong car dealership dating back to 1949, the company is now the largest car dealer there and has an Asian business network covering China, Japan, Singapore, and Taiwan. The company deals mainly in luxury brands like Lamborghini, Ferrari, Porsche, Mercedes Benz, BMW, and Audi, but it also sells Hondas, Nissans, Opels, and UD trucks, among others.
Expecting Auto Sales to Slow Down
Anticipating a slowdown in China's auto sales, Dah Chong Hong has diversified into a variety of auto-related businesses such as car rental, auto financing, after-sales service, and auto parts trading. Each of these businesses earns a margin at least as good as the core dealership business.
The company's car rental business is targeted at the upper end of the market, and it has built a good reputation as a leading rental brand in China. Its car rental business is especially active in the areas around airports in big cities like Beijing, Shanghai, and Tianjing, providing quality services for business travelers.
Dah Chong Hong's success has encouraged others to follow its example. Japan's Mitsubishi Motor, for example, signed a contract with the Cheeyo Car Rental Group last year for the establishment of a joint venture, named Haina International Car Rental, to develop the Chinese market. The cooperative firm was set up last December with an initial capitalization of US$20 million.
"Car rental provides a good alternative to the demand for transportation," said the company's president, Zhang Xiao Lin, during the firm's opening ceremony. Haina International endeavors to provide the finest in car rental services, supported by a 24-hour operation, GPS navigation, and a nationwide service network that enables customers to rent a car at one shop and return it at any other shop at any time.
Zhang is optimistic about China's car rental market, noting that 30-50% of the residents of the U.S., Europe, and Japan rent cars to fill their transportation needs. With such a high percentage of people renting cars, China, with its vast population, should have huge potential for rental. In the U.S., Zhang noted, "the largest car rental company owns a fleet of over a million cars, whereas the Cheeyo Car Rental Group has a nationwide fleet of only 2,000." The next few years, he said, will be critical for the group's expansion of its presence in the market.
Cheeyo is one of the pioneers in China's car rental market, with a nationwide network of more than 100 shops in 35 major cities in China.
Even the world's leading investment bank, Goldman Sachs, is getting into the business; it acquired a major stake in China's eHi Car Service, at a cost of US$30 million, last August. Meanwhile, the Legend Group, which owns the largest PC brand in China, is also interested in diversifying into the automobile field, starting out with the leasing business. The group has reportedly acquired a one billion RMB stake in China Auto Rental Ltd.
EVs for Rent
The car rental business, in fact, makes a good platform for electric vehicle (EV) manufacturers to demonstrate (or test) the functions of their newly-launched products while most consumers still hold to a wait-and see attitude toward such vehicles. China's two leading EV makers, BYD and Zotye Auto, have both developed car rental businesses using their own battery-powered cars.
BYD, which has teamed up with Zhong Car Rental, announced that it would provide Zhong with 200 of its latest hybrids when the two signed a cooperation contract in January. All of the hybrids are F3DM models, newly launched in 2010. A hybrid generally runs on battery-supplied power first and automatically switches to a gasoline engine when the battery runs dry.
Zotye Auto launched its first batch of EVs, dubbed the 2008EV, last January, and is now offering it for lease at a monthly rate of 2,500 RMB.
Though the EV may not yet be an ideal alternative for long-distance travel, EV rental provides a good opportunity for consumers to experience these new-energy cars which are widely expected to drive the evolution of the global auto industry in the 21st century. (March, 2011)