Automotive LEDs Lit for Blindingly Bright Success Globally
2011/04/06 | By CENS
Mandatory use of DRLs in Europe to build more opportunities for carmakers
In late 2010, NXP Semiconductors N.V. of Germany announced in Shanghai, China the availability of fully integrated, highly-flexible driver integrated circuit (IC) solutions designed for automotive light-emitting diode (LED) headlights and tail lights.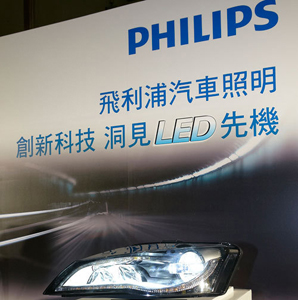 A Philips passenger-car LED headlamp.
The ASL1010NTK and ASL1010PHN are the industry's first automotive LED driver ICs to integrate critical functionality such as direct LED temperature feedback, LED fault detection, internal pulse width modulation (PWM) control for dimming, and short circuit protection – all on an automotive-qualified analog mixed-signal platform.
Until now, automotive LEDs have used complex, expensive driver ICs designed for generic Solid State Lighting (SSL) applications that lack many of the critical functions needed for automotive applications. As automotive SSL becomes more prevalent in the car, lighting control unit makers and LED distributors urgently need more efficient solutions to enable OEMs to maximize the full benefits of energy-efficient LEDs, which can reduce fuel, battery consumption by approximately 50% relative to incandescents in some applications. By integrating the core functions critical to automotive LED lights, NXP claimed, the ASL1010NTK/ASL1010PHN driver ICs offer a compact, all-in-one solution without needing many additional components, enabling more cost-effective, reliable LED module design. The decisive advantage to compactness is being able to maximize volume-utility in automotive applications where available space is rare under the hood, or bonnet as the British call it, and even less around lighting. At the same time, the NXP system solution offers flexibility, meaning applications are available for various platforms, configurations, output voltages, and numbers of LEDs.
Surging Demand
Prem Sharma, marketing and business development manager for automotive SSL driver ICs, NXP Semiconductors, pointed out that demand for automotive LED lighting is growing rapidly as carmakers seek reduced energy consumption, longer durability, enhanced styling, faster ignition and color options. Regulators are also helping to drive demand – for example, in Europe, exterior daytime running lights (DRLs) will become mandatory on all new cars this year, building an opportunity for carmakers to introduce such products.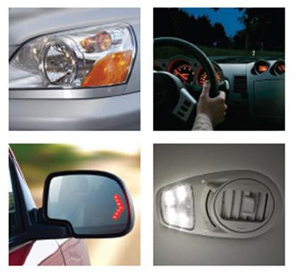 Samples of LED automotive lighting.
Boon-Hooi Lim, product manger of Avago Technologies, said that automotive LED applications in fact are not new, having been used for dozens of years as dashboard warning lights, interior illumination, turn signals, taillights and brake lights, all of which have been developed with high-brightness LED technology. Citing an ubiquitous and increasingly common example, Lim said that many cars now adopt rear combination lamps (RCL), a pod integrating the brake, turn-signal, tail light and reflectors.
In 2008, Audi showcased the world's first LED headlight on its Audi R8, a sporty way to debut the era of mass produced LED headlight.
Laurent De Bray, Philips' Asia Pacific regional manager of automotive lighting, underlined what is taken for granted by now, that China's rapidly growing car market continues to drive automakers to develop newer, better products to meet such feverish demand. Besides meeting demand for better styling, carmakers are trying to, as carbon reduction continues to be an important issue, develop better and further popularize LED lighting.
The Taiwan-based Industrial Economics & Knowledge Center (IEK) of the Industrial Technology Research Institute forecasts that the penetration of LED auto lighting is expected to reach 8% in 2011, with revenue having increased from US$690 million in 2007 to a projected US$1.2 billion this year at a compound annual growth rate (CAGR) of 13%.
Bright Asian Market
LED brake lights already are widely installed but the penetration is expected to slow down; while the penetration of LED headlights, far lagging that of mainstream high-intensity discharge (HID) counterparts, is expected to rise to about 3% this year, compared to about 15% for LED taillights. Asia is set to be the market with the highest growth in automotive LED lighting, the center said.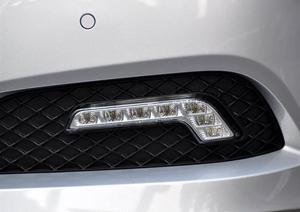 A fast-growing LED application: daytime running light (DRL).
Strategies Unlimited's research shows that the automotive interior-illumination market is made up of 60% of LED lighting, with third brake light, instrument lighting, LED lighting etc. achieving 90% penetration in European makes and models, compared to 50% of the global average for LED third brake lamps.
Industry experts said that LED makers expect surging adoption of automotive LED backlighting and illumination in the near future, and likely was referring to Asia.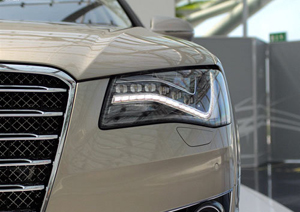 Automakers' design capacity now enhanced with improving LEDs.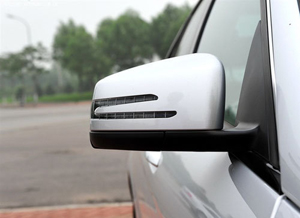 It's debatable whether upscale carmakers in the U.S., Europe and Japan are installing more LED lights in cars to enhance overall appeal, merely follow the trend in LED lighting, or to actually achieve higher eco-friendliness as politically-correct strategy, but drivers, and especially those who can fully appreciate the benefits of LED lighting, can't seem to lose, even at slightly higher prices.