After a Dark Year, Taiwanese Auto Lamp Suppliers See the Light
2011/06/15 | By Steve Chuang
After weathering a struggling global auto market in 2009, Taiwanese auto parts suppliers have benefited from a rapidly rebounding demand and are increasingly optimistic about the business possibilities in the coming years.
Vigorous Global Market
Along with the strong global economic recovery in 2010, the global new car market also turned around last year. According to statistics compiled by Taiwan's car technology research institute ARTC (Automotive Research & Testing Center), global sales of new cars returned to the pre-recession level of more than 70 million vehicles, with growth most evident in strong demand in emerging countries.
Compared to 11.59 million cars sold in the U.S., 13.8 million in Europe, and 4.95 million in Japan, over 18 million new cars were sold in China alone last year, up 34% from 2009. In the same period, 2.92 million and 3.04 million cars were sold in Brazil and India respectively, and Thailand and Indonesia also saw domestic new-car sales grow, 45.8% and 57% respectively, to around 800,000 and 750,000. Overall, emerging countries purchased some 32 million new cars last year, a significant increase from 13.65 million in 2001.
Despite the problem of a sticky accelerator in its cars in the U.S. early last year, Toyota still sold around 7.1 million new vehicles, holding a 10.1% share of the global market as the largest auto maker. Toyota was followed by VW and GM Group, which sold 6.46 million and 6.07 million cars respectively, for a 9.2% and 8.7% share of the market. Renault-Nissan and Ford Group finished fourth and fifth respectively, with a 7.5% and 6.5% market share. Also benefiting from strong demand in Asian countries, Germany's three major auto makers, BMW, Mercedes Benz, and Audi, also finished the year with marked increases in new car sales.
Industry Turnaround
Taiwan's auto parts industry also rebounded last year. Statistics published by TTVMA (Taiwan Transportation Vehicle Manufacturers Association) show that the industry's production value reached a seven-year low of NT$169.7 billion in 2009, but rebounded by 24.2% in 2010 to finish at NT$210.7 billion.
Last year the industry exported NT$171.26 billion worth of various auto parts and accessories, a 22.62% increase from the year before. As the largest buyer in the industry, the United States purchased NT$62.73 billion worth of Taiwan-made auto parts, while Japan imported NT11.86 billion, China NT$8.1 billion, Germany NT$5.54 billion, and Australia NT$5.15 billion. Also, the industry's exports to China, Russia, and Brazil surged: 42.78%, 69.85%, and 107.38% respectively.
Benefiting from a booming global market, most Taiwanese suppliers selling either original equipment (OE) or aftermarket auto parts posted strong year-end increases in sales. And despite increasing competition from emerging countries, some companies interviewed by CENS are optimistic about their business outlooks for 2011.
Just Auto
One such company is Just Auto Lighting Technology Co., Ltd., whose vice president Jim Hsu confirmed that the company finished the year with a better-than-expected sales growth of LED daytime running lamps.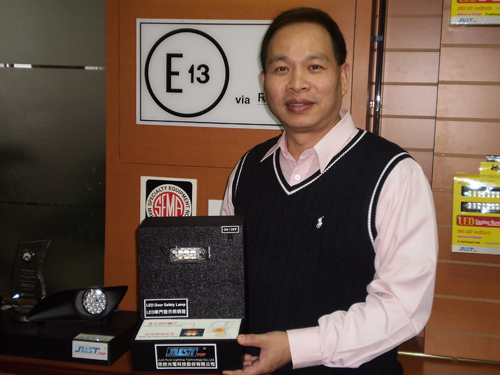 Just Auto`s vice president Jim Hsu introduces his company`s newest LED door safety lamp, to be officially unveiled at AMPA 2011.
The company was founded in northern Taiwan in 1982 as an auto accessory maker and later shifted into the auto auxiliary lamps market. The company offers a full range of auto LED lighting products, including daytime running lamps, brake lamps, pickup third brake lamps, domo lamps, truck lamps, electric car lamps, and fog lamps.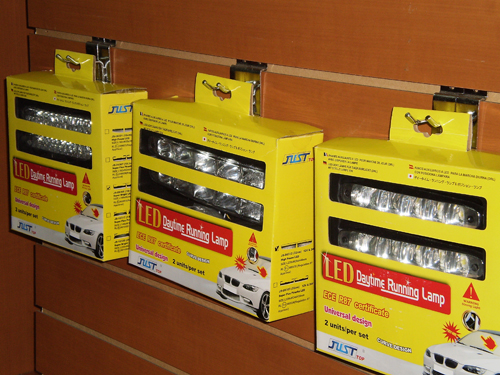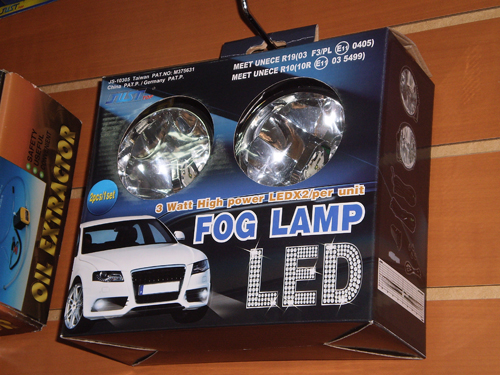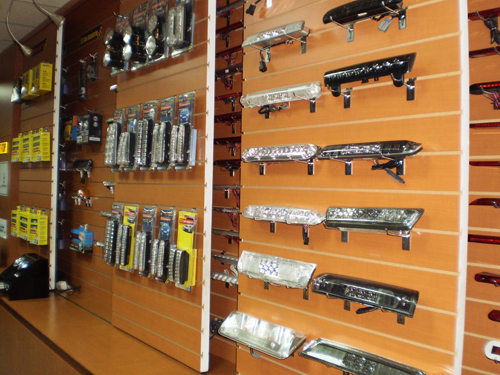 Just Auto offers a growing line of LED auto lamps, including fog lamps and daytime running lamps.
Thanks to an early entry into the emerging marketplace, the company has cashed in on the European market for LED daytime running lamps in recent years. "We got off to an early start a few years ago when European countries began to draft related regulations to require use of daytime running lamps in cars for higher driving safety," Hsu said. "We believed that the emergence of electric cars would attract more businesses to such products."
After years of hard work, Hsu said his company has achieved economy of scale. All of its products are E Mark certified, clearing the way for export to European countries. "LED auto lamps are a major growth engine for us," he said. "In the first two months of this year, shipments rose 60% from a year ago. We are sure that the uptrend will continue over the next three to five years as these products gain acceptance in North America."
OE Business
Another reason why the company is optimistic about achieving sustainable future corporate growth is the substantial increase in its OE (original equipment) auto parts sales.
Hsu said that his company decided to focus more on the OE parts business two years ago when the global financial tsunami ravaged the automotive market. "Most Taiwanese auto parts makers, including our company, were badly hit by the global meltdown, and it happened because we had been over-dependent on the aftermarket segment," he said. "Compared to OE parts, the aftermarket sector was not that stable and this motivated us to concentrate on sustaining our business operations through OE parts."
The TS-16949-certified company started to contact auto makers and reached an OE agreement with Toyota in 2009 that marked a successful beginning of its OE business improvement strategy. Drawing on its expertise in manufacturing skills and knowledge of auto lamps, the company developed an LED daytime running lamp that became a high priced add-on for Toyota's Yaris sedans (the running lamp also received an award in the innovation competition held at Taiwan's AMPA, Taipei International Auto Parts & Accessories Show, in 2010).
This year the company developed a high-profile LED door safety lamp for Toyota's sedans, built with an amber flashing LED and a white LED extending to the ground for better safety. Equipped with a standard connector, the lamp is easy to install. "This lamp will be unveiled at AMPA 2011 as an award-winning product for its plug-in design and safety feature," Hsu said.
To enhance its cooperation with Toyota, Hsu said that his company has been developing several superior LED-built wheel lugs and Toyota logos for luxury sedans. "With Toyota working hard to regain customer trust by increasing quality and innovation after its sticky-accelerator problem, the development of our innovative accessories has become a major focus." "In short, we are making the most of our role as an OE partner to provide the so-called 'Design-in' services for Toyota."
Two-dimensional Business Development
Hsu said that his company now maintains a two-dimensional business development strategy, focusing equally on AM and OE parts in an effort to secure future growth sustainability.
For its AM business, the company has developed an LED fog lamp in cooperation with ARTC engineers that has been certified in E-Mark R19 and R10 standards for its improved thermal dissipation and parallel beam pattern. Already on the market in Europe, the product is expected to sustain the company's profits starting this year, Hsu said. "The product sells for four times that of traditional fog lamps, which will generate profit growth."
Hsu also said that "OE and AM are equally important to our company, with the former providing a solid basis for growth and the latter sustaining that growth." He added that his company has been exploring the rapidly growing markets in China, Russia, and other eastern European countries. Citing China, where the number of electric cars is estimated to exceed 4 million by 2015, Hsu said "Our strategy for LED auto lamps is headed in the right direction. The demand in the country for LED auto lamps, as AM and OE parts, will surely increase in the future."
Jun Yan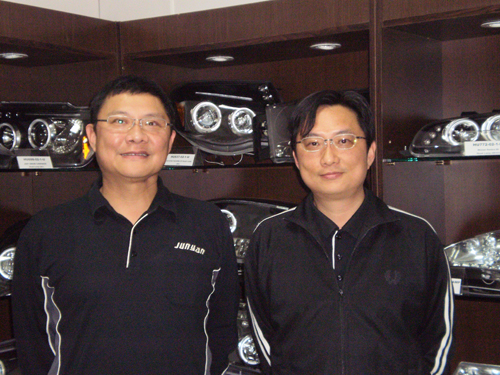 Jun Yan`s CEO Eric Tsai (left) and vice president Alan Tsai are performance-tuning part enthusiasts with a close eye on market trends.
Another company dedicated to the development of high-end auto lamps for performance-tuning parts is Jun Yan Auto Industrial Co., Ltd.
Driven by his passion for cars and performance-tuning parts, CEO Eric Tsai established the company in Tainan City, southern Taiwan, about 11 years ago. Its penetrating knowledge of market trends and excellent R&D capability have helped to make the company successful. Over time the company has become a proven manufacturer on the island. Its cutting-edge mold developing and plastic injection capabilities and know-how about auto lamps have been widely recognized by peers and clients.
Despite the global downturn of 2009, Tsai's company has grown steadily, with 2010 sales revenue exceeding the peak reached in 2008. Tsai said that own-brand products are the keys to stable business growth. He also said that the company introduced its Junyan brand seven years ago to better position itself in the market, though few believed that the strategy would work.
To prove the doubters wrong, Tsai and his vice president Alan Tsai consistently assimilated state-of-the-art manufacturing technologies and the newest design concepts and sought out experienced engineers to expand the company. "Jun Yan was a small-sized company without sound production lines until four years ago," Tsai said. With persistent efforts to sharpen its competitiveness, the company has now built a fully integrated manufacturing system and has successfully marketed its own-brand auto lamps in over 70 countries.
An LED Advocate
Aware of the huge business potential of LED daytime running lamps and also of the reality that energy-saving hybrid cars have become a factor in the global automotive industry, the company started developing products and doing related market research four years ago.
That was a tough, risky decision for the company, Tsai said, because most companies in the industry considered the future of LED daytime running lamps as a performance-tuning part and thought the products would be too expensive for this segment.
After working out some kinks, the company led the domestic industry in producing LED daytime running lamps. "This product is required for new cars in Europe and will soon become popular with performance-tuning part users," said Tsai. "With our head start, we are confident that we can out-compete our rivals."
As to market outlook for the coming years, Tsai said that preparation for market changes is the only way to stay competitive in the line. He said that the economic downturn has made overseas buyers less willing to hold too much inventory, so manufacturers need flexible production and efficient delivery to attract customers. Tsai also noted that the auto lamp makers have to pay more attention to market pulse as competition affects the market life of a particular car model. He expects a new-generation low power light source to hit the market soon as demand for electric vehicles grows.
Fair Sun
With consummate expertise in electrical parts and ignition modules, Fair Sun Industrial Co., Ltd. also saw a strong recovery of global demand for OE and OE service (OES) parts in 2010.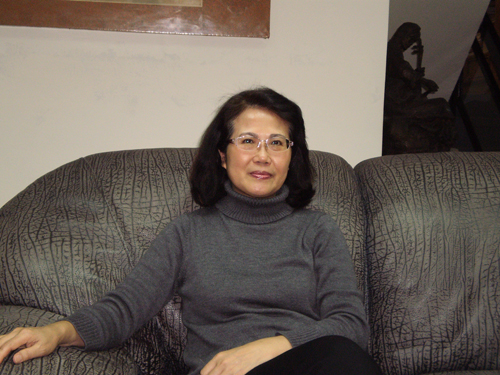 Fair Sun`s vice president Lourdes Chiu believes that quality and customer-oriented manufacturing services are the keys to winning back customers.
Founded in 1979 in Taipei City, northern Taiwan, Fair Sun runs two factories each in Taiwan and China to produce auto electrical parts and ignition modules. The company supplies most of its products to leading automakers on an OE and OES basis, and ships some "Suntex" own-brand items to the Middle East.
Company vice president Lourdes Chiu confirmed that her company increased sales by 20% over its 2008 peak in 2010, mainly on recovering demand from automakers for OE and OES parts.
Fair Sun supplies a full range of switches, electrical parts and ignition modules.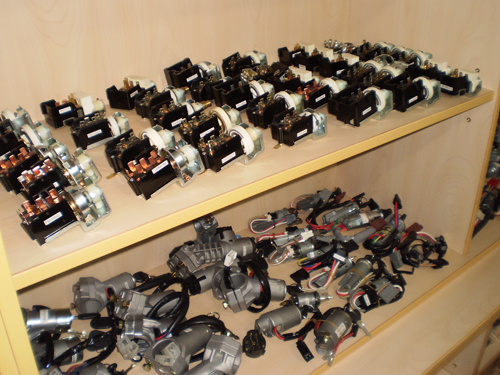 The company started off by supplying AM parts, but decided to explore the OE segment after becoming part of GM's supply chain in 2003. The TS16949-certified company spent less than one year gaining all required certifications from GM, Chiu said, attesting to the company's world-caliber manufacturing skills and factory layout.
Quality Outweighs Price
Although automakers in North America contributed greatly to her company's growth in OE and OES business growth in 2010, Chiu says that orders for AM parts from the Middle East and Turkey also recovered despite buyers becoming more focused on price. "Taiwan still has a competitive edge in supplying auto parts made of higher-end materials," Chiu said. "So customers are looking more for reliable quality."
Chiu said that Taiwanese makers have been winning back customers with their strong commitment to manufacturing services. Her company has also attracted business by offering a wide line of products, covering a spectrum of resistor units, starter solenoids, ignition modules, voltage regulators, dimmer switches, headlamp switches, push-pull switches, horn relays and buttons, starter relays, toggle switches, combination switches, and auto fuses.
Chiu noted that China's booming auto market creates major opportunities for Taiwanese. Her company has made several OE agreements with automakers there and is going to start volume production this year, a move that she expects to fuel the company's sales growth. She said that her company would develop its operations in mainland China gradually and on a solid footing.
Yu Chung Chi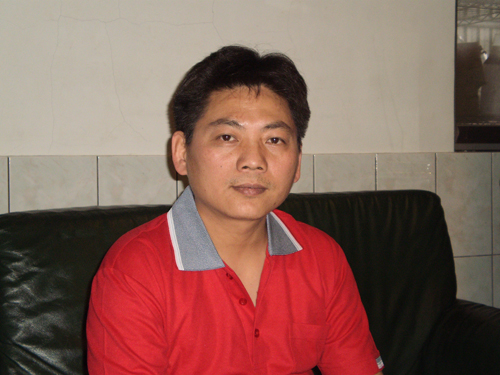 Yu Chung Chi`s general manager T.H. Chiu says his company began supplying OE parts to a Japanese truck maker this year.
Yu Chung Chi Enterprise Co., Ltd., a specialized supplier of LED lamps for trucks and buses with a history of more than 35 years, began supplying OE parts for the China-based operations of a Japanese truck maker.
With its LED truck lamps already well-recognized in Middle East for years, company general manager T.H. Chiu said his company was chosen by the Japanese truck maker as an OE supplier for its factory in Pakistan last year. Passing required tests, three of the company's truck lamps will be delivered on an original equipment manufacturing (OEM) basis to the factory starting this year, which will further leverage the company to a higher position in the line.
Yu Chung Chi was founded as a maker of motorcycle parts. It diversified into auto lamps 11 years ago and has since continued to upgrade its manufacturing skills and equipment to produce high-quality products, a strategy that has earned it a solid reputation among customers.
Chiu said that good design and unrivaled quality have helped his company to steadily increase sales in the auto lamp segment over the past several years. Presently, over 70% of the company's auto lamps are shipped to Japan and the Middle East for the AM and performance-tuning part markets.
In the face of more intense competition in the global market for auto parts, Chiu also emphasized the importance of flexible manufacturing and concentration on higher-end LED auto lamps. "We are prepared for the coming of the zero-inventory era," he said. "We have built a flexible and efficient manufacturing system that is closely linked with supporting companies."
Dynamik

Dynamik`s president Jerry Huang confirmed a full line of performance-tuning solutions for Mini Cooper sedans have been worked out and delivered to sustain its branding business.
Jerry Huang, president of Dynamik Exhaust Industry Co., Ltd., a veteran supplier of exhaust products and fine-tuning parts, also expressed optimism about his company's business growth in the next few years along with the recovery of the global auto industry.
After recording increased sales in 2010 along with global economic recovery, Huang confirmed that a further sales growth in 2011 is expectable, as brighter economic prospects and increasing procurements by large-sized wholesale distributors have significantly fueled demand for auto fine-tuning parts and accessories in the both AM and OE sectors in North America.
"The market has been actually revived there, as local wholesale distributors start to restock inventory," said Huang. "As a result, we have seen influx of orders from the U.S. and Canada so far this year."
Some profit-eroding factors in the rosy market climate, however, have worried Huang. "With spot prices of raw materials having skyrocketed in Asia and the New Taiwan dollar rising against the greenback, our company can help but extend the delivery period in each sales order from North America from 6 to 11 weeks to minimize profit erosions." This will probably cause the company to lose some customers to local competitors who can offer comparatively buyer-friendly prices and guarantee faster delivery.
But, Huang still has a good reason to keep his confidence of staying competitive in the market, as his company has emphasized more on branding business to create growth sustainability and has worked hard on development of higher-end products and built sound partnership with global distributors and agents over the past few years. "So far, so good," he said. "Branding not only produces better profits, but also enables us to better fend off copycatting."
As more people want to upgrade their older cars, Huang indicated that his company has been moving to supply packaged or total tuning-solutions to attract consumers who would not only replace the pipes but also other functional and cosmetic parts when installing high-end exhaust systems.
"Products for vehicle styling will never disappear," Huang stated, "and Taiwanese companies always stand good chances but they have to find viable niches. Dynamik, for example, is focusing on supplying packaged-tuning services and workshop-friendly products for select models, a new concept in the local tuning industry. "We are also developing a high-end taste based in Taiwan, which differs from major players in the international market," Huang said. "Meanwhile, we fully realize that whoever supplies products to ride trend waves will also succeed."
Production Value of Taiwan's Auto Parts Industry

Year

2001

2002

2003

2004

2005

2006

2007

2008

2009

2010

Production Value
(Unit: NT$1 billion)

127.5

156.1

174.7

207.9

216.2

197.4

203.6

183.9

169.7

210.7

Year-on-year Growth Rate

-9.64%

22.43%

11.92%

19.00%

3.99%

-8.70%

3.14%

-9.68%

-7.72%

24.20%
Source: TTVMA
Export Value of Taiwan's Auto Parts Industry

Year

2001

2002

2003

2004

2005

2006

2007

2008

2009

2010

Value
(Unit: NT$1 billion)

79.0

91.2

107.8

127.4

128.0

132.9

147.9

152.6

139.7

171.3

Year-on-year Growth Rate

5.88%

15.44%

18.20%

18.09%

0.48%

3.83%

11.29%

3.18%

-8.45%

22.62%
Source: TTVMA