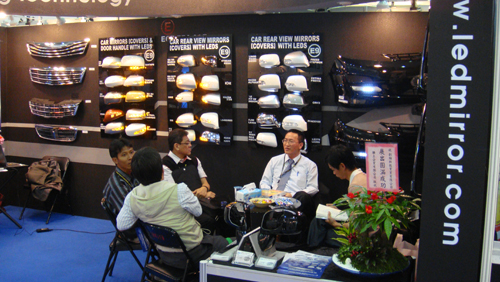 Established in 1990, Chuang Hsiang Technology Co., Ltd. is an ISO9001-certified company dedicated to designing, developing, and manufacturing high-level LED side-mirror covers and daytime running lights (DRLs) with state-of-the-art stylish designs. All of the firm's items have been certified to meet E-mark, ECE, EEC, SAE, and CCC standards.
Chuang Hsiang was the first company in Taiwan to develop LED mirror covers which can serve as stylish, eye-catching direct replacements for the original covers. These innovative products feature LED signal lights and even foot lamps that illuminate the ground when the car door is opened.
New functions and attractive styling make up only part of the appeal of Chuang Hsiang's products. The firm's general manager, Jeff Lin, says that his mission is to provide only high-quality, top-notch products to buyers around the world. The firm's catalogue is filled with more than 130 models of mirror covers, and most of them are developed for specific car models to achieve the best match.
Lin notes that "our products are even more stylish and have more functions than the original-equipment covers. We're targeting the high-level upgrade sector in industrially advanced areas such as Japan and Central and Western Europe. We're also trying to focus on innovation that can assure our market share and, we are confident, please our customers worldwide with new and convenient functions."
Another example of Chuang Hsiang's innovation is a new DRL specifically developed to be integrated with the styling of a car's front bumper, adding far more visual integrity and sophisticated feel than the usual general running lights can offer.
Another part of the company's core competitiveness is its strong manufacturing capability; it now operates two plants in Taiwan, one in Taipei and another in Taichung, with a total employment of over 100. All processes, from development and tooling to plastic injection, coating and finishing, assembly, and packaging, are carried out in-house to assure the highest quality. (QL)
Chuang Hsiang Technology Co.
No. 63, Alley 35, Lane 508, Chungcheng Rd., Hsinchung Dist., New Taipei City, Taiwan 242
Tel: (886-2) 2903 9896
Fax: (886-2) 2901 0446
E-mail: info@ledmirror.com
Website: www.ledmirror.com