Yi-Jin Photonics Co., Ltd. is promoting a family of proprietary LED lamps featuring efficient thermal conductivity, low glare, durability and sleek design, among others.
The series are rated 9.4W and 5W, with the 9.4W bulb emitting luminosity equal to that of an 18W compact fluorescent lamp, and the light of 8.4W products can be replaced the light of 100W incandescent bulbs, and the 5W to replace 60W incandescent, with view angle of 180 degrees and E26/E27 lamp base.
The specially-designed domed lens over the LED enables even, soft light output, with vents in the polycarbonate housing designed to cool heat build-up; while the Japan-made capacitors are durable even under heat to ensure reliability.
The bulbs are certified to UL, RoHS and CE standards and patented in Taiwan, China, Japan, the United States and European Union.
Yi-Jin, founded in 1987, makes consumer electronics, medical equipment, precision molds, and plastic injected items for major names as General Electric, Panasonic Taiwan Co., Ltd., Gale Med Corp, and Chin Teng Pharmaceutical Ind., Co., Ltd., and diversified in 2004 into LED-lighting manufacturing, tapping its strength in engineering, precision-molding machines, and ASAP optical simulation system. (KL)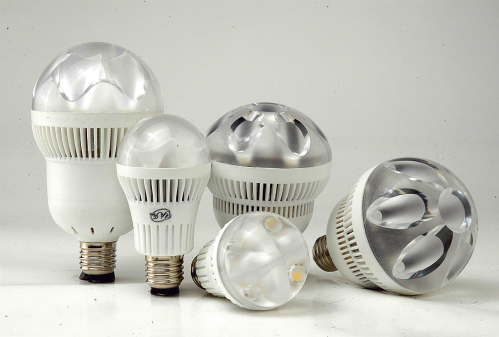 Yi-Jin's LED bulbs have many advantages.
Yi-Jin Photonics Co., Ltd.
No.27-5, Siaopingding, Danshuei District, New Taipei City, Taiwan 25163
Tel: 886-2-8626-0660
Fax: 886-2-8626-3626
E-mail:yijin.co@msa.hinet.net
Website: www.yijin.com.tw