Manufacturers go for the natural and human touch

With "low-carbon" furniture having become a catchword in their industry, some Chinese makers of living-room furniture have started to roll out environmentally -friendly furniture products through the careful selection of raw materials, improved processing technology, and enhanced manufacturing management.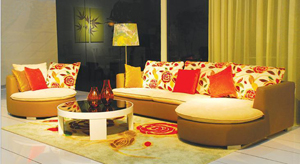 Zhejiang Kuka Technics Sofa embraces arc design for its sofa and end table.
With a history of more than 20 years, the Zhejiang Kuka Technics Sofa Manufacture Co. specializes in the production of living-room and bedroom furniture featuring a comfortable and safe structure, environmental friendliness, and a human touch. Its products are shipped to over 160 countries and areas all over the world, with major outlets including Canada, the U.S., Belgium, Korea, the United Arab Emirates, Australia, Holland, France, Bulgaria, and Vietnam. In some countries, including Holland, France, Bulgaria, and Vietnam, the products are sold in the company's own-brand stores.
In addition to cutting-edge production equipment and technology, Kuka Technics also offers outstanding craftsmanship, thanks to comprehensive handwork standards and skilled craftsmen. In addition to indigenous designers, the company's R&D center also employs prominent designers from Italy, Germany, France, and Japan. As a result, it typically launches several hundred new sofa models a year. This year the company is introducing a new brand and logo which embodies its new orientation as a harbinger of home lifestyle.
The company's new sofa models this year highlight a flexible mixture of design elements including ultra-modernism which, in one instance, is manifested in metal parts, such as legs, used with sofa sets. A fan-shaped end table, for instance, is included in a sofa set, projecting an added flair to the assembly. The backs of the sofa seats are adjustable.
The Beijing Efeng Furniture Manufacture Co., founded in 1995, produces environmentally friendly board and soft furniture. Its board furniture is made of environmentally friendly wooden boards, either local or imported. The company also turns out sofa sets designed according to the principles of ergonomics and the human touch. They are very popular in both domestic and foreign markets thanks to their durability, comfort, and changeable appearance.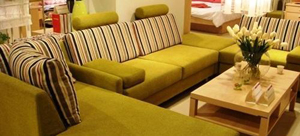 Beijing Efeng Furniture's sofa features environment-friendly board.
The company's sofas feature frames made of hardwood, mostly birch from northeastern China, which gives them a solid structure. The seats are made of 12mm multi-layer boards, thicker than the 9mm boards that are most often used.
The Xuzhou Huaxu Furniture Manufacture Co. is one of China's leading pine furniture makers in terms of annual output, brand image, and retail outlet network. The company is dedicated to the promotion of its brand, "XBN Spring," through a comprehensive marketing network both at home and overseas. Its products feature sophisticated craftsmanship and designs which project a natural style, modern elements, and individualistic taste.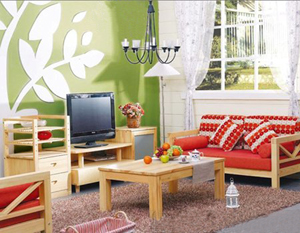 Xuzhou Huaxu Furniture's pine furniture sports a simple and natural appearance.
Yitong Furniture & Decoration steps into the realm of board furniture.
Chairman Zhao Xin-nian says that this year his company is turning out 100% solid wood furniture made of white oak from Africa, marking a major step in the upgrading of the company's products. The furniture is manufactured 100% in-house, with designs provided by the R&D unit of the Shenzhen Furniture Industry Association.
Pine-wood furniture products offer good flexibility and air permeability, as well as durability, and are free of the air pollution caused by the use of large amounts of adhesives used in non-solid wood furniture; it can even absorb toxic substances from the air, thereby purifying it. The company's pine-wood furniture is coated only with varnish, so that it retains the original color and texture of pine.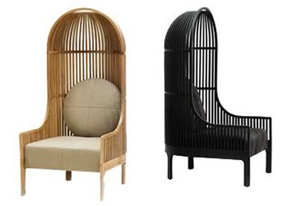 Innovation and environment-friendliness will be a new furniture trend.
The Yitong Furniture and Decoration Co., is about to launch board furniture that features cutting-edge boards from Europe and top-notch imported hardware parts along with minimalist design. The products bear comparatively low pricetags, giving them high price/performance ratios. Board furniture addresses the needs of young customers, who occupy a 60% share of China's furniture market. Yitong will soon inaugurate a Tianjin showroom, covering 10,000 square meters, giving customers a chance for a first-hand experience of the unique appeal of the company's products.