Founded in 1988, Lucky Home Furniture Co., Ltd. is a professional chair manufacturer, turning out mainly dining sets, computer chairs, office chairs, stack chairs and bar stools.

The company has scores of experienced and skillful workers that generate design-oriented high-end furniture products. "We design chairs for our clients and also accept their designs for special orders," says Ko Yu-chu, the company's chairman.

Lucky Home's chairs feature leather-upholstered cushions with wood or steel legs; and some high-end chairs have legs wrapped in leather. "Some of the leathers we use are imported from Italy and some are locally purchased," Ko adds.

The company has a strong team of technicians and enjoys relatively low labor turnover. "We treat our employees as friends. As long as the company is profitable, we often dole out sizable bonuses. Such humane policy has inspired our staffers to do their best on the job," Ko emphasizes.

Lucky Home supplies its products to both domestic and overseas markets, with Japan being its major export outlet. In recent years the company has gradually expanded export outlets to include the United States, Australia, New Zealand and the countries in Southeast Asia.

To stay competitive in the market, the company has kept rolling out new chair models. It welcomes special orders as well as OEM and ODM orders. (JL)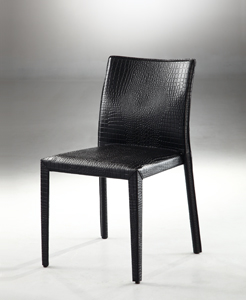 Lucky Home Furniture Co., Ltd.
No. 383, Dashe Rd., Pao-an Borough, Dashe Dist., Kaohsiung City, Taiwan
Tel: 886-7-356-1258
Fax: 886-7-356-1157
E-mail: k0928@ms13.hinet.net
Website: www.luckyhome-furniture.com.tw