Established in 1987 in Taiwan's central county of Changhua, Nan Shun Spring Co. is living proof that modest size does not necessarily hinder corporate growth and excellence. A specialized supplier of springs and related industrial parts with around 30 workers in two plants, the maker uses one as warehouse and the other the factory. After years of devotion to improving manufacturing skills, the company has built a solid name with a broad product range and professionalism.


Initially an OEM (original equipment manufacturer) of springs and wire forms, Nan Shun fared adequately but could not build enough momentum to grow and prosper for long. Later the company diversified into stamping, die-casting, punching and lathing, which helped to enrich its metallurgy and metalworking know-how, with the realization that sustainable development is built upon becoming versatile and specialized.
Diversification Necessary
Responding to why his company branched out into other metalworking technologies when already recognized as a specialized maker of springs, Larry Lin, the chairman, answered that an OEM that focuses on making springs alone can not build a sustainable future, so the firm expanded its product line to be more versatile than competitors and to add value to products.
To realize product diversification, the company overcame resource limitation by upgrading machinery to maximize production efficiency. The company now has in-house over 20 sets of CNC (computerized numerically controlled) machines and machining centers, as well as 10-plus sets of wire forming machines, all of which, Lin added, are periodically maintained and calibrated to ensure performance as if new.
To guarantee upmost reliability and quality, the company has a full line of inspection instruments, including hardness and torsion testers, IR testers and gauges in its quality control lab. Lin emphasized that with assistance from R&D institutions and quality assurance agencies, such as the Metal Industries Research & Development Centre, Industrial Technology Research Institute and SGS, Nan Shun can also inspect special characteristics, like lead- and hexavalent-free chromium electro-deposition, according to customer requirements.
Wide Product Range
Product diversification certainly has worked well, making Nan Shun widely recognized as a formidable supplier with massive product range of industrial parts in Taiwan. The maker literally supplies the whole gamut of springs and wire-formed items, including power springs, leaf springs, coil springs, square wire springs, torsion springs, compression springs, iron wire products, hot-coil springs, wire forms etc. In fact this maker has springs for automotive, consumer electronics, stationery sporting goods, architectural as well as customized applications.
In addition, the company also supplies a huge range of metallic items for electronics parts, furniture hardware, computer parts, molds, metal fittings and accessories, fasteners, stationery, toy parts, ornaments, sporting and leisure products, sundries etc.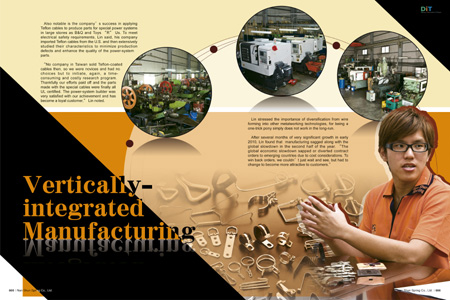 Nan Shun exports mainly to the U.S. for industrial purposes, with rarely any rejected products for wrong specifications or poor quality. In other words, the company is equally impressive for quality as it is for product range. Lin said proudly that the comprehensive product line enables Nan Shun to provide one-stop shopping for customers in many cases, who are especially impressed with the excellent production capability.
Metallurgical Know-how
Being able to supply quality-dependable products implies that the maker has to be an expert in metallurgy, which is true of Nan Shun, whose other competitive advantage lies in its ample knowledge of metals. Lin said that the company, via research and real-world experience, consistently enriches its metallurgical and processing know-how, gradually accumulating knowledgeable about steel, stainless steel, iron, copper, zinc, plastic, aluminum and special steel alloys.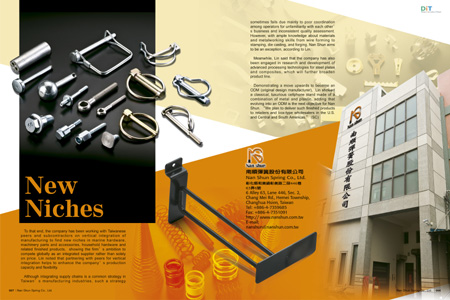 Citing the company's experience to fabricate cable hooks for aircrafts, Lin said that "such products are made of 2024 high-grade aluminum alloy for the metal's lightness and structural characteristics. But we were totally ignorant of the material at the time." To overcome the deficiency, Lin and his R&D engineers spent over a year and considerable resources studying the material and working with American heat-treatment companies, with learning-by-doing having helped to enhance the company's capacity to handle the special alloy.
Also notable is the company's success in applying Teflon cables to produce parts for special power systems in large stores as B&Q and Toys "R" Us. To meet electrical safety requirements, Lin said, his company imported Teflon cables from the U.S. and then extensively studied their characteristics to minimize production defects and enhance the quality of the power-system parts.
"No company in Taiwan sold Teflon-coated cables then, so we were novices and had no choices but to initiate, again, a time-consuming and costly research program. Thankfully our efforts paid off and the parts made with the special cables were finally all UL certified. The power-system builder was very satisfied with our achievement and has become a loyal customer," Lin noted.
Vertically-integrated Manufacturing
Lin stressed the importance of diversification from wire forming into other metalworking technologies, for being a one-trick pony simply does not work in the long-run.
After several months of very significant growth in early 2010, Lin found that manufacturing sagged along with the global slowdown in the second half of the year. "The global economic slowdown sapped or diverted contract orders to emerging countries due to cost considerations. To win back orders, we couldn't just wait and see, but had to change to become more attractive to customers."
New Niches
To that end, the company has been working with Taiwanese peers and subcontractors on vertical integration of manufacturing to find new niches in marine hardware, machinery parts and accessories, household hardware and related finished products, showing the firm's ambition to compete globally as an integrated supplier rather than solely on price. Lin noted that partnering with peers for vertical integration helps to enhance the company's production capacity and flexibility.
Although integrating supply chains is a common strategy in Taiwan's manufacturing industries, such a strategy sometimes fails due mainly to poor coordination among operators for unfamiliarity with each other's business and inconsistent quality assessment. However, with ample knowledge about materials and metalworking skills from wire forming to stamping, die casting, and forging, Nan Shun aims to be an exception, according to Lin.
Meanwhile, Lin said that the company has also been engaged in research and development of advanced processing technologies for steel plates and composites, which will further broaden product line.
Demonstrating a move upwards to become an ODM (original design manufacturer), Lin showed a classical, luxurious cellphone stand made of a combination of metal and plastic, adding that evolving into an ODM is the next objective for Nan Shun. "We plan to deliver such finished products to retailers and box-type wholesalers in the U.S. and Central and South Americas." (SC)
NAN SHUN SPRING CO., LTD.
No. 6, Alley 63, Lane 446, Changmei Rd., Sec. 2, Tiehshan Borough, Homei Town, Changhua County, Taiwan 508
Tel: 886-4-735-9685
Fax: 886-4-735-1091
E-mail: nanshun@nanshun.com.tw
http: www.nanshun.com.tw