Jiin Haur Industrial Co., Ltd. is one of Taiwan's biggest makers of garden cutters, turning out millions of pieces in 40 different categories per year. Most are for DIY users, but 70% are designed for professional orchard workers.
The company has newly launched its JH-5986LR-1 pruning stick pruner. According to company chairman Wu Shyh-biau, the pruner's sharp upper blade is made of Japan-made high carbon steel coated with Teflon to do the cutting, and the lower blade is made of middle carbon steel plated with chrome to hold branches in position. The blade set is 180 degree adjustable sideward to fit cutting angles. Blade controls are built in the grip one each on the middle and bottom of the standard 64-inch aluminum pipe.
The new cutting tool is already patented in Taiwan, Japan, mainland China, the United States and Germany.
All of the firm's power tools have won safety certifications such as GS, VDE, UL, and CE. Most of the tools are designed for users in Europe, the United States, Russia, and Southeast Asia. (KL)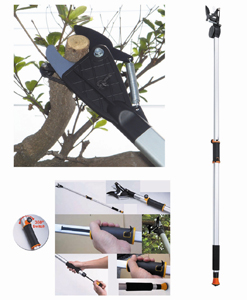 Jiin Haur Industrial Co., Ltd.
No.133, Chiukang Lane, Lukang Dist., Changhua County, 505 Taiwan
Tel: 886-4-777-3339
Fax: 886-4-778-8129
E-mail: jiinhaur@jiinhaur.com.tw
Website: www.jiinhaur.com.tw