One of Taiwan's few manufacturers capable of designing, developing and manufacturing CNC cutting machines and CNC drilling machines, Asia Machine Group offers state-of-the-art machines to help automation in the metal-cutting sector, also helping operators to install equipment by providing training.

The company claims to have combined its own cutting-edge automation technology with sophisticated technologies transferred from Britain to develop, produce the ultra-high-pressure FSWJ-series water-jet cutters.

Robin Fu, managing director, says the company is religious about product quality, hence always developing reliable machinery to help customers achieve efficient operations.

The company mainly offers CNC plasma/gas cutting machine, CNC plate cutting machine, CNC pipe drilling machine, CNC drilling machine (hydraulic, high speed), CNC water-jet cutting machine, and CNC drum drilling machine.

The CNC plasma/gas cutter, often used to build ships an steel structures, features servo control and heat-treated heavy-duty drive rack, with imported main accessories.

The CNC plate-drilling machine has a rigid structure to ensure stability, with long drill replacement cycles ensuring high-efficiency.

The CNC pipe-cutting machine suits the steel-pipe, steel-structure, oil, and chemical industries, with software offered in normal and three-dimensional options, and can be mated with flame/plasma plate cutting machine for multi-functional operations.

Asia Machine has exported to over 30 nations, especially to Europe, the U.S., Australia and the Asia-Pacific, also able to offer technical consulting to manufacturers of CNC cutting machines. (BS)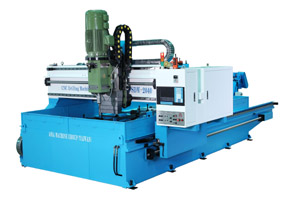 CNC water-jet cutter developed by Asia Machine.
Asia Machine Group
Tel: 886-8-780-5210
Fax: 886-8-780-5209
E-mail: t1403060@ms53.hinet.net
Website: www.asiacnc.com.tw