Founded in 1971, Meeng Gang Enterprise Co., Ltd. is an ISO-9001-certified maker of screwdrivers, screwdriver bits, ACR bits, ratchet screwdrivers, bit holders, drill bits, adaptors, magnetic nut setters, drills, stainless bits, power screwdriver bits, multi-functional compact tool boxes and screwdriver bit kits.

Also filling ODM and OEM orders, this maker is sought-after for unbeatable quality and reasonable prices by professional buyers worldwide in the watercrafts, auto repair and maintenance and industrial production sectors.

Launched in 2010, the Smart Clutch Setter has remained popular for its excellent functionality, quality and easy conversion of any electric drill into a powerful screw gun that features easy depth adjustment, with the accessory fitting 1/4" power drills and hand drills with maximum speed of 2,500RPM. (SC)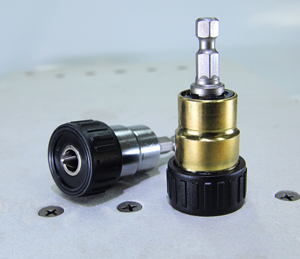 Meeng Gang Enterprise Co., Ltd.
No. 69, Fukuang 4 Lane, Wukuang Rd., Wujih Dist., Taichung City, Taiwan 414
Tel: 886-4-2337-1666
Fax: 886-4-2337-7372
Email: merlin.mg@msa.hinet.net
Website: www.merlin.com.tw