Sheng Chyean Enterprise Co., Ltd., founded in 1994, is an ISO9001:2000 & CE-certified maker of bar-making machinery and turnkey plants.

Known for its own 'Sheng Chyean' branded items at home and abroad, the maker offers machinery upkeep, repair services, while mainly supplying combined drawing machine, round bar peeling machine, straightening machine, flat rolling mill, chamfering machine, polishing machine etc., which can be ordered individually, or as specially-designed turnkey plants for the bar-making industry.

Sheng Chyean adopts standardized production processes and efficient mass-production to cut manufacturing costs and accelerate delivery. In addition to self-developed manufacturing technologies, the company has also imported advanced technologies to keep up with world trends in production.

Exporting mainly to Germany, Turkey, Russia, Japan, South Korea, China, India, Malaysia, Thailand, Republic of South Africa, the U.S., Mexico, Egypt, and Iran, the maker is currently looking for overseas agents. (BS)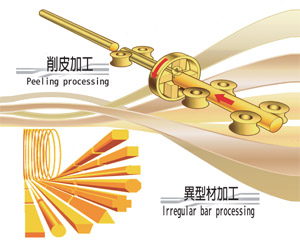 Sheng Chyean Enterprise Co., Ltd.
NO. 17, Lane 360, Fudao Rd., Lukang Town, Changhua County, Taiwan 505
Tel: 886-4-774-6666
Fax: 886-4-774-2255
E-mail: chyuan168@mail2000.com.tw
Website: www.tw-sc.com.tw