Shou King Enterprise Co., Ltd. is a veteran manufacturer of screwdrivers in Taichung City, central Taiwan with over two decades of experience, who continues to promote its Wheel Bearing Extractor.

Remaining a hot-seller since its launch in 2010, the Wheel Bearing Extractor installs and removes wheel bearings and hubs and the modular system comes in a case. The extractor achieves higher axial forces thanks to high-capacity threaded spindle with special trapezoidal fine thread in the axial cylinder roller bearing, which optimizes centering when inserting wheel hub into new wheel bearing and is able to handle a wide range of vehicles with ABS.

The company also offers screwdrivers, including electric tester screwdrivers, nut drivers, impact screwdrivers, magnetic screwdrivers, one-touch screwdrivers, precision screwdrivers, torque drivers, screwdriver with built-in light, hammer drivers, and tools for auto repairing and DIY. (SC)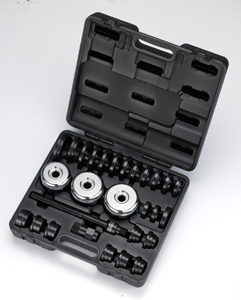 Shou King Enterprise Co., Ltd.
No. 33-12, Lane 320, Shatien Rd., Sec. 1, Tatu Dist., Taichung City, Taiwan 432
Tel: 886-4-2693-4288
Fax: 886-4-2693-4266
Email: shou.king@msa.hinet.net
Website: www.shouking.com.tw