A Former Prof's Silent Revolution for Taiwan's Furniture Industry
T.Y. Lin believes the local furniture industry needs fundamental change

2012/03/01 | By Michelle Hsu
In a secluded hilly area of suburban Taipei, a retired professor has been staging his own version of upgrading and enlightenment of the furniture industry, with the Furniture Bibliotheca HDG, a private library in an isolated, decades-old traditional Chinese residence amid sylvan woods that is perhaps a 30-minute walk from its nearest neighbor. The abbreviation HDG is the Romanized acronym of three Chinese characters meaning "a dwelling of blossoming virtues."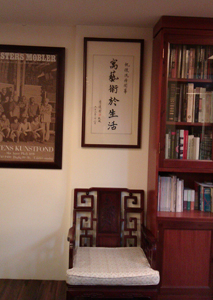 The calligraphy by Lee Yuan-tseh, the first Taiwanese Nobel laureate, on the wall of Furniture Bibliotheca HDG says roughly "embrace art in life."
Founder Lin Tung-yang would likely chuckle at any local who is confounded while trying to find the library, suggesting the hidden location has not even defeated many foreigners from all parts of the world.
In addition to nearly 1,000 books and journals published either in Taiwan or abroad, Lin is also proud of the frequent visits by foreigners for believing international exchange is essential to broadening one's global view. The library has attracted visitors from North America, Mexico, Germany, France, Sweden, Demark as well as Russia and Mongolia.
Familiar with indigenous furniture styles of various countries, Lin believes that furniture reflects not only designers' wisdom, but also culture, lifestyle of society.
Lin favors Demark as a land of furniture creation and admires especially Hans J. Wegner (1914-2007), a celebrated Danish master of chairs, one who also occupies an honorable pedestal in the minds of any furniture designer.
Wegner, who created nearly 500 chairs in his life, was especially famous for his masterpiece: The Round Chair 1949, a practical creation that may have escaped popular attention but was seen on television during the presidential debates in the 1960s, when the chair was placed on stage to offer relief to John F. Kennedy who suffered a backache.
Silent Revolution
Denmark impresses Lin in several ways, who believes the Scandinavian nation has similar economic strength as Taiwan and has a model furniture industry worthy of emulation.
Sounding idealistic, Lin says that a Danish designer works only two days a week, while counterparts in Taiwan still emphasize putting their noses to the grindstone. However the professor seems to neglect the fundamentals of the furniture industry in Taiwan and Denmark as he makes comparisons. While Denmark has a globally-renowned furniture design sector, Taiwan's furniture industry hardly relies on creativity. But Lin suggests that a seminal revolution is needed to structurally transform Taiwan's furniture industry, which, in Lin's eyes, has been traditionally undervalued as labor-intensive. Living up to the image of an academic, Lin believes industrial upgrading calls for "change of mind," which is the first but also a critical step. The HDG was actually founded on such lofty goal, one Lin calls a "silent revolution."
Speaking just like a former professor of furniture design at the National Taipei University of Technology, Lin, who retired in 2004 and founded Furniture Bibliotheca HDG along with the HDG Furniture Foundation and Dream Workshop, says that sufficient rest is needed to enable the brain to be refreshed, especially for designers whose creativity is cerebral, and achievements not measured by physical work. "If physical labor continues to be emphasized more than cerebral input, we won't escape the labor-intensive frame," says Lin as he diagnoses the woes of Taiwan's furniture industry in broad strokes.
The HDG is made up of the books and furniture Lin collected during his professorship, when he had a private office that was even much larger than that of the principal to hold his sizable collection.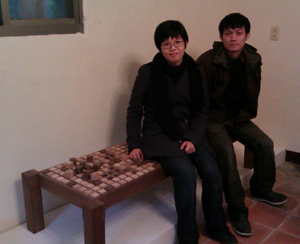 Young designers A-Dan Jhan (right) and Constance Chen (left) and their "Decoding Bench."
Clearly a man who looks beyond bottom-lines, Lin says the value of the furniture sector and woods used would be underestimated as long as the major source of profit is derived from volume production, and that creativity is the ultimate as the thinking involved in design is the primary value of a piece of furniture.
One suspects that Lin probably would irk the directors of IKEA and Wal-Mart for being overly esoteric. The man values all sorts of wood regardless of species, underlining his belief in the innate value of woods by asking: "why do people buy wood by kilograms when a seedling typically takes decades to mature into a tree?"
Furniture designers tend to be idealistic, often neglecting the need to be realistic and limits of materials. Embodying such tendency, Lin says that furniture is not disposable but artworks that should last for a lifetime or even passed down to the next generation. In other words, a piece of furniture can be an heirloom with value of antiques. As such, HDG displays a seemingly simple 3-person bench that is priced twice or triple that of a dining room set for an ordinary family. Perhaps this is Lin's way to offset the undervaluing of furniture designers in Taiwan and natural woods.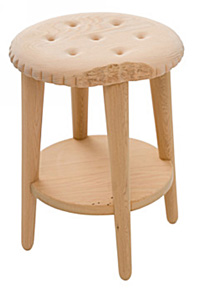 The "Cookie Stool" takes viewers down a sweet memory lane.
Dream Workshop
Likely a means for Lin to groom future furniture designers and wood craftspeople, the HDG-affiliated Dream Workshop is a place for aspiring carpenters and hands-on designers to realize their dreams. Lin says it's not a vocational training school, but a place to enable people to work with natural wood and discover inherent talent for woodworking.
Apparently there are plenty of wanna-be woodworkers and furniture makers, for the Dream Workshop, which keeps enrolment to within 20 students for each spring and autumn class a year to ensure training quality, has a long waiting list.
The workshop reminds students of its motto that furniture making is more than woodworking but an artistic endeavor, so techniques are only the basic skills students need to turn dreams into artworks.
Though labeled "students," trainees at the workshop generally possess talent and design experience, and the course soon allows them a channel of expression.
The exhibition, held at the HDG in early January, of works by students impressed visitors not only with pleasing aesthetics, but also masterful craftsmanship and creativity. The "Decoding Bench" by designers A-Dan Jhan and Constance Chen for example allows users to be creative and playful. Made with a beehive-like seat holding blocks that can be rearranged, the bench has blocks of four kinds of species of wood, each with different grain and tone, so users can create various patterns by rearranging the blocks.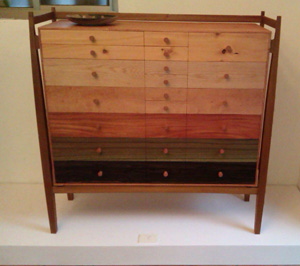 The sleek dresser is a new take on the traditional cupboard for Chinese herbal medicine.
The cookie-shaped stool dubbed "Sweet Flavor of Memory" by Eva Wu takes users down memory lane. With the seat made of a wood colored similar to the milk cookies enjoyed long ago in Taiwan, the stool would also be ideal for romper rooms. Also notable is that the designer used a seemingly rotten piece of wood, whose decayed part is incorporated into the design to simulate marks bitten in a cookie. Such technique perhaps spoofs the famous Confucian adage "rotten wood simply can't be carved," implying that a dimwit can't be taught.
One particular dresser features drawers of different sizes and colored woods, which looks sleek and western until the designer reveals that the concept is inspired by a traditional cupboard for Chinese herbal medicine.
All the items were auctioned on the last day of the exhibition. And as any auction, the prices vary with buyers' perception of value.