Dedicated to making various sealant tools, Brilliant Engineering Co., Ltd. is one of professional manufacturers of this kind in Taiwan.

The company's product range covers caulking guns, foam guns, scrapers, stainless steel spatulas, clampers, blow-out pumps, steel brushes, pliers, circle cutters, manual drills, screws and related hardware products, which have been well received in the global market and mainly for professional use as construction, auto maintenance, metalworking, and woodworking.

The company boasts great R&D capability, which is driven by its skillful, experienced R&D engineers in house. With continuous improvement of its product functionality and quality, the company has obtained a number of multinational patents, and enjoyed a high profile as an OEM and ODM in the line. In addition, the company can also provide clients with custom manufacturing and timely problem-solving services.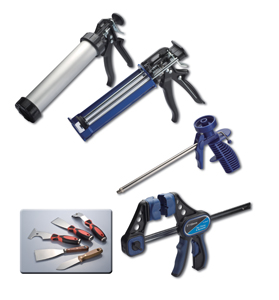 Brilliant Engineering Co., Ltd.
9F-1, No. 366, Beitun Rd., Taichung City, Taiwan
Tel: 886-4-2243-6268
Fax: 886-4-2243-9058
Email: service@brillianteng.com.tw
Website: www.brillianteng.com.tw