For years, the Yuholi Co., Ltd. has been a major player in Taiwan specializing in developing and manufacturing different kinds of high-quality auto parts, especially brake and clutch master cylinder repair kits, clutch operation repair kits, wheel-cylinder cups, wheel cylinder cup kits, disc-brake seal kits, engine timing chain kits, and components.

Thanks to the company's steadfast dedication to quality upgrading, over 90% of Yuholi's products are supplied on OE (original equipment) basis to international vehicle and machinery equipment makers; while Yuholi also markets them under two private brands, "YUHOLI" and "HASAKI," and is a major player in the global aftermarket.

Stressing the importance of 100% made-in-Taiwan quality and reliability, the company inaugurated a new factory in Chungli, northern Taiwan in 2012. Yuholi claims that this new facility, with the most advanced automatic manufacturing equipment, testing/inspection instruments, and high-efficiency production lines, not only greatly boosts its production capacity but also provides further assurance of the high quality and most reasonable prices of its products.

A senior official at Yuholi stresses that all of his company's products are made in Taiwan, including different parts and components supplied by a group of outstanding suppliers on the island. In addition to constantly upgrading product quality as well as manufacturing techniques and equipment, he adds, Yuholi has been expanding the range of its product lineup so as to become an increasingly comprehensive supplier of products and services to customers all over the world.

"Being quality-conscious is the best policy for Yuholi," the official claims. "We make sure that every detail is properly done to meet the required specifications and standards."

With in-house mold development and a modern, high-efficiency warehouse, Yuholi carries out integrated production with excellent efficiency and flexibility. The quality of its products is further assured by the use of a complete set of advanced inspection instruments, including a high-temperature cycle testing machine and leakage testing machine.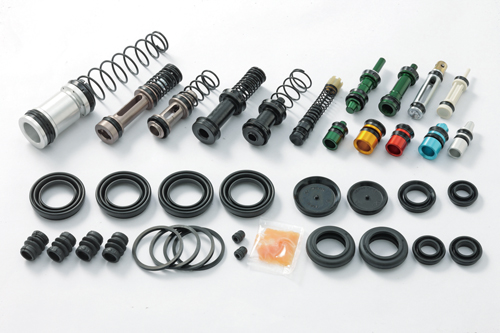 Yuholi Co., Ltd.
No. 22, Lane 76, Nei-Din 20th St., Chung Li City, Taoyuan Hsien, Taiwan 320
Tel: 886-3-462-5533, 462-6633
Fax: 886-3-451-1010
E-Mail: yuholi@ms27.hinet.net
Website: www.yuholi.com