The rapid expansion of the global automobile industry of late has given rise to a host of parts and accessories made with new techniques and materials to improve performance.

One of the most promising of these materials is Kevlar fiber' which is finding its way into an increasing number of auto parts and accessories made in Taiwan. Although Kevlar is more costly than traditional materials and requires more advanced production techniques' the payoff comes in greater flexibility and more color options.

Tough and Light

Kevlar is a strong and lightweight material made by DuPont. It is most commonly used in protective apparel' sports equipment' and automotive parts. Even the ropes on the Mars Pathfinder are made of Kevlar.

Pound for pound' Kevlar fiber is five times stronger than steel. The advanced material was developed by two DuPont scientists in 1965. Because of the superior protection it provides' Kevlar fiber quickly became the technology of choice for bulletproof vests; police officers have relied on it for more than 25 years now..

Kevlar is one of the most important manmade organic fibers ever developed. Because of its unique combination of properties' the material is used today in an increasingly wide variety of industrial applications. Each Kevlar fiber consists of long molecular chains produced from poly-paraphenylene terephthalamide (PPTA). The chains are highly oriented with strong inter-chain bonding' which results in a unique combination of properties. General features of the Kevlar fibers include high-tensile strength at low weight' significant elongation before breakage' high modulus (structural rigidity)' low electrical conductivity' high chemical resistance' low thermal shrinkage' high toughness' excellent dimensional stability' high cut resistance' and flame-resistance/ self-extinguishing properties.

With advanced production techniques and strong cost-control capability' more and more Taiwanese auto parts and accessory makers are introducing Kevlar products into major overseas markets.

Tuned Into Kevlar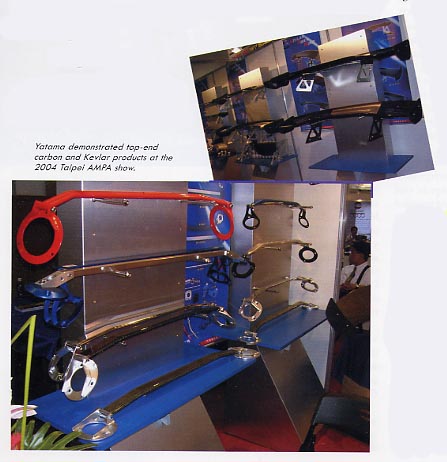 Yatama Co.' Ltd. Is one of the more successful Taiwanese suppliers of Kevlar auto parts and accessories. Established in 1985' the company began producing carbon and Kevlar-fiber auto tuning parts and accessories in 1991. Currently' Yatama supplies high-level aluminum-alloy' carbon' and Kevlar strut bars' tail wings' spoilers and many other tuning items.
"Taiwan has replaced Japan as the world's top producer of Kevlar auto accessories'" says Yatama president Huang Kuo-ta.
"Not every carbon-fiber accessory maker has the ability to produce Kevlar products'" Huang says. This' he explains' is because Kevlar is harder to work with' especially when it comes to cutting the rigid material and sorting pieces for a concord strip arrangement. Price is another factor' since Kevlar fibers are 60% to 80% more costly than carbon fibers. As a result' labor and material costs for Kevlar products can be 50% higher than for carbon counterparts. Moreover' the defect rate on Kevlar products is higher than for carbon products' Huang says.
Kevlar products also require more sophisticated production equipment' better-trained workers' and a cleaner production environment' says Huang.
Yet Kevlar also has many advantages over carbon counterparts' including wider color options (including black' red' yellow and blue)' greater strength' higher rigidity' and higher chemical resistance.
"Kevlar products offer a new opportunity for Taiwan's auto accessory makers'" Huang says' "as they require small-batch' large-variety production mode. Such production also requires a high technical level' making entry difficult for producers in developing nations."
Huang says that his company refuses to produce products with an FRP base and Kevlar surface layer' as the connection strips (between Kevlar-fiber cloth) on the surface of such products diminishes the overall appearance. In addition' every Kevlar spoiler made by Yatama has a reinforcing inner structure made with a special-formula filling material to prevent it from breaking under extremely high wind pressure during high-speed driving. Yatama's spoilers are also equipped with additional stainless-steel plate on the supporting legs to prevent the spoiler from dropping after long-term use.
Yatama currently runs three plants in Taiwan for the production of mufflers' strut bars and spoilers' respectively. The company is an ISO 9001 certified maker and all of its satellite plants are also approved under the quality standard.
Yatama exports all of its products to major customers in Japan' the U.S. and Europe. About 80% of its products are supplied under original equipment/design manufacturing (OEM/ODM) terms to well-known international tuning-accessory brands.
Racing Ahead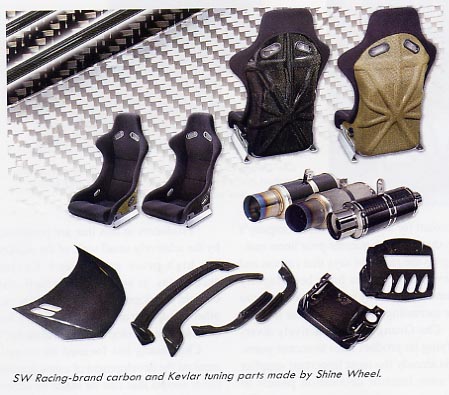 Another leading Kevlar-product maker in Taiwan is Shine Wheel Ind.' Corp. ' which was established in 1980 and is the first carbon-fiber bicycle-frame maker in Taiwan. With over two decades of experience in the making of high-end carbon-fiber bicycles' the company has recently stepped into the manufacturing of high-level performance-tuning auto accessories made of both carbon and Kevlar materials.
The SW Racing sub-brand was developed for Shine Wheel's high-end tuning carbon- and Kevlar-fiber auto accessories' a line that includes engine hoods' engine covers' strut bars' mufflers' intake pipes' racing seats' radiator plates' B-pillar plates' and aerodynamic spoilers.
Tino Lin' manager of Shine Wheel's auto-parts business division' says that all of the firm's highly skilled workers receive continual training' and only best-quality materials imported from France and Japan are utilized to ensure the highest quality. In addition' Lin claims' each SW Racing performance-tuning part is carefully inspected under the firm's strict quality-control system' and is treated with a high-tech transparent coating layer providing UV-resistance that maximizes durability.
The manager also claims that Shine Wheel has developed the key techniques and production lines for carbon and Kevlar products. Shine Wheel invests over NT$5 million (US$14.75 million at US$1:NT$33.9) into mold development for dozens of new items and has rolled out over 100 new accessory models in the past one year.
Thanks to its strong R&D capability and quality reputation' Shine Wheel has been contracted by several leading international motorcycle tuning parts brands in the U.S. and Europe to develop and manufacture tuning parts for heavy motorcycles' including clutch covers' chain guards' and body kits.
Shine Wheel has a plant in central Taiwan's Taichung County. Its 100 or so highly skilled workers there turn out superior quality products with advanced equipment and techniques. Lin says that all of his company's carbon and Kevlar products are coated with a special-formula resin' which can withstand high temperature and resist UV rays.
All of the SW Racing tuning parts and accessories are made in Taiwan and are exported to Europe' the U.S. and other major markets.
Decorative Panels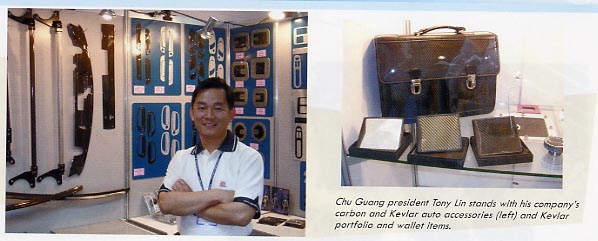 Another carbon and Kevlar accessory producer in Taiwan is Chu Guang Auto Accessories Co.' Ltd.' which specializes in decorative panels for auto interiors and other tuning accessories. The company began making carbon and Kevlar products about six years ago.
Company president Tony Lin says that carbon and Kevlar items currently account for about 70% of his company's production' with transfer-print items making up the rest. Lin says that carbon and Kevlar accessories have been rapidly gaining popularity in recent years due to the increasing sales of luxury car models.
Chu Guang has been actively diversifying its product lines in recent years. It is already the most important supplier of auto interior decoration panels in Taiwan' providing products for over 200 car models' says Lin.
According to Lin' Chu Guang's key advantages in the carbon and Kevlar accessory lines lie in the company's strong design ability and unique products.
"Producers in this line are protected by the relatively small scale of the market for high-price carbon and Kevlar accessories' as well as by the high cost of mold development'" Lin says. "On the other hand' they also need to invest a lot of money to develop a profitable niche."
Chu Guang has focused its investment on the development of a new engine cover model that can be made in either carbon or Kevlar fibers for BMW E46' E39' E60 and X5 series six-cylinder engines. The company also developed a series of new items' including radiator plates' headlamp eyelids and door handle covers.