Ken Gi Industrial Co., Ltd. is the first specialized manufacturer in Taiwan to produce expanded and checkered anti-slip plates and metal wire mesh products since it's establishment 50 years ago. Ken Gi's entire plant equipment is set up to produce customized products. Thanks to it's wealth of experience in design and R&D and it's in-house production of parts, the firm have been able to build a customer base around the globe.

Ken Gi's proud of it's contributions to major projects such as an expansion project of China Steel and the upgrade of Highway NO.1 between Wugu and Yangmei in northern Taiwan.

Ken Gi through its cumulative design and production activities over more than 38 years, the firm's research has led to various patents for expanded mesh type and anti-slip checkered plates. Ken Gi firmly believe that independent R&D capability is key to true competitive advantage!

Ken Gi offers a broad portfolio of checkered metal wire products for its global customers as well as equipment such as High Speed/Heave Duty Expanded Metal Machines (maximum thickness 12m/m), Hy-Rib/Rib-Lath Production Line, and Brickwork Reinforcement mesh machine, triangle mesh, and checkered anti-slip plates.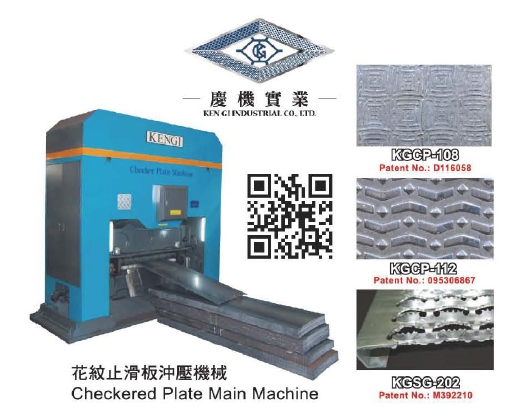 Ken Gi Industrial Co., Ltd.
No.216, Sec. 1, Guoji Rd., Taoyuan City 330, Taiwan.
Tel: 886-3-3610871
Fax: 886-3-3624515
E-mail: kengi.tw@msa.hinet.net
Website: www.kengi.com.tw