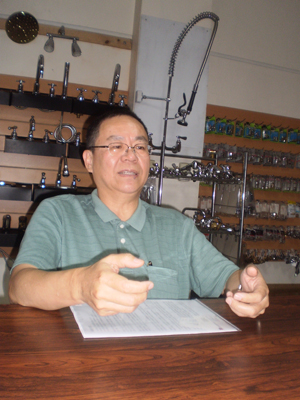 New PAT chairman Wu Yih-Dar talks about his blueprint for boosting the sustainable development of Taiwan's faucet and plumbing industry.
The Plumbing Association of Taiwan (PAT) was founded in 2008, with help from the government and a membership consisting of faucet and fitting makers and related subcontractors, for the purpose of upgrading this traditional manufacturing industry. The association recently installed its second chairman, Wu Yih-dar, who hopes to lead the group into a new phase of development.
In an interview with CENS, Wu, who is also president of the Long Tai Copper Corp., a veteran manufacturer of bathroom faucets, showerheads, and valves, shed light on current conditions in his industry and his plans to boost its sustainable development.
The Beginnings
Wu began the interview by explaining that Taiwan's faucet and bathroom ware industry originated in Dingfanpo, a district of Lugang (Lukang) Town in Taiwan's central county of Changhua; after over 50 years of development, the industry today has more than 800 manufacturers and related subcontractors such as surface treatment companies, material suppliers, processing firms, and specialized machinery makers, together forming a perfectly integrated supply chain that helps sustain the local economy.
In fact, Wu noted, no other country in the world has a higher density of faucet and bathroom ware makers within a defined area than Taiwan. At present, the island exports NT$60 billion (about US$2 billion) worth of faucets, bathroom ware, kitchen fittings, and related accessories annually, mostly to North America. Around 80% of the total comes from Changhua.
In addition to a well-integrated supply chain, a time-tested manufacturing capability, flexible production, and finely-honed craftsmanship are also among the industry's competitive advantages, said Wu, who added that the current success of the industry is the result of manufacturers' decades-long devotion to their core businesses and shared goal of boosting the industry's global status.
Manpower Shortage
Despite government's help over the past few years, the industry still has a long way to go in upgrading its manufacturing technology. Wu believes that this is due to a shortage of manpower, a structural problem that has troubled most companies in the industry for a decade and that is especially difficult in view of the fact that emerging rivals in China are generally offered government resources to help them narrow their technological gap with Taiwanese companies.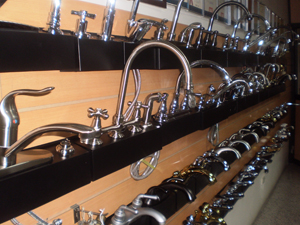 Faucet manufacturing is one of the most represented industries in Taiwan's central county of Changhua.
The government originally believed that assistance in introducing automated gravity die casting technology and facilities was what was needed to help not just enhance production efficiency and product quality, but also to improve poor work environments and attract more young workers into the industry. The results of this attempt were disappointing.
At present, most Taiwanese faucet makers and casting companies still use sand die casting to make prototypes and are reluctant to adopt the gravity die casting method that is used to produce high-end faucets in European countries.
One reason why sand die casting is more attractive to Taiwanese companies than gravity die casting is a longtime neglect of metal molds, caused largely by a lack of experience and resources. The shortage of manpower is another factor, as young people usually dislike working in traditional industries and undesirable work environments.
According to experts from the Industrial Technology Research Institute (ITRI), a government-funded research body, metal molds are key to gravity die casting, as they can reduce pits in the surface of prototypes and enhance the quality of the product; they are, however, far more expensive than sand molds. In addition, the use of metal molds costs more in terms of electricity consumption, and this also discourages Taiwanese makers. Furthermore, Taiwanese companies are unfamiliar with the thermal dissipation characteristics of metal molds and the time needed to cool them, and so are mostly incapable of using gravity die casting.
"Promoting gravity die casting in the industry is actually the right direction," Wu affirmed, "as most Chinese rivals have already applied that technology in production." Ironically, Wu went on, the biggest deterrent to the adoption of gravity die casting by Taiwanese makers is a general shortage of quality personnel willing to learn and use the technology; also, being mostly small in size, they lack the resources to set up the necessary facilities by themselves.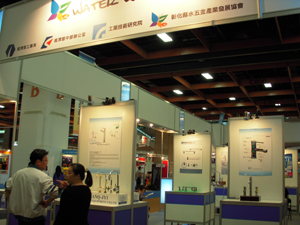 PAT was founded in 2008, when ITRI was commissioned by the government to carry out the "Water Ware Project" aimed at upgrading the island's faucet and plumbing industry.
Wu added that introducing gravity die casting calls for extensive know-how in 3D design, engineering, CAD (computer aided design) document management, and CNC machining skills, as well as new, costly facilities that are generally unfamiliar to manufacturers.
Even worse, Wu continued, the manpower shortage is almost impossible to be resolved in the short term, as young people in Taiwan mostly prefer to work in high-tech industries rather than in traditional manufacturing. This means that Taiwanese makers of faucets and related fittings do not have a stable source of quality workers.
Incubating Talent and Deepening the Labor Pool
Therefore, Wu believes that the smartest way for the industry to ensure sustainable development is to incubate talent and deepen the labor pool—and this, in fact, is the key priority for his two-year term in office.
Part of his talent incubation and manpower pool deepening plan, Wu said, is to help and encourage the children of company founders to become engaged in the industry. To that end, the association offers education and training programs to help second-generation managers learn how the industry works and immerse themselves in practical training by experienced workers and experts.
Given the difficulty this traditional industry faces in attracting young, high-quality workers, Wu thinks that the children of company founders, most of whom are highly educated, constitute the surest source of talent for the industry. However, many of them are reluctant to take over their parents' companies partly because of their lack of knowledge and experience in the industry, and partly because of pressure from the parents. "The most effective way for these young guys to cultivate their interest in the industry and develop needed abilities," Wu said, "is education and training without intervention from their parents. That is why PAT offers the training programs."
Wu noted that these training programs systematically educate second-generation owners in industry-related knowledge and technology, and give them know-how in practical operations through training by experienced workers and university experts. Without pressure from their parents, they can express their opinions and exchange views with peers freely and openly. The program also gives these future company owners a chance to become familiar with each other, increasing the possibility that they will build closer partnerships in the future and further strengthen the industry's overall competitiveness.
Meanwhile, Wu said, the association also takes advantage of government resources to hold various seminars on technology and market information in an effort to accelerate the incubation of talent for the industry. "Faucet and plumbing manufacturing is an industry that has taken a long time to develop and evolve," he stated, "and its applications are very broad and product standards and specifications vary in different markets, so the related technologies and know-how can't be easily passed down to young workers in a short time without the help of senior industry people. This is why PAT is actively working to offer the most possible educational opportunities to second-generation owners."
Wu indicated that to deepen the labor pool, the association is collaborating with local vocational high schools and colleges in offering school-to-work and apprentice programs. "These cooperative programs afford young students access to the industry so that they can develop an interest in it, while enabling them to beef up the knowledge and job skills they need," the chairman emphasized. "This will give the industry a constant source of quality workers."
"I always believe that success in upgrading the industry's technology hinges on adequate manpower. Without a stable supply of quality young workers the industry can never ensure its sustainable development, so talent incubation and labor pool expansion are the association's priority task in the years to come."
Market Exploration
Noting the industry's heavy reliance on the North American market, which poses a threat to its sustainable development, Wu said that his association will take insiders to explore new markets including South America, Eastern Europe, and Russia.
Wu also emphasized the vital role of the government in safeguarding the interests of small and medium-sized traditional manufacturers doing business with buyers from emerging countries.
He pointed out that companies are sometimes troubled by problems of collecting accounts receivable; this is especially serious when they sell products to new customers from emerging countries, most of which do not provide legal protection to Taiwanese companies partly because of their lack of formal diplomatic ties with Taiwan. "Since most Taiwanese faucet and plumbing makers are not big enough to take such risks," Wu lamented, "this holds them back from exploring new markets independently."
As PAT chairman, Wu said, he will urge the Taiwanese government to build procurement and supply relationships with more foreign countries, and will urge Taiwan's Central Bank to relax exchange controls, in order to protect local companies' financial interests as they develop new customers from new markets.
At the same time, Wu reported that since the reduction of lead in faucets and drinking water equipment has become a growing trend in developed countries, most of which have implemented stricter laws to restrict the use of lead-containing materials, the association has worked with local R&D bodies, such as the Metal Industries Research & Development Centre (MIRDC), to speed up the creation of a database of rules and regulations in different countries to help insiders better adapt to market changes.
The industry is moving upmarket, using higher levels of technology to develop higher-end faucets.
In addition, Wu said, the MIRDC will complete cross-certification for toxicity tests of faucets and related fittings with globally recognized certification labs by the end of this year. This will enable insiders to save considerable time and money in product testing, and will speed up the introduction of their new products in foreign markets.
ITRI has also teamed up with industry operators on the joint development of cutting-edge technologies, including antibacterial color coatings using the PVD (physical vapor deposition) process, water (or hydrokinetic) power generation system-incorporated water heaters, ultra-low-voltage solenoid flush valves, and smart sprinkler systems.
"The industry's future is always promising, as faucets are needed everywhere," Wu concluded. "Despite increasing competition in the global market, Taiwanese manufacturers are technologically competent and will be able to keep developing and growing in the years to come."