Manufacturers use environmentally friendly technologies to develop the materials of tomorrow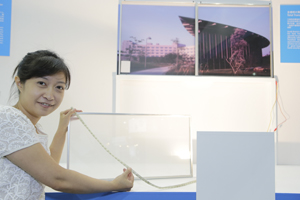 ITRI's unique sunshade window glass.
Taiwan's manufacturers are now turning out a more diversified range of green building materials, thanks partly to new regulations that raise the ratio of eco materials for new buildings on the island from 30% to 45% for indoor materials and from zero to10% for outdoor materials, effective in 2012.
In addition to products made with recycled materials, non-toxic substances, and energy-saving technology, many of manufacturers have applied optoelectronics technology in making eco materials. Whatever technology is used, however, the materials must be recyclable, ecological, and non-hazardous, and have high performance, to meet the government's "green" standards.
One striking example of the development of green materials comes from the Material & Chemical Research Laboratories, a unit of the government-supported Industrial Technology Research Institute (ITRI), which has introduced a unique window glass which doubles as a battery charger and solar radiation filter.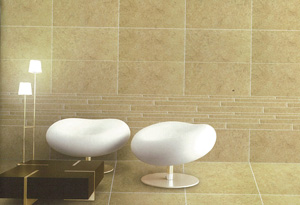 White Horse's tiles are made of recycled materials.
The 50cm x 50cm glass panel can shut out around 50% of solar radiation, including ultraviolet and infrared rays, thereby providing savings on air-conditioning costs. However, the panel allows 90% of sunlight to pass through.
The glass panel is made up of two tempered glass panes which are sandwiched over a high dielectric polymer layer. On the edge of the glass is a photovoltaic silicon structure, which converts the solar radiation caught and spread by the polymer film into electricity.
The electricity from a single panel is enough to power light household appliances. By connecting a number of panels in series, the amount of electricity produced can be increased to enough to power a greenhouse.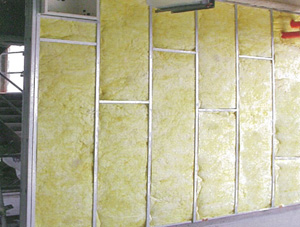 Glass fiber wool helps make Universal Cement's gypsum panels a superb nonflammable building material.
Another innovative eco material is from Chiefway Optronics Co.: a PLCD (passive liquid crystal display) film that filters out the sun's heat, thereby cooling interiors and minimizing UV radiation damage. This material also affords air-conditioning savings.
The company says that its PLCD film stops 99% of UV and around half of IR, which produces heat, as well as being energy-efficient (each square meter consumes only two to three watts).
The Taiwan Glass Group has introduced a green low-emissivity (low-e) glass coated with an invisible thin metal or metallic oxide deposited directly on the surface of one or more panes of glass to capture sunlight in winter, keeping interiors warm, and filter out radiation in summer, keeping interiors cool. This, of course, provides savings on electricity used by air conditioners and heaters.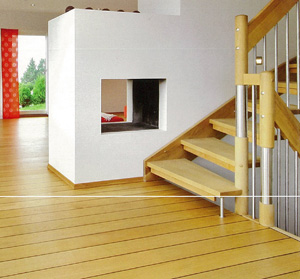 Lien Cheng's "Seven Plus" non-toxic wood-plastic composites.
Stanley Glass Co.'s Building Integrated Photovoltaic (BIPV) glass has even more green functions; in addition to having low-emissivity (low-E), it is integrated with solar panels to generate electricity. It can be used in single-family homes and offices.
Hsin I Cheng Ceramic Ltd. recently launched solar roof tiles that can be installed on existing homes with traditional roof tiles to reduce power use by tapping free solar energy.
White Horse Ceramic Co., Ltd., a certified green-materials supplier, makes tiles of recycled materials and coats them with nanometer-grade substances. The use of recycled materials helps minimize eco-damage from the mining of virgin minerals, while the nano-coating reduces the adhesion index and enables easier cleaning—in fact, it eliminates the need to use water to clean high-rise walls.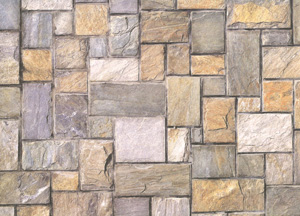 BioSun's "CareMilieu" lacquer is toxin-free and stops the growth of 466 moulds.
The Champion Building Materials Group is using a new process to make tiles containing some 67% of reclaimed materials, far above the 20% benchmark contained in the government's green building materials standards.
The efficient use of reclaimed materials, water, exhaust gas, and energy in its manufacturing processes has enabled Champion Building Materials to reduce CO2 emissions by an amount equivalent to absorption by 130 hectares of vegetation, and to save enough water to fill 1,500 standard swimming pools a year, over the past four years..
Lien Cheng Environment Technology Inc., a subsidiary of plastic-processing-machine maker Hao Yu Precision Machinery Industry Co., is promoting its "Seven Plus" series of indoor plant walls and non-toxic wood-plastic composites as eco-friendly building materials.
The green walls capture carbon dioxide and VOCs, and restrain micro-organisms. The composites are 100% formaldehyde-free, nonflammable, and resistant to humidity and insects, and are certified as a first-grade nonflammable building material in accordance with Taiwan's industry standards.
The G3 International Co. offers lacquers that contain no formaldehyde, asbestos, or hazardous heavy metals, as well as being odorless.
According to the company's catalog, its unique, eco-friendly lacquer formula is especially suitable for applications in humid situations because its bacteria resistance prevents staphylococcus aureus, escherichia coli, and klebsiella phumoniae as well as various moulds from growing on surfaces painted with the lacquers.
The "CareMilieu" lacquer made by the BioSun Technology Co., a joint venture between Taiwan's Prince Housing & Development Corp. and a Japanese company, is not only toxin-free but also stops the growth of 466 moulds. This allows the lacquer to carry the Green Building Materials label, and leads to its adoption for use on the Taipei 101 tower.
Savco Corp., a hand-tool manufacturer, uses convection know-how to turn out an electricity-free ventilation structure which, the company says, can reduce the temperature in its own 11-meter high factory by five degrees Celsius during the hot summer months.
Basically, the company builds a long ventilation opening in a roof and then fixes two galvanized steel panels angled toward each other on both sides of the opening. The panels, coupled with a unique waterproof and dust-proof mechanism, keep raindrops from falling into the opening while the gap that is left between them lets heat out of the building; as hot air departs the top of the building, cool air is drawn in at the bottom. The structure has been patented in Taiwan.
Universal Cement Corp. provides gypsum panels that carry the government's Green Building Materials certification and can be installed on ceilings and used as room partitions. The panels contain no asbestos, VOCs, or formaldehyde, and are widely accepted as eco-friendly in Europe, the United States, and Japan.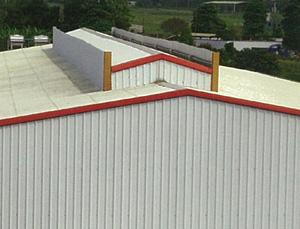 Savco Corp.'s electricity-free ventilation system reduces temperatures by five degrees Celsius.
The company has added fire- and humidity-proof functions to the panels, winning it contracts to supply the material for use in the Taipei 101 Tower, Mandarin Oriental Hotel (Taipei), a Chimei Innolux Corp. factory, the Times Bus Terminal in Taipei City, and the Taipei Bus Station.
Tile maker Romaston Co., reportedly the world's No.2 supplier of artificial marble, has introduced silicate-based marble tiles by mixing recycled marble, glass, and optical lenses. The resulting green tile resists acid and alkali, is harder than conventional tiles, and is easy to make.
Liang Haw Technology Co. is promoting PE foam sheets made with electronic crosslink technology. The technology is non-toxic and uses PE foam, making it an ideal alternative to the Japan-made PE foam which has long dominated the Taiwan market. In the past local manufacturers made foam sheets with crosslink fluid, which is poisonous.
Woodeasy International Co. makes plastic wood that is totally eco-friendly: recyclable, durable, and formaldehyde free. The plastic wood, a mixture of 30% PVC from the Formosa Plastics Corp. and 70% ground waste wood, lasts as long as 30 years and can be recycled around 16 times; it is also chemical-resistant, deform-free, colorfast, nonflammable, and virtually waterproof.
Win Aluminum Co. uses advanced technologies to help homeowners reduce energy consumption by retaining heat inside in winter and cutting thermal-conduction to minimize heat exchange.
The company uses a unique Japanese-developed electroplating process on its windows and door frames to slow thermal conductivity, and installs double-glazing to slow heat transmission with the static air gap. The windows lock out heat in summer and retain warmth in winter to minimize energy use by air conditioners and heaters.
G-Pro Co. offers toxin-free lacquers, which the company says are free of formaldehyde, asbestos, hexavalent chromium, mercury, cadmium and cadmium compounds, argentums, and methylbenzene. In addition, they are odorless. The Healthy Green Building Materials label that the lacquers carry attests to their absence of toxins.
A unique eco-friendly formula allows G-Pro's lacquers to withstand at least 30,000 washings, chemical erosion, and two consecutive hours of exposure to 8000 C, as well as to stop the growth of molds on painted surfaces.