During its June 18-20 run, the Photonics Festival in Taiwan 2013, inaugurated in 1984, drew over 33,000 attendees and buyers, up 9.1% from the 2012 event, to visit 650 exhibitors in over 1,500 booths at the TWTC Nangang Exhibition Hall, run by the semi-official Taiwan External Trade Development Council (TAITRA).

According to show organizer, the non-profit Photonics Industry & Technology Development Association (PIDA) overseen by the Cabinet-level National Science Council (NSC), buyer turnout was very high this year thanks to earnest promotions, with statistics showing China, Japan, the United States, South Korea and Germany being the top five buyer nations, from where over 3,200 buyers came.

This year, this multi-themed trade event consisted of International Optoelectronics Expo, International LED Lighting Expo, International Photovoltaic Expo, International Plant Factory Expo, International Fiber Communications & Broadband Expo, International Academic Research Expo, and International Precision Optics & Image Sensing Expo.

Horticultural factory was a first-time expo at this show in response to growing concern over food shortage associated with climate change. 3D printing and biomedical photonics were installed in dedicated section for the first time. The Academic Research Expo presented workshop topics as "Digital Content", "Biotech & Medicare", "Green Energy" and "Intelligent Life."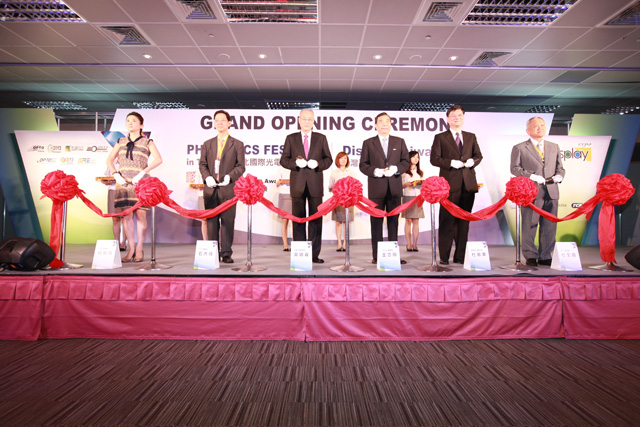 Vice President Wu Dun-yi (third from left) presided over the opening ceremony with industry executives.
Taiwan Vice President Wu Dun-yi said at the opening ceremony that photonics technologies will steadily improve human life and contribute to eco-sustainability, with the technologies as LED and photovoltaic being part of the emerging green-energy industry that the government is vigorously promoting.
The Vice President said green energy will be pivotal to cut carbon dioxide emission and save energy, also laying the foundation for global economy evolving towards "eco economy" or "green economy" from "fossil economy," during which the optoelectronics industry will create massive business opportunities and jobs.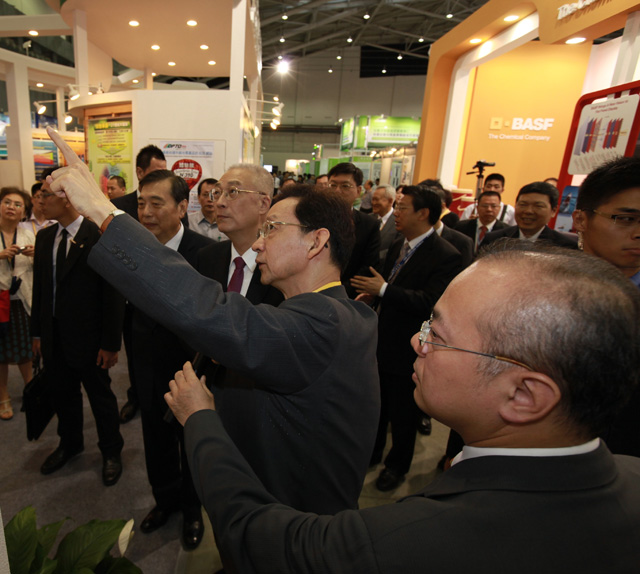 PIDA Chairman Shih (second from nearest) with Vice President Wu on the showgrounds.
PIDA Chairman Dr. D.C. Shih estimated Taiwan's optoelectronics industry to generate revenue up to NT$2.3 trillion (US$76.6 billion) this year, with Taiwan's LED, solar-cell, LCD and optoelectronics-device sectors being major players globally. (KL)