Global awareness of environmental protection and energy conservation drives manufacturers to change
The Chinese and international furniture markets are warming up, and market observers in China believe that furniture manufacturers there will prosper this year as the real estate industry regains strength and the Building Household Index (BHI) surges.

The dining set sector of the industry has been growing steadily, since homes cannot do without dining room furniture. Today people use their dining rooms as a place not only for dining but also for working and communicating, adding to the demand for a diverse range of such furniture.


The New York Noble dining set series, made of precious red cherry wood, is from Kinwai China.
Influenced by the rising global awareness of environmental protection, many furniture manufacturers in China are developing low-carbon, eco-friendly furniture. The rising awareness of energy conservation is also prompting manufacturers to turn out "green" products.
Wood is commonly used by manufacturers in China to make dining room furniture, often mixed with such materials as metals, plastics, glass, and fiber. All of the materials are required to be recyclable, reusable, and nontoxic.
Kinwai China
One example of how furniture makers are following the "green" trend is provided by the Kinwai Group, headquartered in San Francisco, California, a multinational furniture giant consisting of three branches: Kinwai USA, Kinwai China, and Kinwai Europe. The group designs and manufactures home, commercial, and upholstered furniture products marketed to over 100 countries and regions.
Kinwai entered China in 1993, investing US$350 million to establish its Asia-Pacific manufacturing base at a 500,000-square-meter facility in Jiangmen, Guangdong Province. Focusing on the production of high-end quality products, Kinwai China has imported advanced machinery, including digital saws, sanding machines, multi-grilling machines, edge banding machines, and flat panel furniture manufacturing equipment, from the U.S., Germany, and Italy.
Sticking to the principle of making "humanistic furniture," the company has held to the core ideas of functional design, eco-friendly craftsmanship, practical use, and best after-sales service, in addition to the careful selection of materials. The company has also adhered to the idea of producing low-carbon "green" products, and has continuously invested large amounts of money to achieve "green" production.
Kinwai China indicates that the wood used in its dining sets is mainly cherry, oak, and teak, which has a delicate and clear natural texture. The company's wooden dining furniture, which is designed to generate a cozy and casual atmosphere, has become popular among all types of customers.
The company has recently worked hard to promote its "New York Noble" dining sets, which are made of imported solid red cherry wood and have elegant designs that feature graciousness and simplicity. The dining sets have been tested over 30 times to ensure absolute safety and comfort.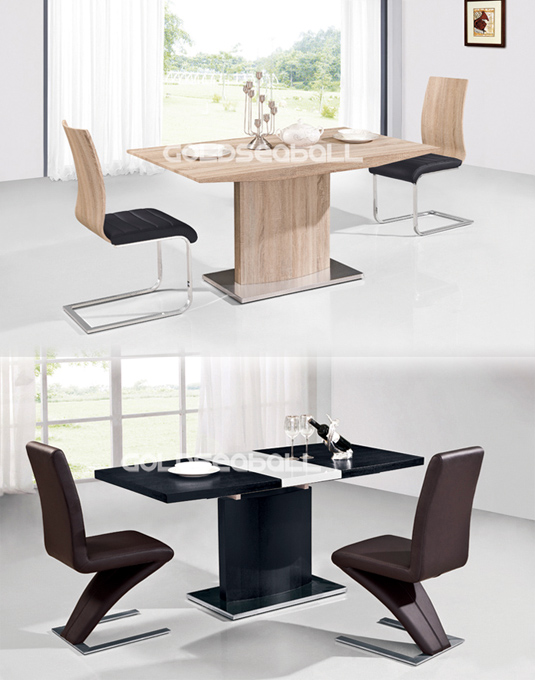 Gold Sea Ball produces stylish dining sets that cater to the tastes of young consumers.
With years of success in the field, Kiniwai China was approved with ISO 9001 Quality Management System certification in 1999 and ISO 9001: 2000, ISO 14001, and Green Environmental certification in 2004. A year later, the company was named for "Best-Selling Chinese Brands in Furniture Industry," "Famous Chinese Furniture Brands," and "Domestic Top 10 After-Sale Service Company" awards in China. In 2009 it was honored with the "China Famous Trademark" and "CQC Environmental Label Certificate."
Gold Sea Ball
The Gold Sea Ball Furniture Factory has been a prominent furniture manufacturer in China ever since its inception in 1991. Located in Longjiang, Shunde, Guangdong Province, the company specializes in the production of household and hotel furniture including dining tables, end tables, and various kinds of chairs.
To strengthen its competitiveness, the company has spared no effort to reinforce its manufacturing capability and adopt various materials such as metal, wood, glass, PVC, and fabric in order to diversify the patterns and designs of its products.
Holding to a commitment to supply modern, fashionable, and comfortable furniture, Gold Sea Ball has continuously invested in R&D and contracted Italian designers to develop world-class products. "We spend 15% of our revenues on R&D every year, and contract foreign designers to help develop top-quality products," reports a senior company official. "We now have six designers who roll out about eight to 12 new products per month and can customize products to meet the special needs of customers."
Gold Sea Ball currently operates two factories that cover a combined area of 28,000 square meters and have five production lines to handle all manufacturing processes. "Each month we can produce 3,000 dining tables, 14,000 chairs, and 5,000 end tables, 85% of which are exported. The delivery lead time is about 20-25 days," the senior official adds.
The company now offers over 380 models in eight product series. So far it has marketed its products in over 36 countries and regions throughout Europe, North America, the Middle East, Asia, and Africa. It has sales agents in Spain, Germany, and Canada to serve local customers.
In recent years the company's annual revenues have amounted to 10-20 million renminbi (RMB) or about US$2.08-4.16 million, with 7-10 million RMB or US$1.46-2.08 coming from exports.
Guanya
Founded in 1994 in Dongguan, Guangdong Province, the Guanya Furniture Co. has developed into one of China's leading furniture makers, turning out a wide variety of products including multi-function dining tables, coffee and side tables, consoles, TV cabinets, and chairs, among others.
With nearly two decades of experience in the furniture industry, the company has successfully developed markets both at home and abroad with its practical yet innovative products.
To meet the tastes of different markets, Guanya uses a wide variety of materials and a wide range of novel designs which incorporate either Oriental or Western culture, or both. The company can quickly catch up with the latest world trends and turn out modern and fashionable items for young customers.
In 2010 the company relocated its production base to a 120,000-square-meter facility in the Nange Industrial Park, also in Dongguan. The new factory has five key production lines for processing solid wood, hardware, glass and steel, lamination, and artworks and craft items. The factory is equipped with sophisticated automatic facilities that can handle electroplating, welding, molding, stone-cutting, and other processes.
To assure the quality of its products, the company has an in-house R&D team for the development of customer-oriented high-end products with advanced know-how and technology. Following the global "green" trend, Guanya has recently put increasing effort into the development of low-carbon eco-friendly furniture products that are multifunctional and recyclable. One striking result of this effort is a new electric dining table featuring multiple functions, remote control, intelligence, and durability.
Today the company develops over 500 new models a year, 80% of which are successfully marketed at home and abroad. Its export outlets are scattered over more than 30 countries and regions, mainly in Southeast Asia, Europe, North America, Africa, and the Middle East.